Articles
Getting Slimy – Photographing Giant Salamanders
By David Herasimtschuk, October 31, 2013 @ 06:24 PM (EST)

With one hand gripping the riverbed and the other clinched tightly to my camera housing, I fight the swift cold waters in an effort to photograph the life that inhabit these turbulent environments.
After hours of searching and no luck, I seek refuge from the fast current behind an eddy of a large boulder. Pulling myself out of a curtain of bubbles and into the calmer waters, I'm suddenly face to face with the old beady eyes of an ancient river giant, a hellbender giant salamander.

The Hellbender Salamander
Glaring at me through the gin-clear water, its wrinkly folds of skin oscillating in the current, I'm captivated by this river creature. You will never see a more bizarre animal. However, it is these unusual characteristics that make the hellbender and its giant salamander relatives some of the most beautiful river creatures you will ever photograph.
Unfortunately, snorkeling upon these giant salamanders is now becoming a very rare occurrence. Once occupying the headwaters of nearly all Eastern North America's largest rivers, hellbenders are now gone from most of the rivers and streams they've inhabited for over a hundred and sixty million years.
The decline of this salamander goes far beyond the extinction of just one species. The continued loss of this river giant is ultimately being perceived as a gasping canary signaling serious problems with the water we use in our day-to-day lives.


Because of their need for clean water, hellbenders serve as a barometer of river health. Not only are they a fascinating species, but learning about them inherently teaches you about the importance of clean water. For many biologists and conservationists working with this species, the potential significance of hellbenders goes far beyond their ecological importance, and even their intrinsic value.
These salamanders symbolize clean water and have begun to serve as an icon for healthy rivers. When we protect water quality for hellbenders, we are also protecting water quality for everything else down stream, including ourselves.


Photographing Freshwater Life
As a photographer I have focused much of my effort on revealing the amazing hidden freshwater life that is often found right in our own backyard, with the end goal of connecting people to their native river fauna.
By photographing hellbenders, my hope is to create imagery that will have the power to not only capture the imagination of the public, but also educate local audiences and decision makers about the importance of clean rivers and the impacts that are leading to their degradation. If people can see what they are saving, they may see a real reason to act.


Habitat degradation caused by the channelization of streams and the creation of dams and weirs in populated areas has destroyed many miles of salamander habitat in Japan. Fortunately biologists and engineers are now working to add salamander ladders to many streams to allow for salamander passage and migration.


Jeff Briggler, Herpetologist with the Missouri Department of Conservation takes measurements on the health of three Federally Endangered Ozark hellbenders (Cryptobranchus alleganiesis bishopi). Due to poor water quality, disease, and a number of other anthropogenic factors the Ozark hellbender has experienced large population declines.


Poor water quality is one of the many factors causing Ozark hellbenders to decline. While surveying for hellbenders Jeff Briggler, herpetologist with the Missouri Department of Conservation, found a small radio with corroded batteries leaking into the river. What many people fail to realize is that these polluted waters are not just habitat for hellbenders, this water eventually makes it to towns and cities and becomes the water we drink.


Unfortunately most people are unaware of the detrimental impacts that can come from moving rocks in a river to build dams or rock sculptures. The death of this female hellbender was the result of people moving large flat rocks to build a rock sculpture. This destructive practice not only kills animals but also destroys vital spawning habitat and refugia for these declining salamanders.


In 2011 the Saint Louis Zoo successfully bred Ozark hellbenders in captivity. This world first for either of the two subspecies resulted in 63 baby hellbenders, and was a huge step in the potential restoration of this species.


Cold, clear, and clean, spring water feeds many Ozark rivers, and provides Ozark hellbenders with suitable habitat.


A network of large dams on the Little Tennessee River has resulted in the loss of miles of hellbender habitat turning pristine rivers into reservoirs, making it unsuitable for the large salamander.

A japanese giant salamander


The Japanese giant salamander (Andrias japonicus), known as Osanshouo in Japan, is the second-largest salamander species in the world and can grow as long as five feet. These ancient creatures are entirely aquatic and are thought to live up to 80 years in the wild.

A cryptic Ozark hellbender (Cryptobranchus alleganiesis bishopi) blends in perfectly along the riverbed cobble


Jeff Briggler releases an Ozark hellbender (Cryptobranchus alleganiesis bishopi) after measuring and testing it for disease. This large individual was missing one of its front hands. Due to poor water quality, and disease missing hands and limbs have become a more frequent occurrence for this Federally Endangered species.

RELATED ARTICLES
Be the first to add a comment to this article.
Newsletter
Travel with us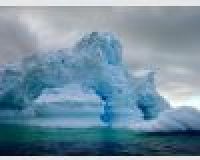 Antarctica
Plan Your Adventure >
Featured Photographer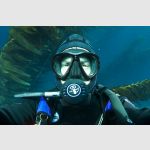 James Forte
Expert Photographer
In 1990 he moved to Santa Barbara, Ca to attend college and found his new surroundings above and below the coastal American Riviera, full of adventure and visual beauty. James soon discovered the Channel Islands Marine...