Articles
Photographing Crocodiles and Models
Kimber Kiefer poses next to a crocodile in Mexico's Chinchorro Banks

Kimber Kiefer is accustomed to posing in potentially precarious positions. Working with her husband and underwater photographer Ken Kiefer, the underwater model has held her breath on a wreck swarmed by sharks and freedived alongside great hammerheads. But she still had one dream left to fulfill: modeling alongside crocodiles in Mexico's Chinchorro Banks.
The choice to pose next to top predators such as crocs and sharks is not a publicity stunt nor a thrill-seeking experience—as it is often portrayed when the awesome images are inevitably picked up by mainstream media outlets. Rather, Ken and Kimber want to force the audience to rethink their misguided perceptions of these animals as bloodthirsty killers.
"I can assure everyone that Kimber and I have no death wish," says the Ikelite Ambassador about his motives for pursuing such intense photo shoots. "We dive with the predators because we love them [and] we love watching their power and beauty—and we want to help them."

Notwithstanding fearsome portraits like this one, Ken hopes his photos of crocs and models dispel myths of these animals as bloodthirsty predators

Lighting and composing images of crocodiles with models is a bit more difficult than in studio settings

While the couple might not have a death wish, undertaking an assignment of photographing crocodiles in close proximity to human models requires serious planning and strict adherence to safety protocols. Supplementary safety divers and extra personnel from Yukatan Dive Trek were instrumental in allowing Ken to focus more on setting up the shot than worrying about the animals. PVC pipes were used as a visual barrier to deter the crocodiles from getting too close for comfort.
And then there was the element of Mother Nature: Thunderstorms and high winds accompanied much of Ken and Kimber's time in Mexico. The silt stirred up by the weather added another challenge—on top of the game of underwater musical chairs trying to line up the proper positions for the photographer, croc, safety divers and model.
"In a studio setting, it would be easy to place one subject here and the other there and rig up some lights how you like," explains Ken, who spends many hours practicing in his pool studio. "[It's] not so easy with a 14-foot crocodile."

A safety diver ensures that the photographer can focus on the image while the model can focus on position

A croc from two angles: This combo image shows the perspective from Ken's camera (bottom) and Kimber's camera (top)

On the other side of the lens, Kimber faced a slew of her own challenges. When working with wild predators underwater, it's critical that Kimber has complete trust in her safety team. This begins with hiring experienced safety divers and having a good working relationship with the photographer. Only with all of these steps can the model produce the relaxed look seen in the final images.
"Modeling without a mask is no easy task," says Kimber. "I can see the animal as long as it's close and can see enough movement to recognize when I need to move behind the safety diver."

A good relationship between photographer, safety diver, and model is critical in this situation

After all of the setup required just to get the opportunity to click the shutter, it can be all too easy for the photographer to forget the proper technique and fall victim to the excitement of the moment. But Ken was intent on communicating a juxtaposition between the raw power of the crocodile and the grace of his model, Kimber: "I was always trying to compose shots to emphasize the crocodile's texture, power and interest against the model's calm aloof beauty," he explains.
At the end of the day, the only thing standing between Ken and the croc is his Canon EOS 5DS R in his trusty Ikelite housing and a couple of Ikelite DS161 strobes. "I've put my current housings and strobes through the wringer," Ken says of the demanding shooting conditions. "We were all over the Yucatán and my Ikelite rig never missed a beat."

Ken's Ikelite setup came through to produce some iconic images
RELATED ARTICLES
Be the first to add a comment to this article.
Newsletter
Travel with us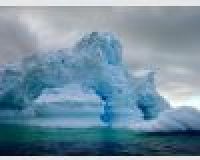 Antarctica
Plan Your Adventure >
Featured Photographer
Caroline Istas
Photographer
Caroline Istas studied History of Art and Photography in Brussels. On holiday in Vietnam she fell in love with the underwater world, Rainbow Divers and most importantly; her husband now!