Articles
Photographing Caribbean Reef Sharks
A large female Caribbean reef shark captured in Sint Maarten

Possibly the most photographed of all shark species, the Caribbean reef shark (Carcharhinus perezi) is the shark that most scuba divers will encounter if they dive in the Bahamas and other parts of the Caribbean. It is one of the largest and most important predators in the reef ecosystem and feeds on a variety of different fish species, rays and cephalopods. Mature sharks are normally around 6.5 feet in length and weigh up to 150lbs, making them roughly the same size as the average human. They have a stocky, streamlined body, a large dorsal fin, and gray colored upper parts that fade to white on its underside. And in my view, they are one of the most beautiful fish in the ocean.
With a limited range and high site fidelity, the same sharks are regularly encountered at specific dive sites, and on special baited shark dives, where groups of more than 20 animals confidently approach the shark feeder handing out the snacks without ever becoming threatening or aggressive to other divers in the water. This activity is a divisive subject that is often debated, but there is no doubt it provides by far the best way to get close to sharks and take photographs.
Responsible operators that dive with these animals on a regular basis are professionals who use the appropriate safety equipment and understand and study shark behavior, so statistically it is one of the safest types of scuba dive possible. It's also great for beginners or as an introduction to sharks and shark diving.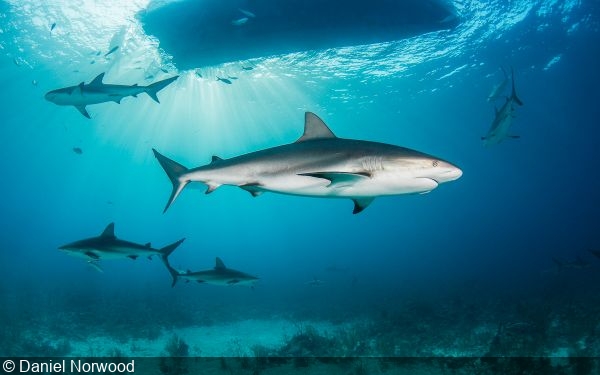 The sharks know when the snacks arrive and will wait under the boat for divers to enter the water

A perfect reef shark portrait captured at Tiger Beach in the Bahamas
Habitat and Distribution
The Caribbean reef shark can be found throughout tropical waters in the Caribbean Sea, where it prefers to spend time in shallow water and around coral reefs—exactly the same part of the ocean that scuba divers like to visit. The species is most regularly encountered throughout the Bahamas island chain, and it has been calculated that 93.7% of the total revenue generated by dedicated shark dives in the country comes from diving with these sharks, making them the most economically important species in the entire region.
Dive companies such as Stuart Cove's in Nassau and Unexso in Freeport pioneered these types of shark dives and have been introducing divers of all levels to Caribbean reef sharks for decades. In doing so, a relatively small number of these animals have become ambassadors for their species, and shark tourism has helped to convince the public that sharks are an indicator of a healthy marine environment and that they should be respected and protected.
I also have another reason to love this particular shark species, as I now dive with them on a regular basis in my home in Sint Maarten in the Dutch Caribbean. For the past 18 months, my wife and I have been busy establishing a new dive company, named SXM Divers, and our goal is to set up a new shark diving experience here similar to the famous operators mentioned above. It has been an incredible experience looking for sharks and getting to know a number of different animals, and we are now ready to introduce them to visitors to the island and hopefully continue to educate locals about the importance of these creatures to the marine environment and their economy.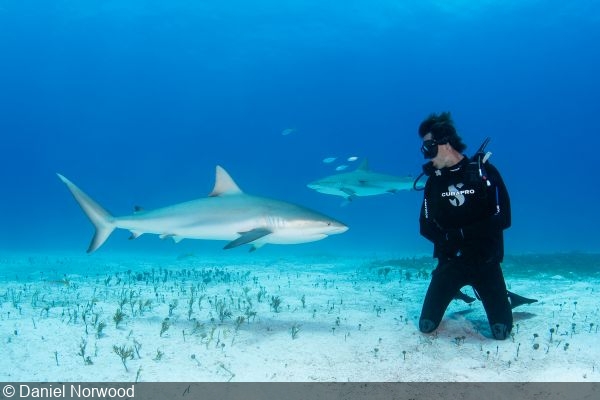 Face to face with Caribbean reef sharks in Sint Maarten

Experiement with different angles and compositions to add variety to your portfolio
Photography Equipment and Settings
Although I have dived with Caribbean reef sharks hundreds of times, I never get bored of shooting them. There are generally two types of encounter, and each one provides different photo opportunities and results. The first possibility is that you will see the shark while exploring a reef when you will be swimming or drifting with the current and so will the sharks. This situation allows you to capture wide-angle scenes of the shark in their coral reef habitat. However, they probably won't come as close as you would like most of the time, and this is when you should consider taking part in a baited shark dive.
In this second scenario, you will normally be directed to a special area where you will sit or kneel in the sand and stay there for the duration of the dive. A trained shark wrangler then appears with a box full of dead fish, attracting the sharks. There will be no swimming or chasing after the sharks, so you are reliant on them coming close to you, which they will most certainly do!
The good news is that for both types of dives, the camera kit you require remains the same. You first need a wide-angle lens: I use a Tokina 10–17mm fisheye, which allows me to zoom in and out depending on how close the shark comes and what type of image I am trying to capture. Most of the time, you will be using the lens at it widest setting, but it is also great to have the option to close the distance a little if the animals don't come as near as you would like, or to experiment with different angles and compositions.

You can even take cool shots of sharks using a macro lens!

As this species is only found in tropical warm water, the visibility is normally great, and you should have plenty of available light to work with, too. To best represent that bright blue color that is synonymous with the Caribbean, I would suggest starting with an aperture of around f/9–f/10 and a shutter speed of 1/160s or more depending on the cloud cover and water clarity.
It is worth noting that conditions are also an important factor in capturing great wide-angle images. If you get lucky and have good visibility on a nice sunny day, you will be able to increase both of these settings to ensure a sharp image with no corner distortion, and capture that picture perfect reef shark image you often see in magazines and online.
Strobes are also essential if you really want to capture the shark in all its glory and properly light up its white belly and other features. Don't forget to position them out wide if shooting the sharks at a distance, but be sure to pull them in closer to the dome port when the shark is within a few feet of the camera to get some nice close focus wide-angle shots. To get the best results, take part in multiple dives at the same site and experiment with strobe positions and settings. Photographers with great shark images have worked hard to build a portfolio, so keep that in mind and don't expect to take part in one dive and walk away with hundreds of perfect images.

"Shark Whisperer" Cristina Zenato demonstrates a special understanding with sharks

From below, the shark's white belly provides the perfect contrast to the tropical blue water
Insider Tips
Once you have your equipment ready and are surrounded by sharks, here are some other tips I have discovered over the years that may help you achieve better results. First of all, be aware that the sharks have been conditioned to arrive as soon as the dive boat does, so have your camera ready as soon as you enter the water as they will often make close passes in open water as you descend, allowing for images that will be very different from the ones you will capture on the bottom.
Once you get there, be careful not to kick up too much sand, as it will eventually affect the water clarity and appear as unwanted backscatter in your images. I have had many good images taken in otherwise perfect conditions ruined by a careless diver disturbing things, so pay attention to your movement and hope that your dive buddies do the same.
When swimming with sharks on the reef, try to include any colorful corals or other features that will enhance the image and show the animals in their natural habitat. On a baited dive, consider getting close to the feeder to capture images of the shark with its mouth open grabbing a snack. While it is interesting to include these types of images, try to also isolate the sharks from the baited conditions and capture them as naturally as possible.

Hook and Black Eye, two regular visitors to our new Sint Maarten shark dive

If you visit the island of Freeport and dive with Cristina Zenato, you may also get to see sharks resting on the sand and approaching her to have fishing hooks removed or to be petted. Cristina has been working with the same group of reef sharks for more than 20 years and has a special connection with many of the sharks that is amazing to see. Take advantage of these special locations to get unique images.
Never harass the animals or be tempted to reach out and touch them yourself though. Leave that to the pros that have chainmail protection and know what they are doing. Instead, concentrate on your photography and experiment with different techniques such as motion blur, silhouettes and even macro. I included a close-up image of the shark's eye in this collection just to show something different and prove that it is still possible to get interesting images even when equipped with the "wrong" lens!
Most importantly, whenever you have the opportunity to dive with these endangered animals, take full advantage of a willing and wonderful subject, and use your images to help spread the word about the need for shark conservation and the benefits of shark tourism.

Two sharks cross paths in the seagrass at Tiger Beach, Bahamas

Shark and diver interactions help to dispel negative stereotypes and promote shark tourism

A silhouette of a diver descending to dive with sharks below

Take the opportunity to shoot reef sharks in their natural habitat

RELATED ARTICLES
Be the first to add a comment to this article.
Newsletter
Travel with us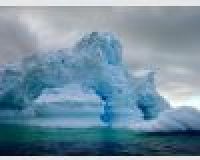 Antarctica
Plan Your Adventure >
Featured Photographer
Takako Uno
Expert Photographer
Takako was born in Japan and is now based in Hong Kong. A full time marine photographer, Takako now journeys with her husband, Stephen Wong, making images around the world. Her work has appeared in a number of magazines and...