Articles
Photographing Bouley Bay in Jersey, UK Channel Islands
By Jeremy Cuff, March 11, 2011 @ 09:00 AM (EST)
By Jeremy Cuff
Though I learned to dive in the temperate waters of the UK, the magnetic pull of warm and clear tropical waters has dominated my underwater experiences ever since. More recently however, I wanted to expand my diving and photography to include more temperate destinations, where the conditions are less predictable, seasonal and certainly a greater challenge photographically. In order to do this, I needed to look no further than my native UK...
As a regular contributor to Sport Diver magazine in the UK, I wanted to suggest an interesting local destination that hadn't been covered at all (or at least not in recent times) by the magazine. I came up with Bouley Bay- a place where I'd enjoyed a couple of dives way back in 2003. Photographically, it meant capturing good topside and underwater images that told the story in pictures, and ensuring that they related well with the words themselves.
Bouley Bay itself is a lovely scenic bay located on Jersey's North East coast. Its sheltered position allows for year round diving. On a clear day, you can sit and eat crab sandwiches, a bowl of chips or an omelette from Mad Mary's Café and see over to the coast of Normandy in mainland France. The gentle arc of the bay is "interrupted" by a rocky outcrop to the East known as L'Islet, and bounded to the North West by a stone jetty.
Local knowledge is everything, so I contacted the Bouley Bay Dive Centre to discuss my needs for the two days of diving that I'd planned, and they helpfully put me in touch with Kirk Truscott, a Jersey based diver and underwater photographer who was a veteran of more that 500 dives in the bay alone! He would turn out to be the ideal dive buddy for me, with his knowledge proving invaluable in making the most out of my two diving days.
Though difficult conditions for diving and photography can be encountered anywhere in the world, the chances of it are increased in temperate waters, which can suffer from being "blown out" due to bad weather, poor visibility, run off from the land after rain, plankton blooms and so on. It's also a different vibe due to the dive gear required in order to get in the water - either a thick wetsuit or a dry suit which is restricting in terms of movement compared to the freedom of diving in a shorty or a skin in the tropics.
This shouldn't be underestimated, and is very noticeable if the last diving you did was somewhere warm. Also, the weighting required is dramatically different from an underwater photographer's "warm water" set up and it's essential to get it right. There's nothing worse than diving in a (very buoyant) thick wetsuit without sufficient weights. Like all good photography, investing time and thought upfront will pay dividends later. I call it "the art of preparation".
With my trip preparations done, it was a case of hoping for the best in terms of the prevailing conditions, which turned out to be near perfect. The UK and France had endured an unusually cold winter, and although my visit to Jersey was in June, the water temperature was still below the average for the time of year. The result of this was that the summer plankton bloom was running late and had yet to happen, making the water very clear - a spectacular 10 metres of visibility, which is almost as good as it gets in UK waters.
As I've already touched upon, it's best to dive Bouley Bay (or any area that you're not familiar with) with a guide, so that you can get the most out of a visit. That said, and if a guide isn't available, the sheltered and safe conditions of the bay mean that most competent buddy pairs could do it alone and still find plenty to see.
The main decisions to be made are when to go in (which might be determined by the tide times, as there's quite a big tidal range here), where to get in, which is normally from either the slipway or from the beach (accessed by some steep steps), and where in the bay you want to go.
As the bay is fairly shallow and largely current free, it's possible to enjoy long dives in Bouley Bay, with the only enemy being the cold after you've been in the water for well over an hour. It's also a very good idea to take an SMB (Surface Marker Buoy) to indicate your location at all times, as there's some sporadic boat activity, especially on weekends. It pays to be vigilant, especially if surfacing, where it's essential to look around and listen for any oblivious boat craft.
Our main plan was to visit and photograph the different areas of the bay, ranging from rocky ledges and walls, luxuriant weed and kelp beds, the rock and pebble strewn shallows and the flat sandy expanses (the UK's best muck diving perhaps?). You could thus divide the bay into three main areas for the purposes of description, although in reality, you could easily cover more than a single area on each dive if you so desired, or if time is short.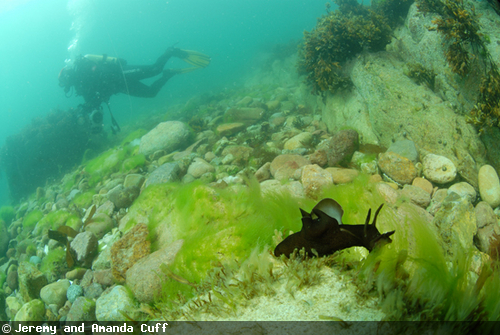 To the east, L'Islet offers rocky ledges and walls, and is surrounded by kelp and weed beds in season. Towards the middle of the bay are the rock and pebble strewn shallows, the weed beds and the vast sandy expanses further out. To the North West is a rocky and weed covered slope, weed beds and the sheer wall of the stone jetty. If diving in this area, look out for the large discarded anchor.
Bouley Bay offers a variety of underwater topography and fascinating marine life encounters for the underwater photographer. The timing of a visit is key to the types of flora and fauna that will most likely be encountered - for example the winter sees more flatfish, whereas the spring can yield lumpsuckers, cuttlefish and pipefish, with late summer offering the chance of John Dory.
My visit in mid-June was very productive, and would be as good a time as any to go. Around the ledges of L'Islet, look out for impressive tube worms, and in amongst the weed and kelp beds there's plenty of wrasse, including some quite hefty specimens. I also noticed the parasitic crustacean Anilocra hitching a ride on some of the wrasse, like some sort of alien, though getting close enough for photography eluded me during the visit.
There's several species of anemone to check out around the bay, including the tube anemone and the common snakelock anemones, which could sometimes be found growing on kelp. Other invertebrates included numerous spider crabs, hermit crabs, whelks and abundant seahares, a large kind of sea slug. Though not possible to see, lugworms are common judging by the number of casts on the sandy expanses.
Fish fans can expect some interesting and unusual finds in Bouley Bay. As well as the wrasse already mentioned, I observed pollack, bass, dragonets, black gobies, tompot blennies, tiny juvenile flatfish (unsure of the species) and the highlights for me, a small thornback ray and a scorpionfish, though the latter frustratingly darted into a crevice when I attempted to photograph it. We even spent time looking for Jersey's elusive seahorses on a ledge around L'Islet, though we didn't manage to find any.
Other surprises are also possible. Out of the corner of my eye, I suddenly perceived some unfamiliar form in mid-water close to the slipway. It was a diving Cormorant but it was too fast to photograph!
Although time didn't allow, night dives are also possible by arrangement, and are reputed to be very good, with the local marine night shift including hunting conger eels, gurnards, cuttlefish and even squid.
In terms of the photography itself, it's best to take a wide angle/fish eye set up and a macro set up to Bouley Bay to cover all eventualities. I was fortunate in that I was able to take both camera set ups on each dive, with Kirk carrying the rig that I wasn't using. If you don't have that option, a photographer must choose the set up according to the prevailing conditions and the subject matter that might be encountered at that particular time.
Specific to shooting the feature for Sport Diver, I also ensured that I worked with Kirk to capture a decent selection of diver shots. Before entering the water, we would discuss this, and once on the dives themselves, we found it easier to understand one another in order to achieve this aim.
Though the visibility was very good by UK standards, there was still a lot of suspended particles in the water, so it was imperative to concentrate on strobe placement in order to avoid a set of disappointing images full of back scatter. My other major considerations were balancing the light between the strobe-lit foregrounds and the ambient light backgrounds.
About The Author
Jeremy Cuff is a UK based underwater & travel photographer, photojournalist, enthusiast of the natural world and Divephotoguide correspondent. He's travelled extensively and his work is regularly and increasingly published in diving magazines and websites. You can see more of Jeremy's work on his website.
RELATED ARTICLES
Be the first to add a comment to this article.
Newsletter
Travel with us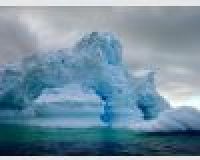 Antarctica
Plan Your Adventure >
Featured Photographer
Peter Verhoog
Expert Photographer
Peter Verhoog is one of Europe's most acclaimed underwater photographers, based in The Netherlands. He was born in 1955, leant to dive in 1976, and took his first underwater photographs in 1978. During his journeys he...