Articles
Photographer of the Week – Scott Portelli
By Lia Barrett, October 1, 2015 @ 06:00 AM (EST)

Dive into the portfolio of Scott Portelli, and you soon realize that you are wandering through the virtual halls of an underwater photographer's bucket list. For as images of humpbacks, leopard seals, sunfish and weedy seadragons scroll past you, it is difficult to not picture yourself in Scott's fins.

Who doesn't love sea lions—they are the most playful, curious creatures you will every come across. Just north of Perth, Australia you find a number of colonies along the coast—and these guys love to interact

Although he has traveled the world many times over, Scott has spent a good chunk of the past decade dedicating much of his time to the humpback whales of Tonga. His careful study of their behavior, and vast documentation, he shares with the public as well as with fellow photographers through expeditions. But what I find most striking about Scott's work in Tonga is that, yes, he is able to make a living showing others these beautiful whales, but he has also contributed greatly to their conservation and education. Through monetary donations, whale identification, and documentary participation, Scott has been able to share his passion with not only fellow humans, but with his bus-sized pals as well.

A humpback mother and calf in the rich blue waters around Tonga. This calf was less than a day old—with light skin and no scratch marks—and even some of the umbilical cord was still visible

Weedy seadragons are found in cold temperate waters in the southern parts of Australia. They are spectacular creatures with some of the most vibrant colors but can easily blend in with the kelp and sea grass

During South Australia's annual cuttlefish aggregation in the colder months, thousands of cuttlefish come to the area to breed and lay eggs in the shallow waters around Whyalla

A female humpback suspends herself vertically as her calf stays close to her comforting and protective pectoral fins. Like many young whales, the calf is curious and leaves its mom's side to check out the activity above—but it isn't long before it returns to the safety of the mother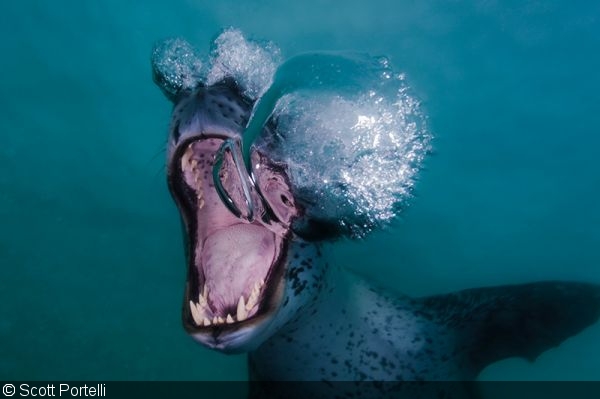 Leopard seals are an apex predator and near the top of the food chain in Antarctica. They display dominance by blowing bubbles and baring their teeth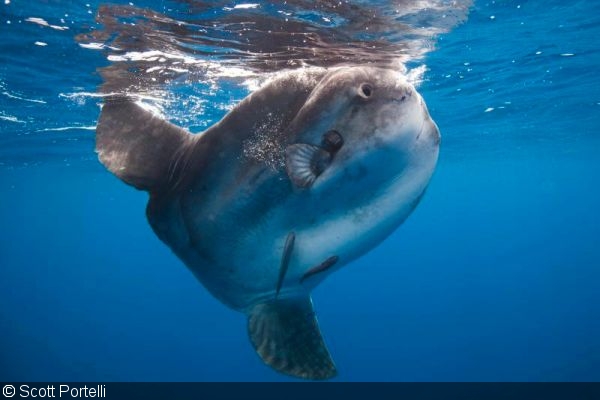 A massive Mola mola glides to the surface, Azores, Portugal

Incredible detail is revealed as the sun's rays pierce through the translucent membrane of a cauliflower jellyfish, Vava'u, Tonga

A late afternoon encounter with the famous whale sharks of Cenderawasih Bay, West Papua, Indonesia

On a few occasions, I have managed to see the full impact of a whale breaching. This time I was only meters away when the calf landed, trailing a huge stream of bubbles. This is some of the most exhilarating animal behavior one can witness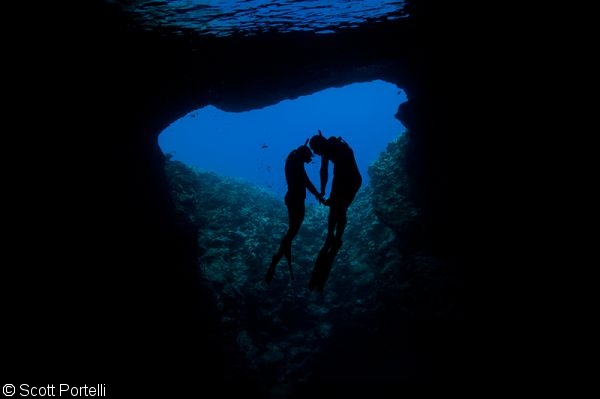 The stunning subsea caves that can be found around Tonga provide some beautiful backdrops for underwater photography

Scott—enjoying a post-dive high

To see more of Scott's work, visit his Facebook page, or his website, www.scottportelli.com.
RELATED ARTICLES
Be the first to add a comment to this article.
Newsletter
Travel with us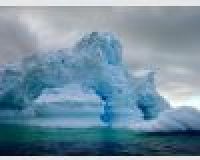 Antarctica
Plan Your Adventure >
Featured Photographer
Caroline Istas
Photographer
Caroline Istas studied History of Art and Photography in Brussels. On holiday in Vietnam she fell in love with the underwater world, Rainbow Divers and most importantly; her husband now!