Articles
Photographer of the Week – Matthew Meier
An American crocodile swims through sun rays, Gardens of the Queen, Cuba

There are a lot of familiar paths that lead one towards a professional underwater photography career. However, software engineering isn't typically one of them. But Photographer of the Week Matthew Meier spent years traveling through the U.S., Mexico, and the Caribbean installing resort reservations software—all the while spending as much time diving as possible.
Of course, it didn't hurt that Matt graduated with a master's degree from the famed Brooks Institute of Photography in California. That education is evident not only in his varied portfolio of underwater images, but also a successful career as an architectural and product photographer.
Currently, Matt resides in Southern California, where his backyard waters provide a plethora of photo opportunities. For the past seven years, he has served as a contributing editor, photographer and travel writer for X-Ray Mag. His images have appeared in countless other magazines, books, and art galleries.

A manta ray cruises above divers, San Benedicto Island, Mexico

A sarcastic fringehead fish living in a shell, amongst a sea floor covered with brittle stars, Channel Islands, California

Several curious, juvenile California sea lions coming down to investigate the photographer, Coronado Islands, Mexico

An aggregation of scalefin anthias swimming above colorful soft coral, Bligh Waters, Fiji

A pink anemonefish in a purple sea anemone, Triton Bay, Indonesia

A whale shark swimming just below the surface of the water, Triton Bay, Indonesia

A weedy scorpionfish, or Rhinopias, hiding under a plate coral, Great Barrier Reef, Australia

A leopard anemone shrimp perfectly camouflaged against its host, Bohol, Philippines

Children playing on the trunk of a palm tree at the edge of the water, Munda, Solomon Islands

The eye of a crocodile flathead fish, Marovo Lagoon, Solomon Islands

Matt getting ready to jump into the big blue

To learn more about Matt's editorial services or to purchase prints, visit his website, www.matthewmeierphoto.com.
RELATED ARTICLES
Be the first to add a comment to this article.
Newsletter
Travel with us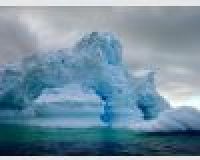 Antarctica
Plan Your Adventure >
Featured Photographer
Rand Mcmeins
Photographer
My first certified dives were in 2001. I rented a film camera from the dive shop in Curacao and took 2 rolls worth of shots. One roll was lost in the mail. It had a shot of a turtle on it and I was very dissapointed to lose it....