Articles
Photographer of the Week – Jenny Stock
A massive male giant cuttlefish hovering protectively near a smaller female, Whyalla, South Australia
This week's DPG Photographer of the Week is Jenny Stock. Jenny has lived her life behind a camera for the last 24 years, through both underwater photography and video production for broadcast television. Her photographs are a mix of natural history and the workings of her creative mind and editing techniques.
Jenny says: "It is a privilege for any human to enter the water and see the incredible world that lies beneath. The ocean is an astonishing, changeable landscape. It can be invigorating, exciting, fierce and ferocious. Alternatively it can be a calm, peaceful, meditative place of tranquillity. Beneath the waves a colossal variety of weird and wonderful creatures live, many of which will never be known to the people who only stay topside."
Some of her happiest moments have been underwater. Swimming down and breathing in this alien environment is a thrill, but when she adds in experiences such as looking into the eye of a playful seal, being bumped by a passing ray or gliding over a healthy colourful reef on a drift dive, they really become experiences that will last forever. Jenny gets pleasure not only from having these memories but also from sharing these moments and reliving them with other people through her photography.
Photography is a fantastic tool that can be used to great effect by the conservation community. Scientific evidence doesn't always lead to action. Facts, figures, pie charts and graphs don't necessarily inspire humans to change their behavior. To make people sit up and take notice, what is needed is a medium that pulls at the heartstrings.
In her pursuit to produce unique underwater pictures Jenny goes down the rabbit hole. Creativity is at the heart of some of her favourite images, like the dual smiling croc or the fairy basslet below. Even if it produces odd results, Jenny wants to keep pushing to obtain pictures that no other photographer has thought of. It's a hit and miss journey!
A spotlight goby and a pepperment shrimp are good roommates in a yellow tube sponge, Jardines de la Reina, Cuba
Dual crocodile smile, Jardines de la Reina, Cuba
Stingless jellyfish in the world famous jellyfish lake in Palau
A shorthead seahorse wrapped around structure beneath the Port Hughes Jetty, South Australia
A speckled longfin eel, a self colonizing intruder to the Royal Botanical Garden in Sydney, Australia
A fangblenny guarding a glutch of golden eggs inside a clam shell, Raja Ampat, Indonesia
A freediver swims back towards the surface in beautiful, baitfish-filled Mariner's Cave, Vava'u, Tonga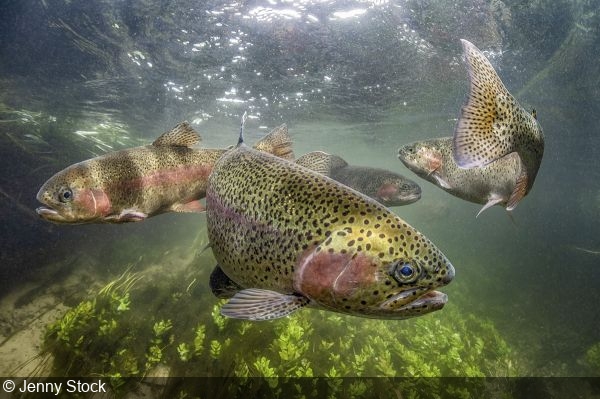 Some beefy rainbow trout inspect the camera, Stockbridge, Hampshire, England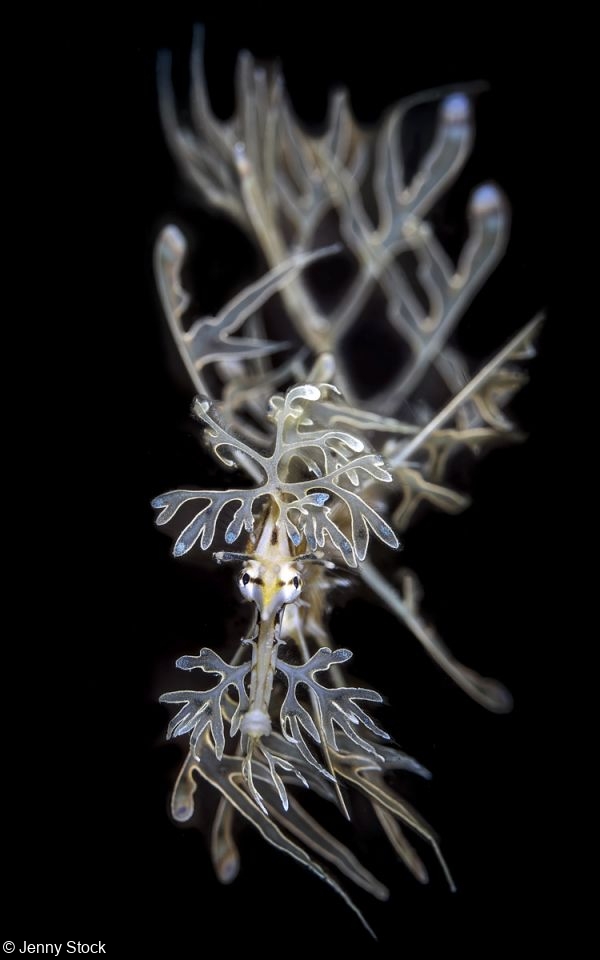 Perhaps the most iconic South Australian marine critter, the fantastical leafy seadragon, Rapid Bay Jetty, Australia
An American crocodile approaches the camera through a mangrove forest, Cuba
Wispy fairy basslets, a real image turned into a more artistic vision, Cuba
Silky sharks like those pictured, thrive in Cuba's Gardens of the Queen

For more of Jenny's excellent images, check out her website, www.jennystockphotography.co.uk, or follow her Facebook or Instagram.
RELATED ARTICLES
Be the first to add a comment to this article.
Newsletter
Travel with us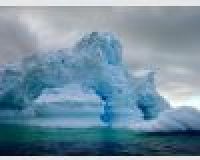 Antarctica
Plan Your Adventure >
Featured Photographer
Tobi Bernard
Expert Photographer
Tobi Bernard is originally from Germany where he trained and worked as a graphic designer. He migrated to New Zealand in 1991 where he merged his passion for the underwater world with his creative interest through underwater...