Articles
Photographer of the Week – Daniel Norwood
By Lia Barrett, June 26, 2014 @ 05:00 AM (EST)
Coral whip goby, Anilao, Philippines

Each week, I take time to comb through portfolios, read bios, and through articles relating to photographers we are about to feature as Photographers of the Week. Typically, the caliber of the imagery speaks for itself and the actual challenge of this weekly assignment lies in what to say about the photographer. I naturally start with "About" sections on websites, which, unless you're a comedian like Shane Gross, are usually professional and straightforward. In these cases, I must dig a little more in order to find something engaging, something humanizing, and perhaps, something a bit juicy.

Australia sea lion, Hopkins Island, Australia

And so it happened that while I was digging into this week's honoree (or victim perhaps), Daniel Norwood, I found a nice, professional biography. Nice is not really what I was in the mood for, as it didn't tug at the strings of intrigue that give these introductions the flair that make them worth reading. And thus, in our modern spirit of, ahem, stalking almost, I naturally went to Facebook in order to do a little "research." And I must say, what I found was delightfully pleasing, for it seems that Mr. Daniel is an ostensibly cheery British lad who enjoys golf, hanging with his friends, attending weddings, snowboarding, going to festivals, and best of all, wearing silly hats!
Now I know when you cross the boundary of looking at someone's Facebook history, you're likely to find evidence of the Peter Pan within us all. And to be fair, putting the novelty of new age privacy invasion aside, we like Daniel not merely for what he chooses to put on his hat rack. Because when you get back to the real reason we're here—his work—it is obvious that he has an abundance of creative talent swirling around underneath those pinecone crowns and fluorescent green wigs that he so elegantly wears.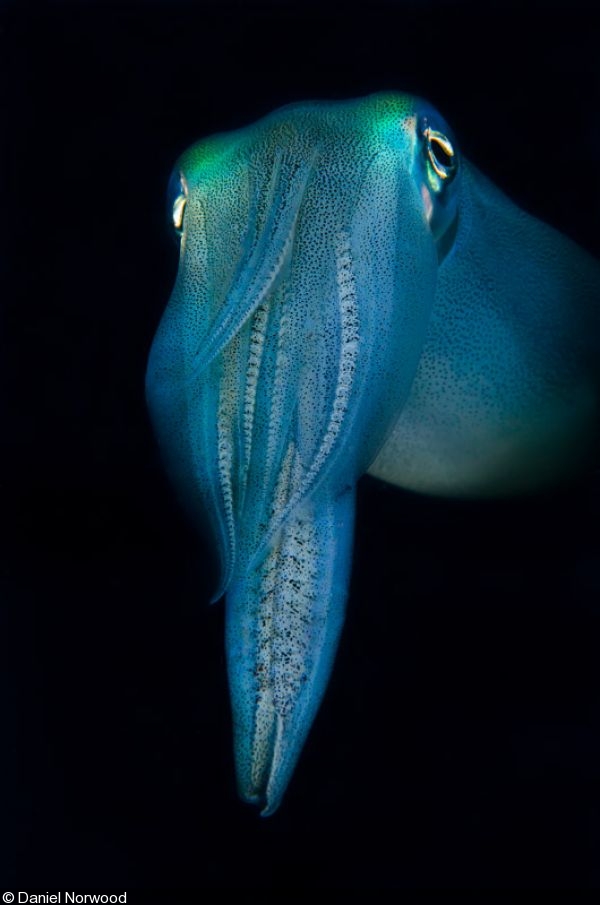 Squid, Lembeh Strait, Indonesia

But his portfolio, with its beautiful arrangement of both pelagics and little guys, is more like an elegant hat worn for the races as opposed to an adornment of pinecones… Pleasing compositions, contrasting colors and highlights, and a fondness for animal behavior, Daniel's work is rich in content and clean in technique. And impressively, until he upgraded to a DSLR two years ago, Daniel was shooting with a compact camera, and became the first person to win the British Society of Underwater Photographers beginner portfolio using a point and shoot!
And so, a shooter like Daniel just goes to show that perceptions of talent based on equipment do not account for methodology, persistence, and the creative implementation of said tool. In addition to garnering inspiration from his work, we learn a few more lessons from Daniel. One: don't be afraid to spice up your biography (guilty myself). Two: watch out what goes up on your social media page (ah, yeah, should probably do that too). And finally, never take yourself too seriously, for you never know, there might be a creepy editor stalking you, and perhaps, a little costumery might be the trigger that sets you apart from the masses!

Trumpet fish, Buyat Bay, Indonesia

Squid, Anilao, Philippines

Nudibranch, Dumaguete, Philippines

Mantis shrimp, Dumaguete, Philippines

Leafy seadragon, Australia

Whale shark, Isla Mujeres, Mexico

Daniel Norwood sans hat

To see more of Daniel's work, check out his website www.danielnorwoodphotography.com.
RELATED ARTICLES
Be the first to add a comment to this article.
Newsletter
Travel with us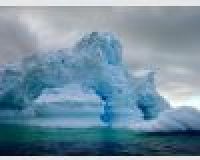 Antarctica
Plan Your Adventure >
Featured Photographer
Tobi Bernard
Expert Photographer
Tobi Bernard is originally from Germany where he trained and worked as a graphic designer. He migrated to New Zealand in 1991 where he merged his passion for the underwater world with his creative interest through underwater...