Articles
Everybody Poops: Photographer Gets Caught in an Epic Sperm Whale "Poopnado"
By
Keri Wilk
, January 15, 2015 @ 02:33 PM (EST)

DPG Contributing Editor and ReefNet/Rotorpixel owner Keri Wilk had an unusual experience recently when photographing sperm whales in Dominica. It's already a pretty surreal experience to see the world's largest predator approach you, but it get's real exciting when said whale also blows the butt trumpet right on top of you. Keri, being the professional that he is, of course kept shooting and documented the entire, um, event.


Keri recounts:
"The guilty whale stayed in one spot, kept defecating, and spinning like a bus-sized blender, growing the cloud to well over 100 feet in diameter. The 30-foot whale was completely hidden inside the gigantic poop ball. When we were sufficiently confused/blinded by poop, it burst out of the poop ball faster than I've ever seen a whale move.

This is essentially the equivalent of an octopus squirting ink, and as strange as it sounds, this was one of the coolest things I've ever seen underwater. And no, we didn't do anything to stress the animal, and all government permit rules were followed precisely with an extremely experienced guide and boat captain… It wasn't just a poop. It was a defense mechanism."

Could this possibly be the first time this behavior has been documented? Now that's contributing to science!
Want to have your own sperm whale poop experience? Join Keri this March in Dominica.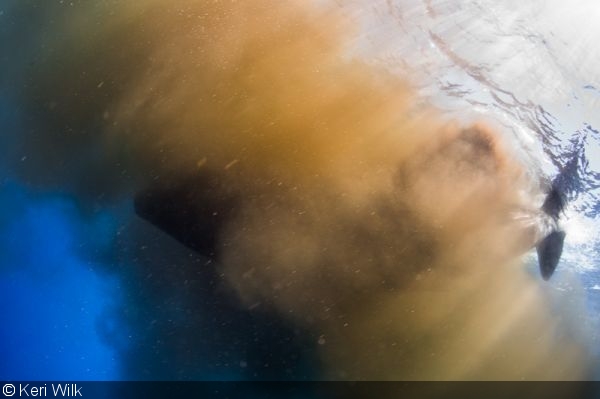 RELATED ARTICLES
Be the first to add a comment to this article.
Newsletter
Travel with us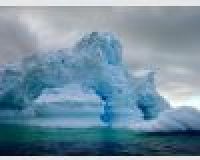 Antarctica
Plan Your Adventure >
Featured Photographer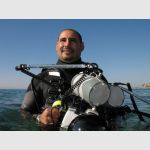 Noam Kortler
Expert Photographer
Noam Kortler is connected to the sea since he can remember him self. he was born on the coast of the Mediterranean sea of Israel and was diving and surfing when ever he could He moved to Eilat, the south popint of israel to...