Articles
Photo Lab with Mark Harris
By DPG Editorial Staff, September 9, 2020 @ 06:00 AM (EST)
Pro underwater photographers Jeff Milisen and Rico Besserdich take a detailed look at five of reader Mark Harris' images, giving him pointers and feedback on how he might improve them.

Alien invaders, Chac Mool Cenote, Tulum, Mexico, Panasonic Lumix GF1, Lumix 7–14mm lens, Inon X-2 housing, ambient light, f/5, 1/30s, ISO 400

Jeff Milisen: This is a solid shot. I like the God rays with the rocky textures and the divers silhouetted. I even like the appearance of vignetting in the rock shadows at the bottom. What this snap could use is some color. I like the hints of green in the forest at the top, so maybe include more of that? Also, the diver in front is hiding behind some rays while the diver in back is crisp. I would want both divers in the same plane to give them more of a follow-the-leader relationship. But again, this is an excellent, beautifully composed shot!
Rico Besserdich: I am a big fan of light rays underwater, and I was immediately drawn to this picture because of the mood of the light. The divers help the viewer appreciate the experience of diving in the cenotes, but even without them and concentrating purely on the light and structures, this is a successful photo. Either way, there are many beautiful things to marvel at in this picture: The play of light in the water, and the reflections on the water surface and also on the rocks convey a feeling of harmony and depth. To get the light rays even sharper and more structured, use a smaller aperture. From f/8 it gets interesting, while an aperture between f/11 and f/16 would be even better. Such apertures would have to be compensated for by a higher sensitivity setting: I think ISO 800 would still be acceptable for the camera used here.

Mola mola, Sea of the Hebrides, UK, Panasonic Lumix GF1, Lumix 7–14mm lens, Inon X-2 housing, ambient light, f/7.1, 1/100s, ISO 200

Jeff: Wow, sick! Credit where it is due, this image is fine as-is. I am a sucker for reflections of odd subjects and molas are my wife's favorite animal. She wouldn't let me rip this one to shreds if I tried! If it were mine, I would want the whole animal in the reflection. And it is lacking something, maybe a diver or swimmer for scale? Or maybe some kelp or a well-placed boat to give it a sense of place? I might also tweak it a bit in post to bring out some contrast and sharpness. But really, what an encounter! You really nailed the shot.
Rico: This is certainly an extraordinary encounter with an extraordinary sea creature. I like the reflection of the animal on the surface of the water, as it not only looks interesting photographically but also illustrates the natural behavior of this species. It was also the right decision to work exclusively with ambient light, as the reflections on the subject but also the fine rays visible in the water make the colors and mood appear natural. In terms of composition, the image would benefit from the subject being more centered in the frame. It is also important to have a straight horizon line. The image sharpness is appropriate for the camera and lens used, a subjective impression of blurring being due to the somewhat weak contrast. In general, the classic 1/125s, f/8 is recommended for such shooting situations. Improving contrast as well as finer corrections of the white balance could, however, also be implemented afterwards in post without much effort.

Mating decorator crabs, Moalboal, Cebu, Philippines, Panasonic Lumix GF1, Lumix 45mm macro lens, Inon X-2 housing, Inon Z-240 and S-2000 strobes, f/14, 1/160s, ISO 200

Jeff: This one is amazing. I love the intricate details on the anemones and the behavior between the two animals. The black background is nice and clean, which really helps bring the subjects out. Now that you nailed a shot with fairly even lighting, I would break out a snoot and see what creative directional lighting I could throw at it. That would also minimize the drab views of tan coralhead in the lower right. In general, though, that behavior is just wild. You nailed it!
Rico: Two crabs are better than one, as Mark's photo clearly illustrates! The dark background fits well here, as the viewer's attention is drawn to the main actors. It's also interesting to gradually discover all the many fine details—a picture that invites the viewer to linger longer is always a good picture. One possible option for improvement here is clearly the color temperature, which is somewhat yellowish. Since the two flashes used are the only light sources, one possibility is setting the white balance to the Kelvin color temperature of the flashes. (Be careful when using this technique, however, since Kelvin values will change depending on whether you are using strobes with or without diffusers.) If the image is available as a RAW file, the necessary white balance correction can also be carried out during post-processing. If the picture is only available as a JPEG, you can use a feature such as Adobe Photoshop's "match color" tool to improve the colors. While you're at it, apply a little sharpening as well, just to bring out those lovely details even more.

Facing the Hammer, Tiger Beach, Bahamas, Panasonic Lumix GF1, Lumix 7–14mm lens, Inon X-2 housing, Inon Z-240 and S-2000 strobes, f/11, 1/125s, ISO 400

Jeff: Technically, this is a cool shot and a neat perspective that highlights the hammerhead's namesake. Still, the angle has been done to death! Name the species, and someone has taken a straight-on shot of probably every shark out there. I know you were close, but these shots really benefit from being even closer to the animal. Every half-inch counts here. I would have loved to see the next click when the eyes were pushed way out to the edges of the frame. The background has a grayish hue to it that could have done with some exposure correction and maybe different post-production work. And while the whites aren't exactly blown-out, they are a little too bright and contract harshly with the rest. All that said, I have shot a lot of sharks, but I have yet to grab a photo like this of a great hammerhead!
Rico: This is a great photo of a hammerhead shark. The 16:9 crop works well, as it effectively emphasizes the characteristics of this animal. For me, you are adequately close to the subject. The pose is very photogenic and the open mouth creates a certain drama, and those who don't just look at the teeth may notice the little remora, which also has a small role to play in the picture. For me, the main opportunities for improvement lie in image processing. The picture could just use a little correction of the white balance and a small increase in contrast. For a correct assessment of color and contrast, it's a good idea to work on a color-calibrated monitor.

Motion in the Ocean, Tiger Beach, Bahamas, Panasonic Lumix GF1, Lumix 7–14mm lens, Inon X-2 housing, Inon Z-240 and S-2000 strobes, f/16, 1/8s, ISO 100

Jeff: Ahh, the rear shutter strobe release. This technique is the mark of someone who doesn't need the advice of strangers on the Internet to improve their photography. Full transparency: I'm usually not a fan of this unless executed flawlessly (e.g., Brian Skerry). In this case, I want more of the animal, so get closer! There really isn't much going on in the background, so the subject needs to fill more of the frame. And the blur indicates that the shark is moving, but it leaves the viewer wondering why. I want a conclusion to the story, but instead all I get is the beginning—a shark in motion. It looks like you mostly have the technique down, so now put it to use in a more colorful or compelling situation.
Rico: This is a beautiful picture, not only because of the subject but also because of the homogeneous interplay of light and color, as well as the interesting bonus—the depiction of dynamism and movement. In terms of composition, it would be nice if there were a little more space in the right half of the image. Allowing the fish enough space to swim into the frame is a simple and effective basic rule here. In the areas of the shark that have been illuminated by the light of the flash, red and yellow tones are visible, which may not correspond to the actual color of the animal. Personally, I find this more positive than negative in this picture, since the photographic approach in this case is more artistic than documentary in nature. Nevertheless, I recommend paying special attention to the colors when editing images.
Final Comments
Jeff: In general, Mark obviously has some experience with underwater photography. His photos are sharp and feature compelling creatures in a number of habitats and a variety of techniques. His next step might be to keep experimenting with creative artificial lighting. The cenote, for example, could have been lit using a few bright lights or off-camera strobes. Just light up an interesting wall to be your focus. Combine the artificial lights with the ambient and voila! Likewise, the crabs would have benefitted from some directional/focused lighting, or maybe a backlight. And I like the attempt at using rear-shutter strobe on the reef shark. It wouldn't take much more to really perfect a shot with it.
Rico: Mark's image set shows that his results are by no means random but rather are based on many attempts, failures, and refinements, as well as exchanges of ideas with other underwater photographers. Nobody becomes a very good photographer in a very short time—everything good takes time. Mark's pictures show his versatility and his drive to tackle different techniques. While Mark's camera gear has certain limitations in terms of dynamic range, contrast, sharpness, and color (when compared with high-end, professional equipment), his images still have the power to stir our emotions. Whatever minor problems that exist can be fixed or optimized during post-processing. Often, the required corrections are minimal, but they still make a significant difference. The decisive factor is not how a particular problem can be resolved, but how to recognize the problem in the first place. One must constantly work on training the eye for even the finest details.

---

About Mark Harris: Mark started underwater photography 22 years ago, with his initial setup being a Sea&Sea MX10 film camera. For more than a decade, he didn't really seek to improve his abilities and, by his own estimation, produced quite mediocre results. In 2010, he joined the British Society of Underwater Photographers and invested in a basic Micro Four Thirds system, which he still uses today. Since then, he has sought to continually refine his skills.
If you're interested in having your images critiqued in our Photo Lab column, send us five of your best images (unwatermarked), sized at 1500 pixels wide (for both horizontal and vertical images), and for each image, a one-line description, location where it was taken, camera, housing and lighting used, and exposure information. Please also include a 50–80-word biography detailing your photography background.
RELATED ARTICLES
Newsletter
Travel with us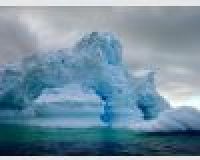 Antarctica
Plan Your Adventure >
Featured Photographer