Articles
Pelagic Perfect Storm: Orcas on the Hunt in Baja
Orca whales cruise through the Sea of Cortez

Photographic fate is a funny thing. For nearly seven years, Jorge Hauser has boarded a plane to Mexico's Baja Peninsula twice per month in hopes of swimming with a pod orca whales. Some trips, he missed them by days. Some trips, he probably missed them by hours. What would it take for this underwater photographer to finally break the curse? As it turns out, a disastrous duo of hurricanes.
A Perfect Storm of Luck
No one wants to have a dive trip canceled. But when Hurricanes Bud and Aletta spun up just days apart over the Pacific, Jorge knew what he had to do. As the owner and CEO of the Pelagic Fleet, Jorge made the difficult decision to cancel the planned itinerary to the remote Socorro Islands on the company's Solmar V liveaboard—a trip he was supposed to join.
Instead of scrapping the trip entirely, the mix of guests and Pelagic Fleet friends decided to switch the itinerary to the better-protected Sea of Cortez. In what can best be described as an "exploratory trip," the 112-foot Solmar V was joined by Pelagic Fleet's smaller, speedier day boat, the Mobula, and a Cessna spotter plane. Jorge was going all in on orcas.

Jorge used a Cessna spotter plane to locate the pod of orca whales

When luck strikes, it flashes as fast as lighting. Cruising off Cabo Pulmo, it took less than an hour for Jorge and company to come across a curious pod of orca whales. For more than an hour, the group of six or seven whales cautiously investigated the snorkelers in the water.
"Every time we would jump into the water they would only do a flyby, quickly checking us out," says Jorge, who uses the word "unicorn" to describe the rarity of swimming with orca whales. "But around our tenth jump, something changed."

Initially, the orcas only made quick passes by the divers, but then something else earned their attention...

Photographing orca whales in the wild is a rare opportunity
Orcas on the Hunt
Floating in the middle of the Sea of Cortez, the snorkelers spied a pelagic stingray swimming through the already exhilarating scene. For those with a camera, the stingray was simple a photo subject. But for the orcas, the stingray was more dinner and a show.
"They were circling a pelagic ray, beating her up with their tails and playing with it," recalls Jorge, who managed to grab incredible stills and video of the behavior. "Also, they would come from behind her to grab her by the tail and pull her down."

The orcas began to play with a pelagic stingray at the surface

The tossing and teasing of the stingray endured for more than an hour, allowing guests to snap away stunning shots of the encounter. Jorge typically shoots stills, but he could sense that something special was about to unfold and wanted to capture video. The orcas had made only passing glances at the divers before the ray arrived on scene—now they were ready to put on a spectacle.
"Wild orcas are known to 'play with their food,' and also they were curious about us, so my guess is that they were showing off," says Jorge, who was more than happy to document the show with his camera.

Is it for food or entertainment? An orca checks out the stingray as if to impress the onlookers

Jorge captures a spectacular moment as an orca whale uses its tail to stun the stingray
Mexico's Magico Pelagico
Jorge's obsession with Mexico's open ocean dates back to his scuba certification at age 15—and has only grown from there. Working with the non-profit Pelagic Life, Jorge produced the film Mexico Pelagico, which was picked up by Netflix and Discovery Channel. His images of open ocean life have appeared in publications such as National Geographic and Wired.
Now, Jorge is dedicated to deliver Mexico's best underwater encounters to other underwater photographers through his Pelagic Fleet brand's three vessels: The Solmar V pioneered diving with great white sharks in Guadalupe more than a decade ago and continues to innovate how photographers interact with these apex predators; on Pelagic Safari's Mobula boat, you never know what you'll photograph—mass mobs of mobula rays, orca whales, sea lions, or pelagic sharks; and when the Socorro Vortex liveaboard launches in October, Jorge hopes to redefine luxury diving in remote locations.

There are few places in the world that offer such amazing pelagic encounters, but Mexico's Pacific region is one of them

"I'm obsessed with Baja," raves DPG Field Editor and underwater photographer Joanna Lentini, who was fortunate to also enjoy the orca encounter. "I've had some of the most enchanting marine life encounters and photographic opportunities in the waters off of Baja California Sur with the Pelagic Fleet crew."
Joanna recalls the feeling of being in the water and locking eyes with an orca whale. An experienced shooter, Joanna knew the best way to photograph such fast-moving big animals: no strobes, a fast shutter speed, and a fisheye lens. She describes the whole event as "a somewhat terrifying and beautiful moment all at once that is difficult to put into words."
It's these face-to-face encounters with rare pelagic life that keep bringing underwater photographers like Jorge and Joanna back to Mexico's Pacific coast. And how close were those orca whales? "As close as it gets," Jorge says about the proximity of the whales. "The only reason the orcas didn't mess up my hair is because I don't have any!"

Only the images are likely to outlast Jorge and Joanna's memories of swimming with these whales
RELATED ARTICLES
Be the first to add a comment to this article.
Newsletter
Travel with us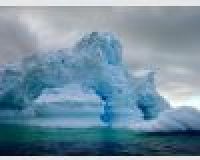 Antarctica
Plan Your Adventure >
Featured Photographer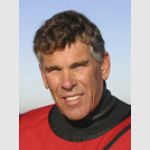 Howard Hall
Expert Photographer
Howard Hall has been on the masthead of several magazines including Roving Editor for International Wildlife Magazine and Senior Associate Editor for Ocean Realm Magazine. His photographs and/or articles have been widely...