Articles
"Ocean Soul" By Brian Skerry
June 27, 2012 @ 03:00 PM (EST)
By Matt Weiss
Underwater wildlife photographers constantly strive to find a balance between art and documentation. Every image aims to tell the story of the photographer and the subject, and to evoke the greater context of the subject in its environment. As the accessibility of underwater photography increases, it becomes more difficult to take a unique picture, one with purpose—one that tells its own story. Therefore, I'm often skeptical when I receive a coffee table book of underwater photographs. In our digital world, a collection of images must be exceptional for a consumer to spend $50 on them.

Ocean Soul, by Brian Skerry, has revitalized my interest in the genre. This collection of anecdotal stories and full-page images taken over the course of Skerry's illustrious career is more than a well-curated book of pretty photos. It has importance for underwater photography, and for the ocean itself.

Skerry has achieved one of the highest honors in wildlife photography: he's trusted to illustrate the ocean's most important stories in National Geographic, and is thus one of the lucky few that can call himself a professional underwater photographer. Because of this elite status, Skerry has been to places and witnessed situations of which anyone who's ever put an SLR in a waterproof housing would be envious. That his coveted job is clearly well earned is borne out by the images, particularly the different collections, in Ocean Soul. Skerry has achieved the perfect balance between art and documentation in his oeuvre.

Ocean Soul takes us through Skerry's best work, which is divided into four sections. Each image reveals a technically-skilled photographer with a mastery of light. But the images alone are yet more powerful when viewed as a collection. Skerry is as much an aesthete as a storyteller. Or, as he states on page 242, "I believe my most important role remains as an artistic interpreter of all that I see and as a storyteller. I want to understand the science, but want to see and capture the poetry." This aim is best exemplified by the serial images of a specific species featured in each section.

For example, in "Cold Water," Skerry spotlights the harp seal. Tight portraits of the pups' faces have a touching appeal; other photos capture the harp seal's struggle, in a harsh natural habitat and because of man's insistence on hunting them, and grace. Other stunning images feature the seals where they are most at home—the water. The most jaded, well-traveled underwater photographer would be impressed by any one of these images, but the series, and the careful attention to which images should be included in the set, are what make this section special. Equally impressive series on the leatherback turtles and right whales are what make Skerry's book unique. Each collection is special, and this is a collection of collections.

What is yet more apparent from the text and the images of Ocean Soul is that Skerry aims to do more than impress. He wants to educate. The title's double meaning, implying simultaneously that the ocean has a soul and that Skerry is a soul of the ocean, is only the first indication of Skerry's passion for the ocean and for oceanic conservation. His conviction resonates on each page, and Skerry writes that "[his] love of the sea" leads him to "photograph the disturbing scenes as well, in hopes of raising awareness."

To promote awareness of the ocean's plight is a goal many share, but few achieve results comparable to those attained by Skerry in Ocean Soul. His success comes from his ability to appeal to an audience beyond those persons already committed to the cause. Most divers, underwater photographers and ocean lovers already know about by-catch, ghost nets, and wasteful fishery practices; to raise awareness, you must reach that normally disinterested landlubber—"the civilian."

Admittedly Ocean Soul's first step in reaching a broader audience is the yellow box, prominently placed on the cover, which signifies a seal of approval from National Geographic, and demonstrates that this publication is of the highest quality. This undoubtedly draws the civilian, but once the reader is hooked, Skerry does not disappoint. Inside the collection, his talents for capturing a stunning image that tells an important story shine.

The best example is Skerry's now famous photograph of a right whale making a close approach to a diver. Light blue water contrasts the bizarrely giant whale, its size revealed only by the relatable scale of the diver, firmly standing on the barren white sand. The image is striking and beautiful. But the humanity of this moment, in which the whale's position and posture makes it apparent that it recognizes a fellow mammal, strikes deeper. Despite the icy blue water, the moon-like environment, and the gigantic ocean "beast," it's an image people connect with. And that's why Ocean Soul is a successful book: it connects us, both the well-traveled underwater photographer and the casual reader, with the ocean.

Ocean Soul will inspire underwater photographers by reminding them about their unique ability to display the marvels of a mostly unseen, quickly disappearing world. But it will also raise awareness of the ocean's troubles by helping readers connect on a deeply personal level with issues of pollution, overhunting, and extinction. Perhaps there is no better weapon in the war against the ocean's destruction than Skerry's camera.






RELATED ARTICLES
Be the first to add a comment to this article.
Newsletter
Travel with us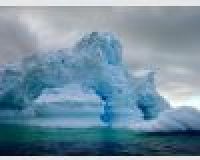 Antarctica
Plan Your Adventure >
Featured Photographer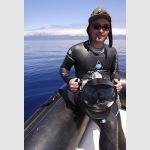 Jens Kuhfs
Expert Photographer
Born a Pisces, it should be no surprise that he has taken to the water. Jens Kuhfs has taken to the underwater. And he takes us with him when he captures his encounters in the blue depths of our planet with his camera, and...