Articles
Surf Photography with a Nikonos

Photographer Brooks Sterling isn't afraid to walk the line between old and new photographic technology. Feet planted on a sandy Southern California beach prior to a surf photography shoot, Brooks can be found armed with a beat-up Nikonos V film camera (circa 1984) in one hand, and his iPhone (circa 2015) in the other.
"The in-camera light meter in my Nikonos has never worked, so I use a light meter app on my iPhone to take a reading prior to swimming out," Brooks explains of the puzzling combination. "It's been working for me so far, but I bet it would be much easier if the light meter worked."
For underwater photographers, the word "Nikonos" conjures up memories of the glory film days—days of 36 frames and no digital manipulation—days long forgotten. But for Brooks, the Nikonos is as relevant as ever: In the digital age where cameras spurt out a dozen images in the blink of an eye, shooting with film slows down the process, allowing him to capture moments more intimately.


"Shooting film helps me slow down and think about each individual shot in more detail," says Brooks, who usually only has time to roll the film for a single snap per wave. "It helps slow down my pace and be more selective about each photo I decide to shoot."
Brooks is no hipster photographer who picked up a Nikonos as a statement of retro irony. And he's not waiting for the digital "fad" to pass. His path to this once-iconic camera came through necessity, when housings for film cameras, like his long-cherished Canon EOS 1V, slowly faded from store shelves and eBay. Rather than making the expensive switch to a big digital rig, Brooks invested in the little orange and black camera.
And while Brooks does shoot digitally as well, he hasn't looked back on his decision to opt for film in his surf photography. Setting aside the busted light meter, he finds the Nikonos very simple and easy to use. In the water, its compact and rugged form makes ducking into waves an easier task. And left on the beach, there's less risk of someone stealing a camera that looks as if it might be less out of place in an antique store than on a professional photo shoot.


"I enjoy shooting with both film and digital cameras," confesses Brooks, "but I do prefer film over digital."
When it comes time to decide between digital and film on a shoot, it comes down to the specific subject, the conditions, and Brooks' mood that day. But on any given day, he sees in film photography an intangible quality that often lacks in today's digital world. When asked what appeals most to him about using a Nikonos, Brooks has a simple answer: "Film in general has a unique look that can't be duplicated by digital cameras."

RELATED ARTICLES
Be the first to add a comment to this article.
Newsletter
Travel with us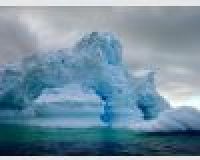 Antarctica
Plan Your Adventure >
Featured Photographer
Nicholas Samaras
Photographer
Nicholas Samaras, is one of the most passionate and committed underwater photographers. His love and dedication to sea and its creatures in combination with his characteristic effort to bring out to surface the beauty of the...