Articles
Newfoundland: From Whaling to Whale Watching
By Joseph Tepper, September 8, 2017 @ 06:00 AM (EST)

"You'll smell 'em when they get close," shouts out Rick Stanley, owner of Ocean Quest Adventures, as he steers the skiff off Newfoundland, Canada.
But as an underwater photojournalist, scent isn't my first go-to sense. I start with sight: Dozens of geysers erupt from the water's surface framed against the coastline ablaze with light from the late day sun. The cacophonous clamoring of several species of seabirds is a unique soundtrack. Straddling the boat's inflatable hull, my right leg is submerged and I feel the near-freezing water dampen my wetsuit. The briny flavor of my snorkel's mouthpiece is a familiar taste.
And then the acrid musk of decomposing krill seeps through my dive mask—it's the burp of a 40-foot humpback whale that's surfaced just a couple feet away. Without a quiver, I swing my other leg over the side and slip into the frigid North Atlantic water. But in that moment, all my senses fail to capture what I experience.

From Whaling to Whale Watching
The history and culture of whaling in Newfoundland remains an important tool for promoting regional tourism
On the northeast tip of North America, Newfoundland is a giant rock that stands on the edge of the Atlantic Ocean. The Labrador Current brings melting icebergs and nutrient-rich waters, which form the basis for a cetacean smorgasbord—25 percent of all whale species inhabit this region.
Perhaps it's no surprise then that "The Rock"—an affectionate nickname coined by the local Newfoundlanders—was a longtime epicenter for commercial whaling. And while the 400-year tradition of hunting whales ended with a Canadian moratorium in 1972, the history and culture of whaling in Newfoundland remains an important tool for promoting regional ecotourism.

Newfoundland's marine environment and culture of whaling makes for a unique combination

The divide between whale hunting and whale ecotourism is much smaller than one might think. Certainly, the gap is less than that of the nearby Dover Fault—a geological feature that broke apart the continents 200 million years ago. Once iconic Newfoundland whaling families retired their harpoon guns and instead aimed the crosshairs of tourists' cameras.
"I see whales most other people can't," says captain Charlie Anonsen, the grandson of a pioneering Newfoundland whaler. "I'm good at it because I've inherited it."
The Anonsen name is something of a whaling legend in Newfoundland. Charlie's grandfather—Amund Anonsen—immigrated from Norway in 1904 to form one of North America's most successful joint venture whaling companies. At its peak, the company operated whaling stations in three locations and sent boats as far away as South America to chase the once-valued oil and bone of minke and sperm whales.

Today, many former whaling industry members have transitioned into whale ecotourism

Half a century later, Charlie Anonsen's foray into a whale-related business began quite by accident. Taking out tourists to fish for cod, he noticed the guests would inevitably be more interested in the dozens of whale species, puffins, and icebergs that float right off the coast. "We just wanted to catch cod," says the 63-year-old skipper. "It didn't even occur to me that there were whales out there."
Anonsen noticed tourists tearing out pictures of icebergs and whales from the travel brochures in the hotels—and in 1978 he offered dedicated whale-watching tours. Along with his Newfoundland-breed dog named "Bosun," Anonsen introduced countless visitors to the natural treasures of "The Rock"—including ex-Canadian premier Pierre Trudeau and rock icon Rod Stewart.
"When we started, no one had been out to see the whales except the fishermen," Anonsen fondly remembers of the early days. Soon, dozens of other operators started whale-watching tours out of the province's capital city of St. Johns.
But getting in the water with giants would take another two decades.

A humpback cruises off the coast of Newfoundland

Bird watching and photography are also popular with Newfoundland's visitors
Whale and Iceberg Photography in Newfoundland
More than 11,000 humpback whales migrate through these waters every July to feed
Swimming with whales in Newfoundland is nothing like the tropical equivalent found in various spots around the world—the passing icebergs and diving puffins see to that.
It wasn't until 1999 that Ocean Quest Adventure's Rick Stanley first tried hopping in the water with the whales—the very first time alongside Charlie Anonsen himself. Soon, Rick offered the tours as a unique supplement to guests visiting to dive the historic WWII wrecks off nearby Bell Island.
"When divers came here, we'd ask, 'Want to do something cool?'" Stanley recalls of the first years offering the tours, catered mainly to professional photographers and film shoots for BBC and Discovery.

Snorkeling with whales began as a "Plan B" option for visiting scuba divers

More than 11,000 humpback whales migrate through these waters every July to feed—and some days it seems like you might just see all of them based on the number of ds gasping along the horizon.
Stanley and his crew put the safety of the animals and snorkelers above all, so it takes a bit longer to choose the right group of whales to approach. On some encounters, the whales will be so busy feeding that you can snorkel right up to them without a disturbance. More skittish subjects require a technique called the "drive-by," where the boat drops you in the area of the whale's path and the 30-ton animal comes to check you out. And then there are the instances where the whale sneaks up on you—given away only by the stench of its breath.
For underwater photographers, the conditions are challenging. The cold is quickly overcome by the sight of a massive whale, but the water is so nutrient rich that visibility isn't what you might experience in Tonga, the Caribbean or other whale-snorkeling destinations. Cloudy conditions make the lighting a real challenge as well. Newfoundlanders are known for their heartiness and the environment demands the same of photographers.

DPG's Editor-at-Large Joe Tepper (left) chases down a whale tale

Newfoundland provides for endless beautiful landscape photography subjects

Whales aren't the only behemoths in these waters. What looks like little more than an ice cube from a distance turns out to be a house-sized iceberg up close. Crackling and popping sounds of the melting iceberg are reminders that this 10,000-year-old block of ice is still very much alive.
Donning helmets for safety, snorkelers slog through the slush of broken-off ice to get a closer look at the berg. Some even take a deep breath and freedive down several feet to see the glacial slivers that have made the thousand-mile journey from Greenland.
"It's magical," says Stanley of the experience photographing whales and icebergs up close. "It's that magic that makes this bucket list stuff."

The icebergs look small from far away, but can grow larger than the size of a house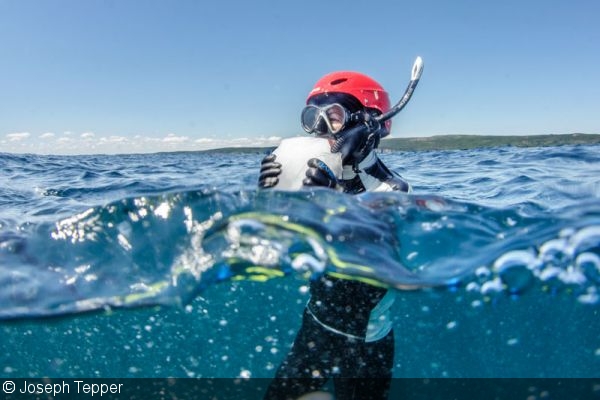 Nothing like the taste of a millennia-old iceberg

A freediver is dwarfed by the underside of an iceberg off of Newfoundland
Newfoundland's Whaling Legacy
In Newfoundland, swimming with whales is more than a nature experience—it's a cultural one
Most homes in South Dildo contain some sort of a nod to the little Newfoundland town's seafaring legacy—buoys, anchors, and even small skiffs are frequent decorations. But the sight in Vaughan George's yard takes top prize: A massive harpoon cannon is mounted, pointed out to the bay as if still looking for a target.
"This was the harpoon on my dad's boat," says George, who still fires off a blank shot from the cannon to celebrate New Year's Eve.
As a teenager, George worked as a whaler with his father and brother, using that very harpoon to hunt down countless minke whales. Vaughan describes his father—the famed Captain Clarence—as a crack shot with the harpoon.

Vaughan George demonstrates how to operate this powerful whaling harpoon

George is one of the last remaining members of a whaling family that follows more than 400 years of whaling tradition in Newfoundland. In the 16th century, European Basque sailors traversed the Atlantic to open the first whaling villages. The first modern whaling stations opened in the early 1900s, making Newfoundland a regional hub in North America. During the peak period of whaling in 1904, dozens of whaling companies harvested more than 1.5 million gallons of oil and 2,900 tons of bone.
Such a ravenous pace was clearly not sustainable and resulted in several population crashes throughout the next 70 years of Newfoundland whaling. George also noticed the decline of larger whale species like finback, humpback and blue whales during his time in the industry. But he was still surprised when it became illegal to hunt all whale species—a ban that devastated the economy of South Dildo and many other Newfoundland port towns.
The once-ubiquitous presence of the whaling industry in Newfoundland is memorialized by George's collection of artifacts, many of which line the walls of South Dildo's Whaling and Sealing Museum just a half-mile down the road.

The quaint whaling museum in South Dildo represents a rich legacy in the community

Archived photos of whaling practices in the 19th century and early 20th century show a different way of life

Many of the whale bones have been repurposed as art

"A lot of that stuff is from me," George states proudly of his donations. Only the size of a one-room schoolhouse, the museum contains hundreds of relics such as whale carvings, knives, and historic photos. Sharing these artifacts and big fish stories from his days on the high seas—like the time his father caught an 83-foot blue whale—keeps the memory of the whaling industry alive.
Asked if he's ever been in the water to see the whales from a different perspective, George pauses, reflects and then answers coyly: "Let's just say I've been overboard a few times—but never on purpose."

Once-thriving whaling ports are merely skeletons of their former selves in Newfoundland
Welcome to the Rock
It takes a moment for all my senses to come back online—and my face to thaw—after I get out of the water with the humpbacks. It's almost 9pm, but in the middle of a Newfoundland summer that means the sun is just beginning to set—just enough time to catch some cod for dinner.
Over the course of three days, I've seen hundreds of whales in and out of the water. But this doesn't feel like any ordinary "whale-watching tour." Maybe it's the iceberg eclipsed by the tail of a diving whale at sunset. Or maybe it's a pair of locals catching cod by hand line who offer advice on where to fish. But in Newfoundland, swimming with whales is more than a nature experience—it's a cultural one.
"It's not just the whales," says Ocean Quest's Rick Stanley. "It's the heritage and culture of whaling in Newfoundland that gives the full sense of the place."

A humpback tucks tail for a dive as the sun sets off Newfoundland
RELATED ARTICLES
Be the first to add a comment to this article.
Newsletter
Travel with us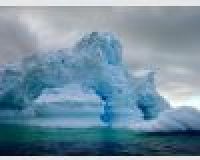 Antarctica
Plan Your Adventure >
Featured Photographer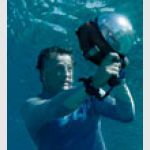 Sean Davey
Expert Photographer
Hawaii is the adopted home of Sean Davey, widely respected as one of the world\'s top surf photographers. He has a love for the sport that goes back to his school days in his native Australia. \"I spent my teens in...