Articles
Nikon D600 and Nauticam NA-D600 Review
By
Keri Wilk
, February 6, 2013 @ 09:00 AM (EST)
By Keri Wilk
I recently started writing a guide to lighting for underwater photographers (stay tuned...), and decided it was time to hit the water to get some much-needed example shots.
After scoping out potential locations, DPG's Publisher Matt Weiss and I decided to jump on a plane and head over to Grand Cayman where we were going to stay and dive with Cobalt Coast Resort and Dive Tech. The clear, warm waters off the Cayman's provide the perfect studio, and Colbalt Coast and Dive Tech are perfectly set up for photographers, making logistics simple.

Keri Wilk puts the NA-D600 through the paces
Nauticam heard about the project and sent over their new NA-D600 housing for the Nikon D600 camera, and asked for some honest feedback. As you'll read below, the results were overwhelmingly positive.

The Nikon D600
The D600 is making waves in the DSLR world. It's the least expensive full frame SLR that Nikon (or almost any manufacturer) has in production, yet has a generous helping of high-end features/specs. Its big brother, the D800, shocked the world with its outrageous resolving power, which started converting DX shooters to FX everywhere. Now, the more modestly-priced D600 has picked up where the D800 left off, continuing the "DX-odus", making FX shooting accessible to a much wider audience.

If a D800 and D7000 had a baby, it would be the D600 - it shares many slightly diminished features of the D800, and many upgrades from the D7000. It's got the second highest resolution sensor of any Nikon camera (24MP), full HD video (also 60fps at 720p for shooting half-speed slow motion), and a large eye-pleasing 100% coverage viewfinder which makes precision framing much easier - especially when paired with one of Nauticam's optional viewfinders (45 degree or 180 degree models).
NA-D600 OVERVIEW
It has a similar appearance and feel as the NA-D800, but scaled down to be a much smaller and lighter package. It has all of the "standard luxuries" that Nauticam has become known for providing: patented port lock mechanism, dual optical bulkheads, leak detector, accessory port, award winning back-plate latches, and comfortable over-molded soft rubber handles.
ISO PERFORMANCE
f/10, 1/10, ISO 1000
Nauticam NA-D600, Zen 230 dome, Sigma 15mm fisheye
. No strobes

Having just recently shot the D800 in a Nauticam NA-D800 housing, which has incredible low noise performance (even with a 36MP sensor), the ISO bar was set high. But, one would expect the D600 to outperform the D800, since it has 50% fewer pixels on the same size sensor. I had a chance to push the D600 to its limits inside the Kittiwake, and was thrilled with the results. If you're going to be sharing images online (personal website, Facebook, Twitter, DivePhotoGuide gallery, etc.) then the entire ISO range is fair game. If you're planning on publishing full page images in magazines, then I'd set an upper limit of ISO 3200-6400 for moderate size prints, but in some cases, you might be able to get away with even higher.
ISO LEVER
Nauticam incorporated a dedicated ISO lever (rather than a cylindrical button) accessible with your left thumb. This is an ergonomic feature that I think, all housing manufacturers should be adopting. As cameras achieve lower and lower levels of high-ISO noise, photographers are more likely to "let loose" and boost the ISO before altering other exposure settings, so it's important to have quick and easy access to this camera feature. I've said it before, and I'll say it again – it's only a matter of time before ISO gets its own command dial, alongside shutter speed and aperture.
f/13, 1/125, ISO 1600
Nauticam NA-D600, Zen 230 dome, Sigma 15mm fisheye, 
2 Ikelite DS160s

Shooting with ambient light before sunrise is difficult… because there is almost none. One morning Matt and I went to shoot stingrays at Grand Cayman's famous Sandbar, well before the sun peeked over the horizon, so we had to lower our shutter speeds, open our apertures, and boost our ISOs as high as we were comfortable (around 1/10s, f/8, and ISO 6400).
Once the sun came close to the horizon, lighting conditions began rapidly changing, so every few minutes I would drop the ISO down a bit further. The NA-D600's ISO thumb lever was almost impossible to miss, so I didn't have to take my eye from the viewfinder as rays swarmed me.
SHUTTER SPEED/APERTURE
f/14, 1/40, ISO 250 
Nauticam NA-D600, Zen 230 dome, Nikon 16-35mm
2 Ikelite DS160s, 1 Ikelite DS125 with custom optical slave sensor

Having quick, reliable access to these essential controls is of paramount importance, so it's no surprise that Nauticam further upgraded their shutter speed and aperture control wheels on the NA-D600. In previous housings they were already very large diameter, requiring minimal effort to rotate, but now they have even more drastic contours, allowing a single finger to snag and rotate them even easier than before.
MULTI CONTROLLER KEYPAD
f/13, 1/200, ISO 250, 
Nauticam NA-D600, Zen 230 dome, Sigma 15mm fisheye, 
2 Ikelite DS160s

The fully functional keypad control found on the NA-D600 is a great example of why Nauticam has such a quickly growing reputation for innovative designs. Individual direction buttons have been replaced with a circular plastic pad which is very easy on the fingers, making image review quick, and navigating through menus literally painless. I found this direction pad especially satisfying when doing deep wall dives - the last thing you want to do when the nitrogen clock is ticking is waste time fiddling with buttons that hurt your fingers.
DYNAMIC RANGE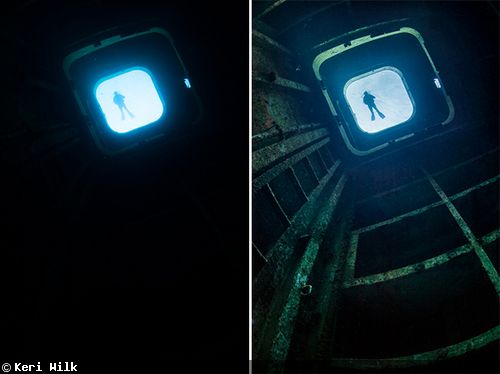 LEFT: An unprocessed RAW file. RIGHT: Significant detail was pulled from the shadows and highlights in Lightroom. This might make you think twice before hitting that delete button.
f/9, 1/160, ISO 100
Nauticam NA-D600, Zen 230 dome, Sigma 15mm fisheye
No strobes

Shooting from the darkness of the Kittiwake's bowels out toward the bright sky is just about as unforgiving a situation as I could throw at the D600 in Grand Cayman. At first glance, most of the RAW images look like junk, but the amount of detail that I was able to pull down from the highlights and bring up from the shadows was incredible. This was very reminiscent of the shock I experienced with the D800, a camera whose body alone costs 50% more than the D600 - you certainly get a lot of bang for your buck.

RESOLUTION
f/20, 1/160, ISO 100
Nauticam NA-D600, Nikon 105mm, ReefNet +10 Magnifier
, 2 Ikelite DS160s

At 24 megapixels, I think that Nikon hit a sweet spot. Some may argue that even this resolution is overkill, but I personally don't find this to be true. When shooting stingrays at sunrise, I didn't always have the luxury of perfectly framing shots, so the cushy 24MP sensor gave me the leeway to be a little sloppy, but still have enough data for a high resolution post-crop image.
FRAME RATE
As you'll see in the video below, this dolphin was snapping its mouth shut very fast, so I was taking bursts of shots in anticipation of it opening and closing its mouth.
f/13, 1/200, ISO 250
Nauticam NA-D600, Zen 230 dome, Sigma 15mm fisheye
2 Ikelite DS160s

At 5.5 frames per second at full resolution, you're not likely to miss much underwater action with the D600. This is another upgrade over the D800, which maxes out at a more modest 4 fps (understandable, with its massive 36MP sensor).
DUAL SD CARD SLOTS
f/10, 1/160, ISO 250, 
Nauticam NA-D600, Zen 230 dome, Sigma 15mm fisheye, 
2 Ikelite DS160s

SD cards are less expensive than similar CF cards, but they are also technically slower. However, I never filled my buffer, even when shooting consecutive bursts of stingrays, so I think that the difference for most people in most situations is negligible. This just adds to the savings to the already "budget" FX D600 body.
AUTOFOCUS
f/20, 1/160, ISO 200
Nauticam NA-D600, Nikon 105mm, ReefNet +10 SubSee Magnifier, 2 Ikelite DS160s


This is the most disappointing feature of the D600. While it does have a full-frame sensor, and beautiful large 100% coverage viewfinder, its 39 autofocus points only cover roughly 1/8th of the frame in the middle. Nikon could've gone with 1 focus point in the center, and I wouldn't have noticed much difference. It did, however, perform very well in poorly light environments – like inside the Kittiwake. I never caught the camera hunting for focus, but it felt a little slower than the D800.
AE-L/AF-L BUTTON
f/11, 1/200, ISO 320
, Nauticam NA-D600, Zen 230 dome, Sigma 15mm fisheye, 
2 Ikelite DS160s

Located on the back of the camera, to the right of the viewfinder, this customizable button can be set to activate the autofocus system (AF-ON), or lock the focus in place (AF-L). When it's set to AF-ON, the shutter release no longer has any tie to the autofocus system. Think of it like setting your camera in manual focus mode, and having a button that overrides this mode by temporarily activating autofocus until the button is disengaged.

When it's set to AF-L, the shutter release will work as it normally does (i.e. half-depressed = autofocus), but when the AF-L button is depressed, the AF system is locked in place, essentially turning on a temporary manual focus mode.

In either case, this is a very useful button for lots of shooting situations (super macro focus locking, fast moving pelagics, etc.), so it's a good call on Nauticam's behalf to designate one of the 4 thumb-accessible levers/paddles to it. I used this feature on every dive.

FX VS DX-CROP MODE
Matt Weiss with a turtle. Shot in DX-crop mode with a prototype Wide Angle Macro ("WAM") wet lens from ReefNet. f/14, 1/200, ISO 250
Nauticam NA-D600, Nikon 60mm macro, prototype ReefNet WAM lens, 
2 Ikelite DS160s

For those interested in using the DX crop mode for that extra (albeit artificial) magnification, or to use the Tokina 10-17mm, you'll still be left with a reasonable 10.5 MP frame. If you can nail the framing in DX crop mode, then your images will have more than enough resolution to be used in most situations (online sharing, small/medium prints for your wall, or even full page images in magazines).
However, keep in mind that using the DX crop mode comes at the cost of a diminished viewfinder: a thin black line overlays the DX area in the viewfinder, which is substantially smaller than you would get if using a native DX camera. I would only use this mode if I were intentionally shooting for a photo contest which does not allow significant cropping... otherwise, you're better off shooting in FX and deciding how much/little to crop when post processing.
FIBER OPTIC BULK HEADS and POP-UP FLASH
f/10, 1/125, ISO 100
Nauticam NA-D600, Zen 230 dome, Sigma 15mm fisheye
, 2 Ikelite DS160s, 1 Ikelite DS125 with custom optical slave sensor

Fiber optic strobe synchronization is becoming more and more mainstream in underwater photography for several reasons. Lightweight fiber optic cables, which transmit light from the camera's pop-up flash to the strobe, can be used instead of thick and heavy electrical sync cords. And, because the strobe has access to your camera's flash output, TTL exposure can be maintained (with compatible strobes). Fiber optic bulkheads on the housing and strobe mean that 2 potential flooding points are eliminated from your system, and that strobes can be removed from the housing to be used remotely at any point during a dive.

The last, and, in some respects, most useful, benefit of fiber optically syncing strobes is being able to shut off communication with the camera simply by closing the pop-up flash. The NA-D600 has a side-mounted button to pop the flash up, and a rear-mounted lever to close it back down. Thanks to these housing functions, you'll be able to switch between ambient and strobe lighting without taking your eye from the viewfinder.

However, it is important to note that these conveniences afforded by fiber optics do come at the cost of faster battery consumption and a more limited continuous span (when the flash capacitor drains, it needs to recharge before shooting again).

There have been some rumors about Nauticam developing a small hot-shoe-mounted device, which would eliminate the problems of fiber optic syncing, but until now it has remained unseen. Nauticam has confirmed the rumors and sent us an image of this device. Instead of using the camera's battery-intensive pop-up flash to trigger the strobes, this unit has its own button cell battery, which triggers two LEDs whenever the shutter is released.
The Nauticam NA-D600 with flash-trigger equipped D600.
VIDEO
Sure, the D600 can shoot full HD video (1080p @ 30, 25, or 24 fps), but that has quickly become a "standard" camera feature. What's more interesting to me is being able to shoot half-speed slow motion (i.e. 60 frames per second) at 720p resolution. I'm kicking myself now for not giving it a test-run, especially on Stinky the dolphin (see below), or the sunrise stingrays.

A shortcoming of the video aspect of the D600 is its inability to change aperture while liveview is activated, but there has been rumor that this will be amended via a firmware update in the near future. Until then, changing a combination of shutter speed and ISO will have to suffice for exposure adjustment while shooting video.

I roughly configured one of the user presets modes (U1 or U2, next to the familiar M, A, S, P for Nikonians) to be approximately ready for shooting video (1/60s, f/8, ISO 200, Preset WB), allowing me to quickly switch from strobe light still photography. Switching into video mode is simple – press a button on the back of the housing, then start/stop recording by using the right-mounted thumb-lever without removing your hand from the grip.

Additional Underwater Photographs Taken With the D600 and NA-D600
We couldn't fit all the amazing shots that Keri took into the review. Here are just a selection of additional images that show the capabalities of the NA-D600 and the beauty of the Cayman Islands. -Ed.
---
When purchasing underwater photography equipment like the product mentioned in this article, please support DPG by supporting our retail partner -- Backscatter.com.
RELATED ARTICLES
Be the first to add a comment to this article.
Newsletter
Travel with us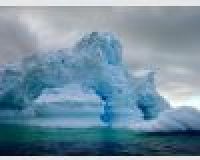 Antarctica
Plan Your Adventure >
Featured Photographer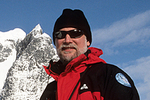 Chris Weaver
Expert Photographer
As a certified scuba diver since 1978, Chris Weaver has made hundreds of dives with his childhood friend Michael Salvarezza, taking photographs of their experiences in remote locations ranging from the temperate waters of Cocos...