Articles
In Memoriam: Ernest H. Brooks II
"I first encountered Spot on a dive in 1983, when she suddenly dashed up to me, examined my camera, grabbed one of my fins and tugged on my regulator. When we meet, she stays close and we always play. Once, she swam off with my snorkel—then she stole my heart"

Ernie Brooks was an extraordinary gentleman who influenced countless lives and whose every word and action came out of love, wisdom and generosity. Son of Ernest H. Brooks, founder of the renowned Brooks Institute of Photography, he was born to be a photographer. After graduating from Brooks Institute, he served on the school's executive staff until 1971 when he assumed the president's office, a position he held until 2000. His impressively long list of achievements combined with his unique vision of love and light made him a legend, but what made him a true hero of our times was his love for the planet, people, and all animal life; his mission to make a difference, to focus on our water planet and the value and opportunity it gives us to live and flourish; and his unerring ability to give back to the next generation.
Years before I met the man, I met the legend through his transcendental book Silver Seas: A Retrospective, a masterful black-and-white tribute to the oceans and the beauty that lies beneath the waves. I remember looking closely at each one of his beautiful images, and through his art, I immediately felt his passion and was transported to a world of magic and wonder. Then I read his dedication: "This book is dedicated to those who explore our oceans; to those who continue the quest for its understanding. It is with their knowledge that we shall learn to protect all ocean life, for only through such effort will man ensure his own future." What a visionary! Right then, I knew that I wanted to learn everything about this great man. I was hugely inspired, like so many other underwater photographers around the world.

"When asked to evaluate a new Rolleiflex SLR in 1998, I chose to explore the pneumatocysts of giant kelp plants. The subject was just eight inches (20cm) from my lens, while in the background, 'redwoods of the sea' moved in rhythm as one"

"Under the right conditions I prefer to include the sun as a subject as it adds tremendous depth and drama to capture the stories that unfold. Here, a male jack with his female entourage descends to feed"

Years later, I had the privilege of meeting Ernie for the first time at the 2013 DEMA Show in Florida, where I was generously invited to attend by a mutual friend, Michael Aw. Among other things, I took the opportunity to present the first draft of my black-and-white book. Everybody wanted to be around Ernie, and he greeted each and every person with the kindest smile, always ready to give the warmest hugs. In all his interactions with other people, he offered his entire loving and generous attention, fulfilling his mission of giving back to the next generation in every moment he spent us.
Finally, my moment came to shake his hand, and for the first time I got to experience his beautiful light. He immediately noticed my book and ever so gently asked me if he could take a look at it. He found the nearest chair and made a deep dive very slowly into each one of my images. I knew immediately I was in the presence of a profound, humble and extraordinary human being, the kind that is very hard to find, one of the very few that thinks of others first and the welfare of the entire planet instead of themselves. He was the real deal, and I soon discovered that every word he spoke came from a huge heart.

"At Anacapa Passage in perfect light, at a focal length of 38mm on a 70mm format camera, this blue shark fills my frame. Big, sleek and beautiful, this ancient and quiet form closely glides past as I pan to match its speed"

"There are moments when everything falls into place: perfect early morning sunlight, crystal clear water and a fabulous coral garden. My model and photographer, Lynn Funkhouser, explores the coral setting of Tubbataha, Sulu Sea"

Later that night, I was fortunate enough to share a dinner with Ernie and a fascinating group of people from around the world devoted to the visual arts. Right there, without notice, we witnessed the most inspiring speech that touched the soul of everyone present.
In his gentle manner, Ernie reminded us that we are all here for a special purpose, that we all mean so much to this planet, that we must cherish everything and use every moment to transmit this energy of love to people of all languages through our photography, because it is the language that communicates to us all. He encouraged us to use our positive imagery to highlight the threats to marine ecosystems that humankind has created, to communicate the importance of preserving our oceans to all the communities of the world through our common language, photography. He reminded us that we will all be gone one day and it's up to each one of us to ask ourselves what we can do to give back, to make this a better place—because our Earth is fantastic!

"Turbulent wave activity of the Pacific hammers the oceanic face of Cocos Island. I feel the pounding at 80 feet (24 meters) below as the waves break and crash at the surface. I patiently await each break to capture a series of underwater 'clouds'"

"The delicate shades that gray creates have the ability to capture a sense of wonderment or freeze action in the contrasts between highlight and shadows. This grace, beauty and simplicity creates perfection and a lasting impression on the viewer."

Well, my dear, dear friend, now you are gone. Everyone who ever met you will miss you; we, the underwater photography community, will miss you. We all offer your family and closest ones our deepest condolences. The world is a lesser place without you, because now, more than ever, we need more kind, generous souls with your light, your intelligence, your mission and your inspiration. But your love and legacy will stay with us. I wish you Godspeed in your new adventure and a safe arrival to your next port of destination. I trust we will all keep learning from you, and for my part, I hope to honor you by embracing your wisdom in my own efforts to make this fantastic planet a better place.
Thank you, my dear friend. I love you.
Christian Vizl

Christian and Ernie brave the cold in Svalbard, a Norwegian archipelago in the Arctic Ocean, during an expedition to document human-induced climate change for "Elysium – Artists for the Arctic" in 2015

---

Ernie's images and captions in this article originally appeared in Joseph Tepper's article "Master of Monochrome" published in Scuba Diver Through The Lens No. 6 (2013), a magazine jointly created by DPG, Scuba Diver AustralAsia, and Edition Fifty Fathoms.
RELATED ARTICLES
Be the first to add a comment to this article.
Newsletter
Travel with us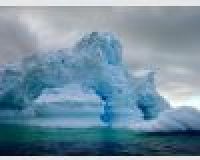 Antarctica
Plan Your Adventure >
Featured Photographer
Andrew Sallmon
Expert Photographer
Andrew Sallmon is a freelance underwater and nature photographer specializing in images of marine life and the marine environment. His love of the oceans came at age 5 when his father swam him through the cold surf of Santa...