Articles
Bobtail Embrace - Mating Bobtail Squid at Rye Pier
June 14, 2013 @ 06:58 PM (EST)
Editor's Note - Matthew won Silver in the Animal Behavior Category in the 2013 DEEP Indonesia Competition for his "Bobtail Embrace" shot for which he won a trip with Bali Diving Academy This is the story of how it happened.

The change of shift, those magical moments where day turns to night and a procession of weird and wonderful creatures emerge from the shadows. Where better to dive than Australia's Rye Pier on The Mornington Peninsula during the height of the Melbourne summer.
A renowned night dive hotspot which often harbors blue ringed, moari, sand and pale octopus, skeleton shrimp, shorthead & pot belly seahorse, juvenile weedy seadragons tasselled anglerfish, nudibranchs, stargazers & bobtail squid to name a few.

The conditions looked perfect, water surface like glass. water temp a balmy (by our standards) 22ºc and great visibility.

The Blueprint
The objectives for the evening were to photograph bobtail squid, avoid fishing hooks & squid jigs and with a little luck find a mating pair of bobtails, something I had failed to do in several previous attempts. There was also potential for a playful young australian fur seal who had successfully scared the stuffing out of me on previous outings to this dive site and always when I least expected it.
The dive always begins on the shallow sand flats at the start of the pier where many of the Bobtails bury themselves during the day and slowly work my way to structure at the middle of the pier where, if all else fails, there should be some male seahorses proudly displaying their bulging stomachs to potential suitors.
It wasn't long before I had found several bobtails, most in the act of hunting, and in some cases trying to avoid a territorial dispute,. They seemed unusually active and I held out some hope that I might find that elusive mating pair. I had, as usual, been joined by my friend the seal although tonight I saw him coming, not adding to your "scare the crap out of a diver" tally tonight I thought,and there they were...

The Shot
A pair of bobtails in a deep embrace, seemingly in a trance & without any acknowledgement of my presence or lighting system drifting about 30cm off the bottom......JACKPOT.

I must have just stared for 10 seconds in admiration, then scrambled to get the right camera settings & strobe positioning before they dispersed.
Much to my delight they held this position for some time, displaying several different color shades & allowing me to experiment with my strobes -- turning one off at certain stages to emphasize their brilliant luminescence.
Before I knew it I had drifted considerably from the safety of the pier. There was an increasing current and a little boat traffic to negotiate so I decided to call it a night.As I watched the little squid drift off into the darkness reality finally sunk in. The 2 hour drive home I always seems to go a lot quicker when you have captured something special.
RELATED ARTICLES
Be the first to add a comment to this article.
Newsletter
Travel with us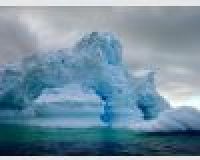 Antarctica
Plan Your Adventure >
Featured Photographer
Stephen Wong
Expert Photographer
Stephen was born in Hong Kong and studied in N.America. Though with a couple of master's degrees, he has become full time marine photojournalist since 1997. Now worldwide capturing images with wife, Takako Uno. Works have...