Articles
Making Waves in Shark Research and Photography
Lauren Benoit photographing blue sharks off of Rhode Island

My passion for sharks and ocean conservation developed during my formative childhood years as I traveled extensively on my family's boat witnessing the beauty of North America. I clearly remember my first shark sighting—two basking sharks swimming side by side at the surface. Intrigued by the sight, I tried to learn as much as possible about sharks from books and television. But I needed to get even closer…

It's All Academic
Sharks are amazing animals and we depend on them as we do many animals to maintain balance in the oceans; however, the media often portrays sharks as mere killers. This sparked my passion and led me to earn a B.S. in marine biology from the University of Rhode Island in 2016 and a Masters of Oceanography from the University of Rhode Island's Graduate School of Oceanography in 2017.

A great hammerhead comes in for a closer look

While earning my undergraduate degree, I traveled extensively to Fiji, Hawaii, the Bahamas, South Africa and other exotic destinations where I could pursue different shark research and conservation efforts. I also helped my professors in their own specific research projects during the school year. My master's degree was focused on sharks, specifically mark-recapture rates of the sandbar shark with Nancy Kohler from the Apex Predators Program.

Photography Pursuits
As I developed professionally, I pursued photography as a way to break out of academia and educate the public about sharks and the dangers facing their populations today. People of all ages and backgrounds can relate to photography, whereas science targets a smaller community of people.
I am always intrigued by the science aspect. However, I have met so many shooters that know so much about these animals just by spending so much time in the field trying to photograph them. I find that so many of these photographers and filmmakers know just as much or even sometimes more than the scientists just because of the time they spend observing their subjects.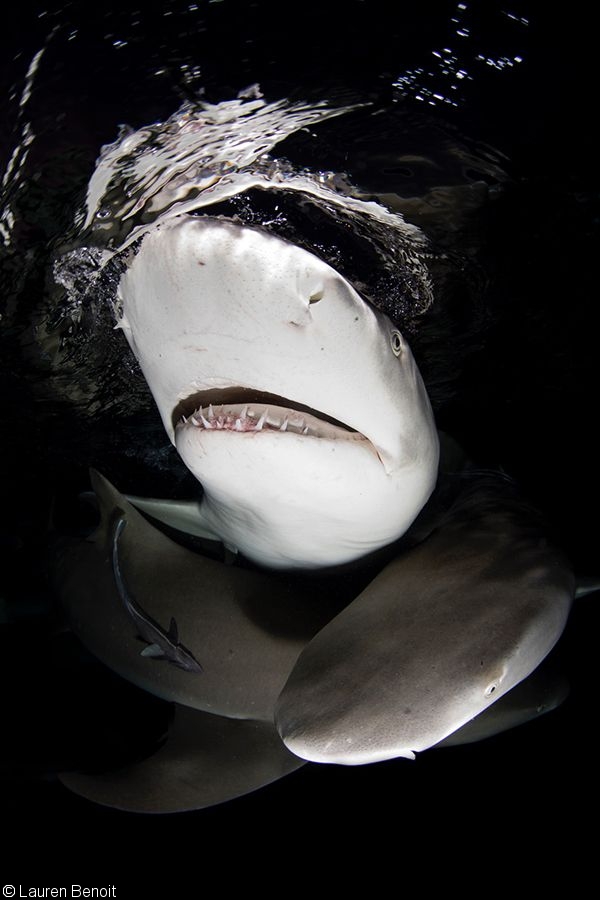 Lemon shark sandwich: Tiger Beach provides amazing photo opportunities—even on the surface

My science background helped me succeed because it takes a lot of patience and perseverance to get the perfect shot, and that's very similar to the scientific process. Scientists return to the same observations countless times by re-collecting and analyzing data, which makes photography an ideal tool to capture and record scientific observations. We go offshore, wait hours or even days for that one shark to pass by, and when it does, you may only have a couple of seconds to jump in and get the shot. No matter how much time has been spent waiting, it's all worth it.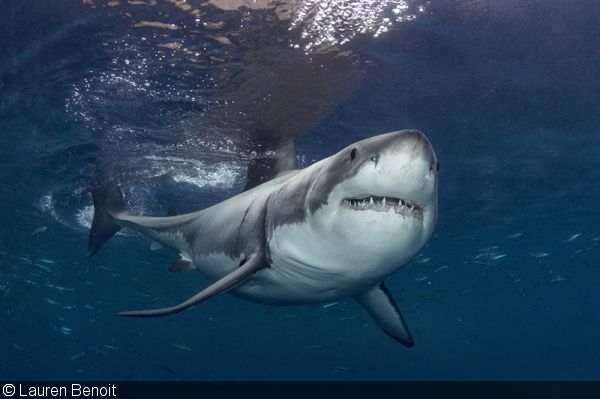 Encountering great whites on Lauren's first trip to Guadalupe

All that time spent out in the field waiting and watching the animals requires us to get in sync with their "habits." So many photographers are reporting behaviors that no scientist has ever documented. In order to get the perfect shot, we need to be in the right place at the right moment, which can only be done by understanding the animal's movement and behavior. This job is rewarding for me because photography plays a critical role in showing how people can peacefully interact with the natural world and can positively change the way we view these animals.

Shark Week and Beyond
Photography is something I enjoyed as a hobby growing up, and I am incredibly fortunate to make it a career. It's a very competitive field and there are so many amazing photographers. I was very lucky to get to know naturalist and award-winning cinematographer, Joe Romeiro, who believed in my talent and gave me the knowledge and skills I needed to get started and succeed.

With Ronda Rousey and her manager in Fiji for Ronda Rousey Uncaged during Shark Week 2018

With Joe Romeiro, Rob Gronkowski and Neil Hammerschlag for Monster Tag during Shark Week 2018

Thankfully, there are many female photographers and scientists looking to succeed in this field, though they still face many challenges in this male-dominated profession, unfortunately. However, I was smoothly accepted into this field, proving that anyone can be an underwater photographer if you work hard enough at it.
I currently work with Joe and 333 Productions. My work has been featured on Discovery Channel's Shark Week. I also work with Rhode Island Shark Diving, an operation run by Joe Romeiro and Brian Raymond which gives people up-close encounters with blue and mako sharks off Rhode Island.

Lauren photographing tiger sharks in the Bahamas
RELATED ARTICLES
Be the first to add a comment to this article.
Newsletter
Travel with us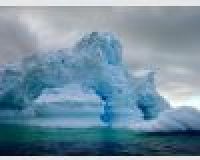 Antarctica
Plan Your Adventure >
Featured Photographer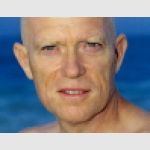 Norbert Probst
Expert Photographer
In 1970 Norbert found out, that a camera is a fascinating tool. A long dream became reality in 1977, his beginning of scuba diving. In 1980 Norbert got his first underwater camera, a Nikonos IV-A, and photography turned into...