Articles
Fire and Water: Wave and Lava Photography in Kona
See those beautiful, seemingly serene images of wave curls framed by a Hawaiian sunrise? Restful aren't they?

Now think about the split second after the shutter snaps: A 15-foot-tall wave crashing over your head as your body and camera are tossed about in the surf.

Well that's the life of the photography team CJ Kale and Nick Selway, best friends who roam the island of Hawaii in search for the best wave action to capture with their surf housings. From shooting wave curls to photographing the first lava and surf image, these two marine photographers go big or go home.

But that's what underwater photography's all about on "The Big Island."
DPG: Most of us think underwater photography is inherently intense. I gotta ask—what's it like getting hit by 10 foot waves?

NS: Shooting wave photography for CJ and I is very dangerous at times. We shoot all over the islands at different beaches. With that said, over the years we have learned a lot about certain beaches and how the waves break there. Before we get into the water at any given beach we always look at the conditions of the water - how big or small the waves are – also what the tide and wind are like – and go form there. We def take a pounding in the shore break, but honestly CJ and I love getting smashed by waves, and the photo is just a bonus. We have a great understanding of how the ocean works.
DPG:
I imagine your body takes a beating, but how do you protect your camera body? What kind of housings do you use?
NS: Our bodies do take a beating. Many places we shoot, we are so exhausted and beat-up after we get out of the water. We use an SPL Water "splash housing" to protect our cameras, which has a strap that connects to our wrist. We shoot with Canon—the 5D Mark II and the Canon 7D.
DPG: Ever lose a camera in the surf?

NS: I have never lost surf housing permanently, but we have had the camera literally ripped right out of our hands many times when the leash snaps. What follows is trying to find the camera floating around in the surf—talk about panic mode. CJ flooded a housing once.
DPG: How do you deal with changing settings/focus on the fly when in the middle of a wave?

NS: We set our focus settings before we even put the cameras in the housing. While we are out in the water we can control settings such as aperture and shutter speed. But it is very hard at times because you are looking down at your camera to change settings and then "BAM," a huge set of waves comes. You're always moving as fast as possible, but sometimes the wave smashes you in the process before you could even point to take a picture.
DPG: Alright—so as if wave photography weren't intense enough, I also see you guys enjoy getting close (or into the surf) near lava! What kind of planning goes into that?
CJ: I have been photographing the volcano for over 16 years, and Nick has been with me for 9 of those years. We have also been in the surf shooting for over 10 years. The experience we had shooting both waves and volcano allowed us to know what we could and could not do safely. We had to wait over 5 years from the time we thought of doing this until the time we got the proper conditions to do it.
DPG: Both of your images contain a great amount of color—how do you make this come through either in camera or post processing?
NS: The amazing color comes from our photographic motto: "Shooting when the light is right." This time comes at sunrise or sunset when the colors in the sky are at their most vibrant. For example, there are a couple places we shoot where the sun rises or sets perfectly in line with the barrel of the wave making for dramatic light.
DPG:
I saw your "Day in the Life" video—what was the motivation for making that video?
NS: We just wanted to show a little glimpse of what goes into getting the final shots, and really how much fun we have doing it. Although we have to get up super early, we get to go swim in the pounding surf of Hawaii and call it a job—nothing better than that.


DPG: What was the reaction from fans who saw the video and didn't necessarily comprehend what exactly goes into your jobs?

NS: People who saw the video thought it was amazing. To be honest what CJ and I are doing is definitely amazing, but our friend Josh Lambus who put the video together made it that much more amazing. He was able to capture what we truly do to get wave images.
DPG: How on earth (or water) did you even get into wave photography?

CJ: I had been shooting the lava and underwater for years, then one day the lava poured onto a beach and I went for a swim to body surf next to it. I then saw my shot (lava down the barrel of a wave) and I decided to order a surf housing. Of course, by the time it arrived the ever-changing lava landscape had moved on. The beach I had once swam into was now a drop-off into the ocean as part of a 40-acre beach collapse. So I decided to get ready for the next time this shot might be possible and started shooting in the surf. It was a good thing as the learning curve to shoot properly in the surf was a little steep. Learning where to be, what settings to use, and how to keep the port spot free just to name a few.

NS: I started photographing 12 years ago when I was in college but started shooting wave photos 6 years ago here in Kailua Kona, Big Island Hawaii. I was introduced to wave photography through CJ. Since then I have shot all over the islands with him and captured some amazing images.
DPG: So lava and water is right down your alley—what attracts you to such extremes (water and lava)?

CJ: What attracts me to the lava is that it is constantly changing, so you never get the same image twice. Not only do you have changing weather conditions, but the lava creates its own geography every day. Also, there are very few places in the world to shoot lava hitting the ocean, which makes the Kilauea Volcano so unique and the fact it's the most active volcano in the world.
DPG: Any photo tips for photographing lava?
NS: The best advice to shooting the lava is you must use a tripod to be able to compose the image perfectly. Many lava images are taken in low, low light so we are using slow shutter speeds to create the images, making a tripod a must. Also bringing both a very wide-angle lens and a telephoto lens is a wise idea as the lava is ever changing. You never know what lens you'll need until you get out there.


DPG: You guys also have a ton of great shots of other Hawaiian marine life. What is the draw for photographers to Hawaii—it seems to have it all.

NS: The big draw to photographing the Hawaiian Islands is their sheer diversity. For example, here on the "big island" we have literally photographed the lava hitting the ocean at sunrise, then driven up the Hamakua Coastline and photographed waterfalls, botanical gardens, valleys, and finished the day shooting wave photos at sunset on the other side of the island. There are very few places that have such extremes so close to each other in distance.
DPG: Any favorite images? Why?

CJ: I have so many favorite images, but the ones that thrill me the most are of subjects like the volcano, waves and just random crazy shots that will never be captured again. To capture something that will probably never be captured again or that will be extremely hard to recreate again, these are the shots that define my passion and dedication.

NS: I've accumulated many favorite images over the years in Hawaii and around 45 national parks in the mainland. I will sometimes go somewhere to photograph and get lucky the very first time I shoot there and capture an amazing image, but the ones that are special are those I have thought about for years. Having the right conditions to create the shot and having tried 15- 20 times and eventually on the 17th time naliing the shot-- that excites me.
DPG:
What's next for your guys' underwater photography—any destinations or subjects on the wish list?
NS: CJ and I are both going up to Alaska to shoot northern lights over the Brooks range. Also, we are planning on swimming with the whales in Tonga. We are also getting ready for a trip to photograph the Great White Sharks of Guadalupe.

CJ: Out of the cage of course!
RELATED ARTICLES
Be the first to add a comment to this article.
Newsletter
Travel with us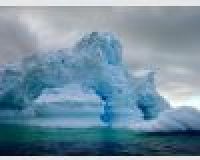 Antarctica
Plan Your Adventure >
Featured Photographer
Colin Gans
Expert Photographer
Colin Gans is a leading New Zealand underwater photographer. His images have appeared regularly in magazines and publications. Colin founded and chairs SEAFANZ, an underwater photographic society. His aim is to promote an...