Articles
Into the Snorkel Zone: Connecting the Topside and Underwater Worlds for Inuit in the Arctic
By Susan R. Eaton, December 5, 2017 @ 04:00 AM (EST)
The Sedna Epic Expedition's founder and leader, Susan R. Eaton, navigates around pack ice, offshore Torngat Mountains National Park, Labrador

Bottom line, I don't like cold water. But, if you're going to study ocean change at the poles, you've got to immerse yourself in the issue. I wasn't always a polar snorkeler. Ten years ago, my 30-year scuba diving career came to an abrupt end in Belize when I suffered a diving trauma that landed me in a hyperbaric chamber.
I emerged from the hyperbaric chamber, three days later, as a non-diver. But my lifelong love affair with the marine environment didn't end in there: I soon made the transition from scuba diver to snorkeler, and fell in love with the ocean all over again…

The 2016 Sedna Epic Expedition Team assembled on pack ice in Frobisher Bay, Baffin Island, Nunavut

From Antarctica to the Arctic, I've experienced many life-defining moments in the snorkel zone, a unique land-water-ice-air interface where large pelagic fish and charismatic air-breathing mammals interact with humans. I've snorkeled with chatty belugas in Hudson Bay, and come face-to-mask with charging, 1,400-pound leopard seals, mouths agape, in Antarctica. I inspected these apex predators' tri-serrated teeth—capable of decapitating penguins in mere seconds—and counted the freckles on their tongues and upper palates.
The snorkel zone—or the top 15 feet of the water column—is a magical portal to the wonders of the aquatic world. It's a peaceful place where bubbles are few and boundaries blur between exhalations from snorkels and blowholes. Bathed in sunlight, the snorkel zone provides a full light spectrum that's ideal for over-under photography and videography, connecting the topside and underwater worlds.

Inuit mentee Alexia Galloway-Alainga tries her hand at photography in the snorkel zone in Frobisher Bay, Baffin Island, Canada
The Sedna Epic Expedition
Founded in 2013, the all-female Sedna Epic Expedition will boldly go where no man has gone before, mounting a snorkel relay of Canada's Northwest Passage from Pond Inlet, Nunavut, to Tuktoyaktuk, Northwest Territories—a distance of 1,900 miles—in the summers of 2019 and 2020.
Focusing global attention on disappearing sea ice in the Arctic, Team Sedna will conduct oceanographic research and deliver its innovative ocean outreach program to Inuit and Inuvialuit communities situated along the Northwest Passage, with a special focus on empowering girls and young women to investigate ocean careers.
From Greenland to Alaska, according to Inuit legend, Sedna is the Inuit goddess of the sea and the mother of all marine mammals. The sea goddess will snorkel with the sea women as they swim the Northwest Passage—one day, she'll take the form of a narwhal or a beluga. The next day, she'll be a ringed seal or a 200-year-old bowhead whale that witnessed Sir John Franklin's HMS Erebus and HMS Terror sail by in pursuit of the elusive Northwest Passage route.

Sedna's Inuit Advisor, Johnny Issaluk, and Sedna team member Veronica Ryl snorkel in pack ice in Frobisher Bay, Nunavut
Preparing for An Epic Snorkel Relay
In preparation for this epic undertaking, I led two proof-of-concept snorkeling and scuba-diving expeditions to the Arctic in the summers of 2014 and 2016. These expeditions unfolded in the icy waters of Labrador, the Davis Strait, Greenland, Baffin Island and Iceland, and included a total of 40 participants—women ocean explorers, scientists, photographers, videographers, journalists, educators, and medical and scuba diving professionals from Canada, the USA, Mexico and New Zealand. Sedna's sea women are PADI's first AmbassaDiver team.
Using diver propulsion vehicles made by American expedition partner Dive-Xtras, the sea women demonstrated that snorkelers can successfully mount long-distance relays—traveling up to six kilometers per hour (3.7 miles per hour) and covering distances of up to 35 kilometers (22 miles) in 12 hours—in the 9,000 feet deep waters of the Davis Strait and in coastal waters strewn with pack ice and bergy bits.
Given these performance metrics and the Arctic's extended hours of sunlight during summer months, a 24/7 snorkel relay of the 1,900-mile Northwest Passage is within Team Sedna's grasp.

Sedna's Dive Safety Officer Jeffrey Gallant and Inuit Advisor Aaju Peter are triumphant after her first snorkel excursion (ever!) in Frobisher Bay, Baffin Island, Nunavut
Inuit Key to Success
Inuit and Inuvialuit societies are matrilineal in structure, and women are the natural leaders. Team Sedna hopes to inspire the next generation of indigenous women leaders to think big, equipping them with the tools and skills to mitigate the impacts of climate change, ocean change and societal change in their remote northern communities.
In 2016, Team Sedna collaborated with Inuit advisors and community leaders, delivering a hands-on ocean outreach program for the largely non-swimming Inuit youth, girls, and elders of Iqaluit, Nunavut. Death by drowning—falling out of boats and through sea ice—is one of the leading causes of Inuit mortality in Canada's Arctic.
Called "bringing the ocean to eye level," Sedna's ocean outreach program involved temporarily showcasing sea critters (invertebrates and small fishes) in aquariums and running workshops for youth to build and fly underwater robots equipped with video cameras. Taking the concept one step further, Sedna's sea women mentored and led Inuit girls, young women, and elders on snorkel safaris in Frobisher Bay along the southeast coast of Baffin Island, Nunavut.

Left to right: Sedna's Veronica Ryl, Inuit mentee Alexia Galloway-Alainga, and Sedna's Jo-Ann Wilkins deploy a newly-assembled underwater robot in Frobisher Bay near Iqaluit, Baffin Island, Nunavut

Johnny Issaluk, an Inuit community leader and skilled hunter from Iqaluit, is one of Sedna's two esteemed Inuit advisors. A recipient of the Queen's Diamond Jubilee Medal in 2012, for his contributions towards improving Inuit health and community well-being, Issaluk has won numerous medals in traditional Inuit games.
Issaluk named the Sedna Epic's 2016 expedition "Katujjiqatigit," an Inuktitut word that means "fighting together/working together." "Sedna was involved in teaching self-worth and self-healing within the community, he said. "We need role models to come into the communities. Sedna made a difference to a lot of kids."
A tropical scuba diver before joining Team Sedna, he described the Sedna Epic as an "eye-opener." "I learned a lot about diving in cold water and teamwork," said Issaluk. "It was very interesting to dive at home, and to encounter marine life I'd never seen before."

Sedna's Renata Rojas conducts ocean outreach to Inuit youth—using sea critters temporarily housed in touch tanks—in the predominantly Inuit community of Nain, Labrador
Expedition Partners Matter
Amanda Cotton, underwater photographer and Women Divers Hall of Fame inductee, was Sedna's principal underwater photographer in the summer of 2016. Accustomed to working in tropical waters, Cotton embraced the challenge of diving and snorkeling in pack ice in Frobisher Bay.
Polish-based expedition partner Santi Diving has supplied Sedna's sea women with Arctic-rated Ladies First drysuits since 2014. Lithium-ion batteries manufactured by Light Monkey, one of Sedna's American expedition sponsors, heated Santi's undersuits and dry glove liners in the summer of 2016.
"The frigid water temperatures impact your ability to reason and think because you start to focus on the cold versus the task at hand," said Cotton. "My Santi gear extended the amount of time I could work in Arctic waters."
Fantasea Line also partnered with the Sedna Epic in 2016, providing Team Sedna with a Canon PowerShot G9 X and a Fantasea FG9X underwater housing, which is a great tool for scuba divers, but also perfect for photography and videography in the snorkel zone.

Sedna's Susan R. Eaton tests out the Canon PowerShot G9 X in Fantasea's FG9X housing in Frobisher Bay, Baffin Island, Nunavut

"The Sedna Epic Expedition appealed to me because of its educational side," said Howard Rosenstein, Fantasea Line's Founder and President, and a pioneer of scuba diving tourism to remote spots in the Red Sea and Indian Ocean. "Ecologically, the Sedna Epic hit all the key notes for me."
Despite wearing bulky dry gloves, Cotton said that the placement of the buttons on the FG9X underwater housing made it easy to manipulate. "One of the perks of this little Fantasea unit is less drag underwater," she explained. "And there's no modification required to the housing for a wet lens, which can be attached underwater."
"The bigger the dome port, the easier it is to shoot a really nice spilt image in the snorkel zone," added Cotton. "A split image connects two different worlds, for example, the topside of an iceberg and the 90 percent of the berg that's submerged below the waterline."

Sedna's videographer Becky Kagan Schott investigates a break in the pack ice, offshore Torngat Mountains National Park, Labrador

"Most people who aren't divers or snorkelers relate to the topside world," said Cotton. "The snorkel zone is a gateway to interest people in what's going on underwater. Split-screen images show viewers how the two worlds are so interconnected."
Cotton is proud of her mentoring efforts—using the ocean as an experiential classroom—to inspire and empower Inuit girls and young women. "It was wonderful to see how determined and excited they were to try new things, including building underwater robots and snorkeling."
"The girls showed a lot of growth," said Cotton, who watched their confidence build—from suiting up, for the first time, in masks, fins, snorkels and drysuits (donated by Arctic Kingdom, Sedna's Nunavut-based expedition partner, and dive outfitter), to jumping off of a fishing boat into Frobisher Bay's frigid waters.

Inuit mentee Alexia Galloway-Alainga discovers, for the first time, what lies beneath the waters of Frobisher Bay, Baffin Island, Nunavut

Paired one-to-one, Sedna's sea women held their mentees' hands, introducing them to the marine biodiversity below the waves in their backyards. But, it only took a few minutes before the girls let go of the sea women's hands, with one remarking, "No, I've got this. I can do it on my own."
Iqaluit-based Alexia Galloway-Alainga, 20, is one of the 10 young northern women who Team Sedna mentored in the summer of 2016. An accomplished Inuit throat singer, Galloway-Alainga is enrolled in her third year of social work studies at Carleton University in Ottawa, Canada.
Galloway-Alainga grew up boating and hunting on the water, and snowmobiling on sea ice in the winter. But, she'd lost family members to drowning, and the prospect of snorkeling in Frobisher Bay made her nervous. "Snorkeling was a big step for me, but I was surrounded by amazing women, role models who I look up to," she said. "I had a leak in my drysuit the first time I snorkeled, but continued anyways!"
Galloway-Alainga also assisted with delivering Sedna's underwater robot and touch aquarium outreach program to youth in Iqaluit. "I eat seal; I eat fish," she said. "Inuit youth now understand how small sea critters are essential to the Inuit way of life and the marine food chain."
The Sedna Epic is currently scouring the world for an expedition vessel suitable to transit the Northwest Passage during the summers of 2019 and 2020. Sedna's sea women will reunite, in August 2018, to continue building relationships with Inuit communities and to gain more Arctic snorkeling and diving experience in Nunavut and western Greenland.

Sedna's Susan R. Eaton with Canon PowerShot G9 X in Fantasea housing, in Frobisher Bay, Baffin Island, Nunavut
---

About the Author: Susan R. Eaton is the founder and leader of the Sedna Epic Expedition. She is a Calgary-based geoscientist, journalist, and conservationist. In 2015, the Royal Canadian Geographical Society (RCGS) named Susan one of Canada's top 100 modern-day explorers and trailblazers. A year later, the RCGS named her one of Canada's 25 greatest female explorers.
RELATED ARTICLES
Be the first to add a comment to this article.
Newsletter
Travel with us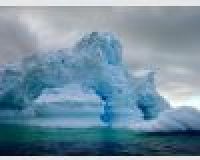 Antarctica
Plan Your Adventure >
Featured Photographer
Stephen Wong
Expert Photographer
Stephen was born in Hong Kong and studied in N.America. Though with a couple of master's degrees, he has become full time marine photojournalist since 1997. Now worldwide capturing images with wife, Takako Uno. Works have...