Articles
Interviews with the Pros: Alexander Semenov

Q&A By Joseph Tepper

Below-freezing water and poisonous jellyfish—isn't that why everyone gets into underwater photography? It is for Alexander Semenov.
Growing up on Russia's icy White Sea, Alex became fascinated with invertebrates—starfish, jellyfish, even creepy sea worms. While working at the White Sea Biological Station, the young naturalist realized it wasn't enough to photograph specimens under a microscope—he wanted to capture their beauty in the wild.
Years of perfecting his macro craft (and freezing his butt off) have resulted in otherworldly photographic beauty: from abstracts of sea star feet to jellyfish floating in the sky.
We chatted with Alex to learn how he has combined art with science.


DPG: Growing up in Russia, how did you even fall in love with the underwater world?
AS: I was born in a family of biologists who showed me "The Underwater Odyssey of Commander Cousteau" on TV. Of course, all this is imprinted in my mind very deeply. But really I fell in love with the sea after the eighth grade, when we went on a field trip to the White Sea and studied invertebrates, which could be collected from the sea bottom. While studying invertebrate zoology in college, I began working at the White Sea Biological Station, where I learned to dive.


DPG: How did you get into underwater photography?
AS: When I first began to experiment with marine photography, I tried shooting small invertebrates for fun with my own old SLR camera and without any professional lights or lenses. I collected the invertebrates underwater and then shot them in the lab. After two or three months of failure after failure I ended up with a few good pictures, which I showed to the crew. It inspired us to buy a semi-professional camera complete with underwater housing and strobes.
Shooting the creatures in their own environment turned out to be far more difficult, and I spent another two months without any significant results. But when you're working at something every day, you inevitably get a lot of experience. Eventually I began to get interesting photos—one or two from each dive. Now after five years of practice I get a few good shots almost every time I dive, but I still have a lot of things that need to be mastered in underwater photography. And now I can say with confidence that the ocean, diving and photography are my life's passion.


DPG: Most people think of diverse macro life in places like Indonesia and the Philippines. What makes the White Sea a unique place for cold water macro?
AS: First of all, it's cold water. And the fauna differs completely from tropical seas. We have the seafloor covered with thousands and thousands of small nudibranchs, amphipods, hydrozoans and polychets. There are not so many species, like the 300-plus species you can find easily in the tropics, but huge biomass. You can find 100 or 200 slugs in one dive, choose the most beautiful one, and take a great photo. Also, the White Sea is no diving mecca, so there are only a few photographers in a year who come and shoot local fauna. It's really off the beaten path.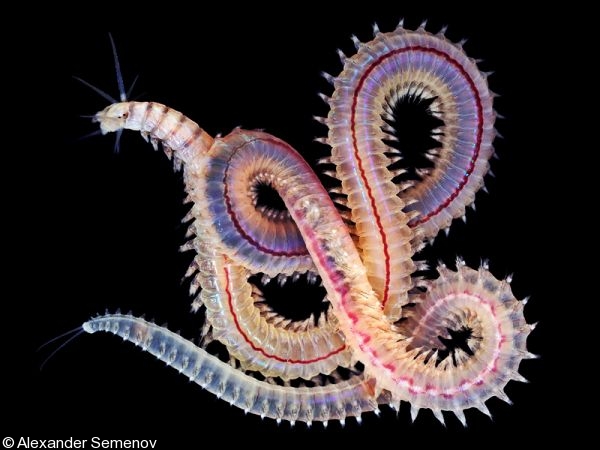 DPG: What are some of the unique challenges to cold, deep-water macro photography?
AS: First, you need to be a really good diver just to be able to stay in one position in the water column without any breath for a minute or two, with your eye finding tiny translucent jellyfish in the viewfinder and focusing manually.
Muddy waters with low visibility, lack of light and strong currents, and low temperature—sometimes below freezing—make underwater photography here challenging. Well, to be honest, I'm freezing there all the time, even in a drysuit and a very warm underwear layer, both in ice diving and daily diving for four months.
By the end of the field season, your body does not want to go under the water and freeze there terribly just in half an hour. Of course, for working we use the warmest gear possible, but still after a dive you really want to drink hot tea and sit in some warm place. Cold-water diving: it's rather hard work, but it's worth it! And I love cold water, in spite of everything.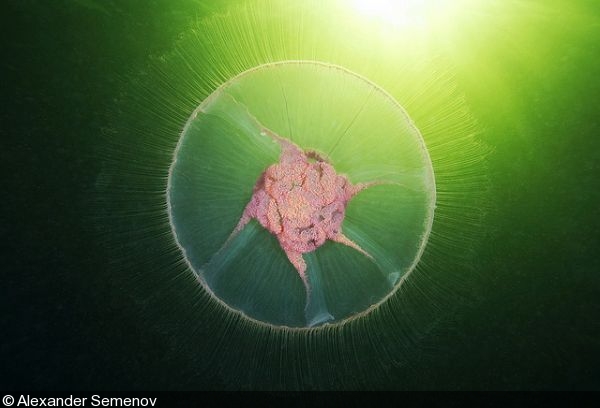 DPG: I know you also do some underwater photography in lab settings. What are the advantages of this set-up? Can you tell us a little bit about your "studio settings"?
AS: Initially, all that was intended to be scientific photography: I was shooting the animals on a list for a thick illustrated book about the flora and fauna of the White Sea. Some animals can be photographed underwater, while others had to be dug from the mud, extracted from their tubes in the laboratory, and photographed from all sides.
Often it was necessary to shoot some fragments and details of the structure of animals under a binocular microscope or with a special lens with high magnification. When I learned how to shoot more technically, it turned out that the photos of many animals are good without any special artistic effects, simply because the animals themselves are amazing in form and color.
Then I started trying to shoot scientific photos more "artistically," because I am very impressed with the idea of mixing art and science. With beautiful images in a scientific article, it's more likely that a wider audience will read the article. In general, I try in every way to promote the idea of "beautiful science," and I think that good illustrative material, which can sometimes even be considered as art—Nikon Small World contest photos, for example—will only help increase the general interest in marine science.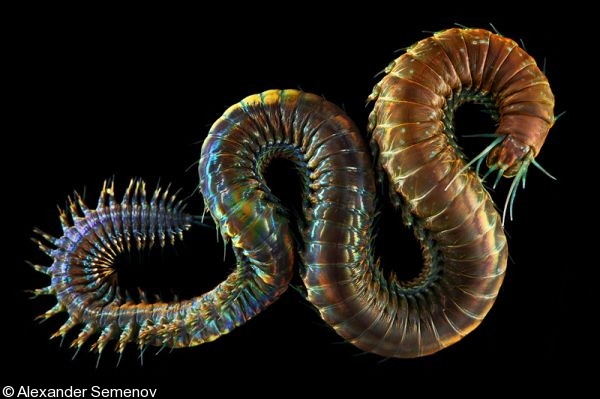 DPG: What studio settings/lighting do you typically use?
AS: Studio settings are pretty simple: I use two strobes from different sides of a Petri dish containing the animal and a flash trigger for synchronization. Plus two different macro lenses: a Canon MP-E for super macro and a Canon 100mm/f2.8L for 1:1 or bigger scales. Big animals—greater than 5cm—can be photographed in an aquarium.

DPG: Can you tell us about your starfish abstract project? Where did the idea come from? What techniques did you use?
AS: It was just a collection of photos from different seas and years. A few years ago I took a close-up photo of a Crossaster starfish skin and it was simply amazing, like an alien garden with strange flowers and crazy colors. Then I started to check every starfish I found and took some photos of the most interesting ones. When I combined the best photos in one project, it turned out that it looked amazing. In this form it went viral on the Internet.


DPG: You also seem to have a special fascination with jellyfish. What's so special about these creatures?
AS: They are special. They are like aliens of the deep: beautiful, dangerous and very esthetic. I think I'm a lucky guy because I have access to their world, a parallel universe inhabited by weird and amazing creatures. I have the unique opportunity to share all I see in this hidden world and show it to the world.
It's our planet, so everybody needs to know what all of its flora and fauna look like. Everyone knows what lions and tigers look like, but few know that scyphozoan jellies can grow to nine feet in diameter with 100 feet of tentacles. I'm trying to bring such knowledge to the masses, and it's much easier to do with the power of images and the Internet.


DPG: What are the techniques and challenges when photographing these giant jellyfish?
AS: The biggest challenge is to avoid their tentacles! I get constantly stung when working with jellies when they wrap their tentacles around my demand valve, where my lips and cheeks are not protected. No matter how hard I try to avoid contact, it seems like there's always one tentacle that gets me.
Most jellyfish have much shorter and much more visible tentacles, not translucent strands—like the Lion's mane jelly (Cyanea capillata). They burn to the point where it's unpleasant, but not deadly. But in those places where the jellyfish are really dangerous, it's much better to use full-face masks that do not leave exposed skin.
RELATED ARTICLES
Be the first to add a comment to this article.
Newsletter
Travel with us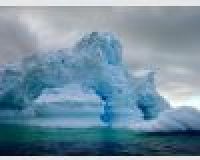 Antarctica
Plan Your Adventure >
Featured Photographer
Michael Howard
Expert Photographer
The main goal of my work is to create images that are meaningful and full of intention. I believe the best photography says something about life and isn't just about a pretty face or passing trend. I want there to be a...