Articles
Interview with the Pros: Tobias Friedrich
By Ian Bongso-Seldrup, March 20, 2023 @ 06:00 AM (EST)
Freediving under the ice in Greenland

If you've studied the masters of underwater photography, there's a high chance you've come across the work of German photographer Tobias Friedrich. With more than two decades of shooting experience and a long list of accolades to his name—including Underwater Photographer of the Year in 2018 and World Shootout's German Photographer of the Year in 2019—Tobias has developed a reputation for creating arresting images of big animals, big wrecks, and big icebergs.
Over the years, the Seacam Ambassador has moved from winning photography competitions to judging them, from joining trips to running his own, and from honing his craft to creating instructional books on underwater photography. He may be based in central Germany, nowhere near the ocean, but with Frankfurt Airport on his doorstep, Tobi's next project, assignment or workshop in some far-flung locale is never far away.
We caught up with Herr Friedrich to chat about his career so far, discover who and what inspires his art, and find out where in the world he's off to next.

A curious group of bottlenose dolphins in Hurghada, Egypt
DPG: How and when did you start taking photographs underwater?
I started taking photographs shortly after I started diving, in 2001. At the beginning, I only wanted to capture some images and there were no ambitious intentions behind it. But after a few years, I felt that this was fun and got more excited about underwater photography.

DPG: What equipment do you currently use?
I'm currently using a Canon EOS 1DX Mark II in a Seacam housing.

Parrotfish eye detail, Salalah, Oman
DPG: You travel a lot! Do you have a favorite dive destination?
I think there are so many places around the world and also in our neighborhood that are really nice, unique and almost not comparable. But I have to say that I do love the Egyptian Red Sea, as it's easy to reach from Europe and usually has very good conditions and visibility.

Maybe the most famous motorbike underwater, SS Thistlegorm, Egypt
DPG: Wide angle or macro? What type of photography excites you the most?
I'm definitely a wide-angle shooter, but I also like macro, especially in Southeast Asia. Nevertheless, a wide-angle image can usually tell more of a story in a single image.

Hippocampus pontohi, Kri Eco Resort, Raja Ampat, Indonesia

An epic reef scene in Ras Mohammad, Sharm El Sheikh, Egypt
DPG: What was your most memorable marine life encounter or dive ever?
I would say that I will always remember one encounter in Oman with a humpback whale, which belongs to a small group of animals which don't migrate like all other whales. At the end of the encounter, the whale gave me a slap with its tail fin—probably to play with me—but that was the sign for me to get out of the water!

Wonderpus larva, Anilao, Philippines
DPG: You have won many awards and are often asked to be a judge for photography contests. Do you have any advice for our readers about how two prepare and shoot for competition?

It is always better to go into a competition prepared and with an idea, especially when it is a live shootout. You need to think about what you could do with the possibilities and encounters you most likely have and make the best out of it. The more unique a picture or style is, the more likely it will get placed.

A perfect turtle silhouette, Tahiti, French Polynesia

A large shipwreck hangs over the drop-off, Nassau, The Bahamas
DPG: You also run guided trips for other photographers. What made you decide to do that and what can people expect when they join you on an expedition?
I do guided photo trips as well as workshops to teach underwater photography, as I love to see how people can improve. Photography is a never-ending field of ideas and inspiration, and I'm always happily surprised by new ideas from my students.

A rare purple Rhinopias scorpionfish, Bali, Indonesia
DPG: You have written more than one book about underwater photography, and it must be satisfying to see your images in print. What does it take to put together a great book?
You can't write a book just like that. It needs to be well thought through, and there needs to be a good concept and a pleasing structure to make it good.

An endemic marine iguana in the Galápagos, Ecuador
DPG: What is your favorite image that you have captured?
I would also say the split shot of the encounter with the whale. It is one of my most well-known images—also because it was on the start screen of Adobe Lightroom for over a year.

Humpback whale over-under, Oman
DPG: What other photographers inspire you and why?
I think great photographers like Alex Mustard or Laurent Ballesta are very inspiring, but actually art in general can be inspiring. You can also be inspired by the work of a beginning photographer or somebody that is in a completely different field. The key is to have your eyes open and to be ready to see the opportunities.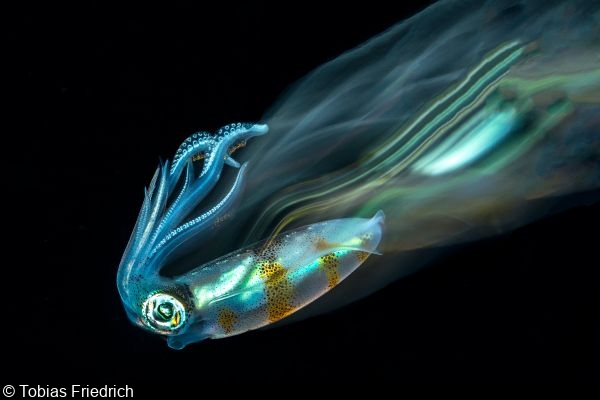 Squid motion blur on a night dive in Bali, Indonesia

A freediver explores under an iceberg in Greenland
DPG: What are your future plans and projects?
I have a few projects coming up, but I'm especially excited about a trip to Bikini Atoll [in the North Pacific Ocean] in May 2024, where we will dive the famous plane graveyard. It's a special trip together with Brandi Mueller, as she has all the GPS data for the best dive sites there. There are still spaces open for this trip by the way!

A diver explores the interior of the Zenobia wreck, Larnaca, Cyprus

Tobias with his trusty Seacam housing

To see more of Tobias Friedrich's extensive portfolio of images, check out his website, www.below-surface.com, and his Instagram page.
RELATED ARTICLES
Be the first to add a comment to this article.
Newsletter
Travel with us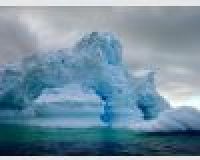 Antarctica
Plan Your Adventure >
Featured Photographer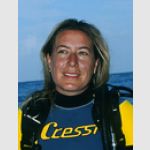 Catalina Perales-raya
Expert Photographer
Catalina is a professional uw-photographer, and also a marine biologist. Catalina has published articles and images in many magazines and books all over the world. Her vast experience includes research for several Research...