Articles
Interview with the Pros: Stephen Frink
Silky sharks at sunset, Cuba

Stephen Frink is among the world's most frequently published underwater photographers, with a career spanning four decades. He arrived in Key Largo in 1978 to open a small studio dedicated to underwater photo services, primarily renting cameras and processing E-6 slide film, but he soon began to receive assignments to photograph and write articles for the consumer dive publications of the day. He worked as a photojournalist for Skin Diver magazine for 17-years, covering much of the Caribbean, Bahamas, and Florida Keys for the publication. Subsequently he worked as the Director of Photography for Scuba Diving magazine. For the past 10 years Stephen has been the publisher of Alert Diver Magazine, a beautiful coffee-table collectible magazine for the members of the Divers Alert Network.

Stephen teaches Masters level courses of Stephen Frink School of Underwater Digital Imaging each summer in his home waters off Key Largo, Florida and offers dive excursions emphasizing underwater photography through his travel company, WaterHouse Tours. For many years Stephen served as the North American distributor for Seacam housings and strobes, and remains involved as a brand ambassador. Still a prolific image maker to this day, his portfolio is packed with iconic and groundbreaking underwater photographs from all over the planet, so we are delighted to share with you some of his favorite images and learn more about his illustrious career in the dive industry.

Stephen's daughter, Alexa Frink, uses a GoPro to photograph crocodiles in Jardines de la Reina, Cuba
1. How and when did you start taking photographs underwater?
This seems to be a two-part question … when did I start and when did they begin to be meaningful. I got my first underwater camera, a Nikonos II with a 35mm lens, second hand from a surfer in Seal Beach, CA. I was in graduate school at nearby California State University in Long Beach and I took some photo classes for fun while working on my thesis for my Masters in experimental psychology. My available light photos from beach dives in Laguna Beach didn't amount to much. Then I moved to Kona, Hawaii for a while and did more crappy available light photos from the shore, but at least the viz was better. I didn't really shoot anything of significance until I moved to Key Largo, Florida Keys in 1978. I still had that Nikonos II but by then I had opened a small studio to rent underwater cameras and process E-6 slide film for the tourists coming to dive Pennekamp Park. By then I was shooting a lot of topside medium format slides so the first pro series housed system I ever bought was a Sea and Sea housing for a Bronica C, a 2 ¼ x 2 ¼ camera for 12 frames per dive. It only had a flat port, so I was restricted to fish photographs, no wide angle and no macro with that system. I did buy a Subsea MK150 strobe and finally started to get some color in my underwater photos.
I got my first photo assignment from the old Sport Diver magazine when they were based in Miami. Their photographer got blown out on a Florida Keys shoot and they needed coverage from Marathon. Perhaps they found me in the yellow pages, and called to ask if I could shoot it for them. I'd never shot wide angle and I'd never shot divers underwater, but I saw from the dive magazines of the day that's what was being published. So, I borrowed a Seacor 21mm lens for my Nikonos and took a model with me to photograph the Middle Keys. They liked the shoot and asked me if I wanted to go to the Caymans for them the next month. That was over 40 years ago, and I've been on the road as a dive photojournalist ever since.

Manatee sunburst, Three Sisters Spring, Crystal River, Florida
2. What equipment do you currently use?
I have been using Seacam housings for a long time, so while I have migrated through a number of film and digital systems over the years, I still use the same Seacam ports and viewfinders from that old Nikon F100 film system. The housings have evolved though. From a Nikon to Canon migration and from film to digital SLR cameras. Now I've moved on to my first mirrorless system, the Canon R5. For strobes I use the Seacam Seaflash, both 150 and 160, as they render slightly different light characteristics. Also, Sea and Sea YS-250 when rapid recycle is needed, and Ikelite DS161 for purity of color when working really close for macro subjects. Each strobe has slightly different color temperature, and when shooting through the blue filtration of the ocean it makes a difference how close you are likely to be to any given subject and also how diffuse you would prefer the light to be. Now that color correction is so easy in digital post production it is not nearly so critical as when we shot slides, but I still prefer the aesthetic of getting it right in capture versus massive corrections in post.
As a side note, back in the era of the Nikon N90 film housings I was contacted by the Austrian Trade Commission to evaluate a housing made by their local manufacturer, Seacam. They wanted to know if there might be a market for Seacam in the United States and wanted my opinion. Harald Hordosch of Seacam sent me a Minicam housing for the N90 and I shot it and wrote the report. They were going to pay me $1000 for my work, and I wrote back and said I liked the housing so much, they could keep the money if I could keep the housing. That was the beginning of a long friendship and close working relationship with Harald and his daughter Esther Bohmer of Seacam. For a few decades I was the North American distributor for Seacam, but gave that up when my key staffer on the Seacam side, Liz Johnson, retired. We all remain dear friends and there's a lot of Seacam-Silver in my camera room. I still use my Canon 5DMK4 cameras and housings, in addition to the R5.

Tiger shark cruising along the reef, Tiger Beach, The Bahamas
3. You travel a lot! What is your favourite dive destination and why?
On a nice day in Key Largo, you can be amazed at what swims by. Conservation works within the no-take zones of the Florida Keys National Marine Sanctuary, and the fish populations are healthy and approachable. Obviously, there are destinations with better visibility and healthier corals. For that I particularly like the exotic Evergreens like the Red Sea, Indonesia, and Tubbataha in the Philippines. I tend to choose a destination for a keystone species or bucket of photo-opportunties. Earlier this year I was in Moorea for humpbacks and mantas, and will go to the Silver Bank of the Dominican Republic for more humpbacks in March. In October I'll go to South Australia for great whites. I think it's kind of a "love the one you're with" vibe with our most iconic dive destinations. Most of our mainstream dive locations will offer good things to shoot, and the job of a photojournalist is to distill it down to the 10 or 12 shots that tell the story. Whatever the story might be. Back in the days when stock photography was a viable business plan the dive travel also fed my stock photo agency submissions, but I don't invest much energy in that since the license fees declined so precipitously.

Stephen Frink photographs blacktip reef sharks in Rangiroa, French Polynesia
4. Wide-angle or Macro? What type of diving and photography excites you the most?
Wide angle and fish, please. And if fish portraits, more of the wider environmental type … fish plus background. I'm not a big macro shooter, although I do admire those who shoot it well. I always felt that if my daughter depended on me shooting a nudibranch to have paid for her college tuition, we'd both be in trouble.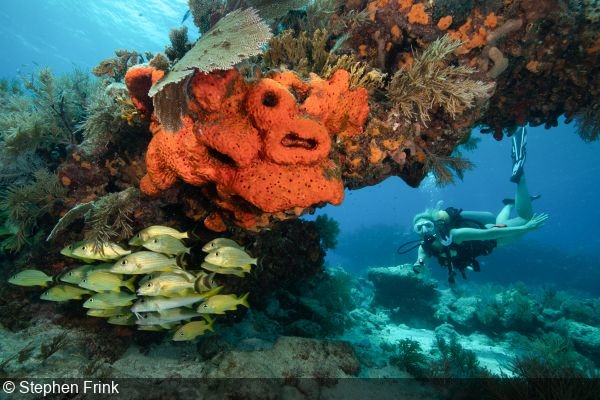 Maddie Cholnoky diving Molasses Reef in Key Largo during a Stephen Frink Digital Master Class, 2022
5. What was your most memorable marine life encounter or dive ever?
I don't have any photos to show for it, but one of the few times I got "persuaded" out of the water by a shark was certainly memorable. I was in my Key Largo studio and heard over the VHF radio that a lot of birds were working offshore in the Gulf Stream. The chatter was that there had to be something there. Turned out it was a whale carcass that drew the birds in the air, and in the sea below there were a dozen tiger sharks working it. I got a boat ride out there and a buddy of mine, Paul Caputo, agreed to go along as my safety diver. Regrettably, all he had for protection was a boat hook and all I had was a Nikonos with a 28mm lens, so neither one of us was very prepared to fend off a motivated tiger shark. But, nevertheless, we jumped in and entered a cloud of detritus, flesh and blood raining down from the carcass. One of the tigers broke off from the feed and stopped right in front of me, holding still in the water. He arched his back and dropped his pecs. No attack, but a clear message. His ocean, his food, his day. Paul and I swam back to the boat, the shark back to his meal. No harm. No foul. No pictures.

Denis Grosmaire uses a selfie-stick to photograph mantas while Kelsey Williamson captures the scene from a different point of view
6. You have been taking underwater images for more than 4 decades. How has the industry changed for better or worse during that time and where do you see things heading in the future?
I think the industry is in fine shape. The resorts and live-aboards and day boats are better than ever. There are a lot of very serious professionals in the dive industry and they operate ethically and to a high standard. My concern, and I think this permeates the whole industry, is that we don't have a large youth infusion into the industry. I think this is partly because instruction, gear and travel are all expensive, but I also think it is because new divers aren't always shown the very best reefs to inspire them. Just breathing underwater is not enough to set the hook for a life-long passion. They need to see something special, and know if they go back in the water again "special" awaits them.
I'm very involved now with Divers Alert Network as the publisher of Alert Diver, and as such I'm exposed to their commitment to a culture of dive safety. Between their 24/7 Emergency Hot Line, insurance programs, research, and recompression chamber assistance I see a lot of really crucial support for traveling divers. If you accept that the best diving likely involves getting on an airplane to go somewhere, there are perils inherent. If we are talking about changes over the past 4 decades, I think one of the biggest is probably DAN. They started in 1980 and without dive accident insurance the dive travel portion of our industry would be dramatically different, and certainly less robust. That's how I got involved with DAN, by the way. I got bent in Vanuatu back in the early 1990s and there was no hyperbaric chamber there. I had a very difficult evacuation from there to Fiji, and finally to Hawaii where I finally got my chamber treatment. DAN managed to arrange it all, even to get Qantas to drop an oxygen bib to me from the overhead on a commercial 747. I thought that was pretty cool. Not cool that I needed it, but cool that they had the programs in place to facilitate such an evacuation. I've been a big believer ever since.

Whale shark surface feeding at night, Maldives
7. As the publisher of Alert Diver Magazine, I'm sure our readers will be interested to know what kind of images and stories you look for when searching for content? What makes a good story worth publishing?
Alert Diver is both a lifestyle and safety culture magazine. In a world of digital content, we have made the conscious decision to provide both digital and coffee-table print versions of the magazine. We are committed to delivering the best in underwater photography and publishing it to the very highest standard. To that end, we expect photographic submissions to be of the highest caliber. Of course, there are portions of the magazine that by definition will deliver extraordinary photography. Our Shooter portfolio is from one of the top underwater photographers in the world, and we celebrate their careers. Our dive destination coverage is first driven by the photography as well. We feel we owe that to our readers; to inspire, educate, and entertain. There are other features of the magazine that are sometimes harder to source stellar photography. Water Planet tells an environmental story, and the contributor may be more of a scientist than a photographer. The articles within the Research Education Medicine section of the magazine are tough too, because they tell the story of a dive hazard or an accident, and getting photos at the time may not be top of mind for our authors. For many of these I take a shoot list with me from our editorial staff as I travel and try to stage viable illustrations while on the road. My dive buddies have been bent, run over with propellers, dragged unconscious back to the boat, suffered catastrophic regulator failures, and often run out of air only to have their lives saved by buddy-breathing back to the surface … all simulated of course. However, sometimes I'll get "lucky" with a malady that is hard to illustrate, like the rash that comes from skin bends or the hit of a Portuguese man-o-war. When that happens, I'll shoot it, for sooner or later we'll need the photo.

Silky sharks at dusk in Cuba
8. You also run courses teaching underwater photography to others. What made you decide to do that and what can people expect when they join you on an expedition?

I've been teaching photo seminars for a very long time. I think the first one was in 1980. I typically do them once a year and they have evolved into really sophisticated events, if I do say so myself. I'm joined by really talented staff. Mike White, a long-time friend and former NOAA manager for the Key Largo National Marine Sanctuary, is on hand to assist in the classroom and in the water. Eddie Tapp, a member of the Photoshop Hall of Fame and former Canon Explorer of Light, teaches the digital workflow and Lightroom/Photoshop class modules. I handle the image critiques and speak to the intricacies of achieving ever-improving underwater photographs. We generally have a two-tank dive in the morning, some time to process images, and then a classroom session in the afternoon. Often, they are in Key Largo, which is great because it is such a target-rich environment. But sometimes we take the program offshore to Bonaire or Little Cayman. This June we'll be in Fiji at Voli Voli Resort. Actually, this will be the first year since 1980 I haven't taught a class in Key Largo, but we'll be back in 2024. Summer in Key Largo is usually quite special. My dive travel company is at www.waterhousetours.com. In addition to the once-a-year photo seminars I escort two or three exotic dive tours each year. We charter a live-aboard somewhere great, and go have some fun. The hook is underwater photography, and we pick destinations and platforms that are conducive to the very best in image capture.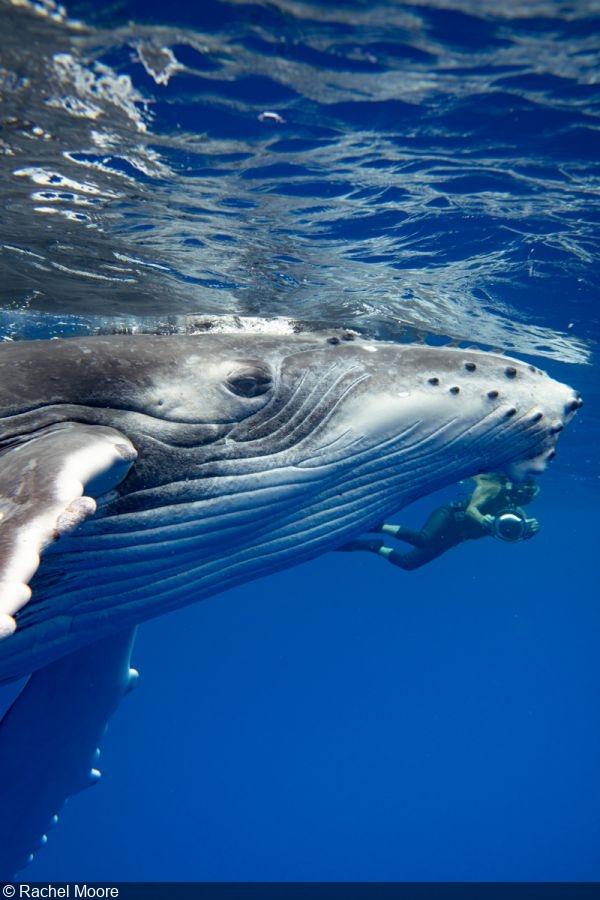 Stephen Frink on location in Moorea with a humpback whale calf
9. You have written more than one book about underwater photography and it must be satisfying to see your images in print and in bookshops. How do you prepare for these types of assignments?
I haven't actually done a coffee-table book in quite a long time, my last one was Wonders of the Reef, published by Harry N. Abrams in 1996. It took a long time to do, and truthfully, I'm too busy with Alert Diver and dive travel to take on such a project again right now. However, I do have one more good book left in me. Just as we try to use the very best paper and achieve the highest fidelity in photographic reproduction in Alert Diver, I have a desire to find the right publisher for a classic ink-on-paper project. Small quantity/immense quality. I'll get around to it one day. I know what I'd like to say in words and photos. It just needs to percolate to the top of the heap in terms of time commitments.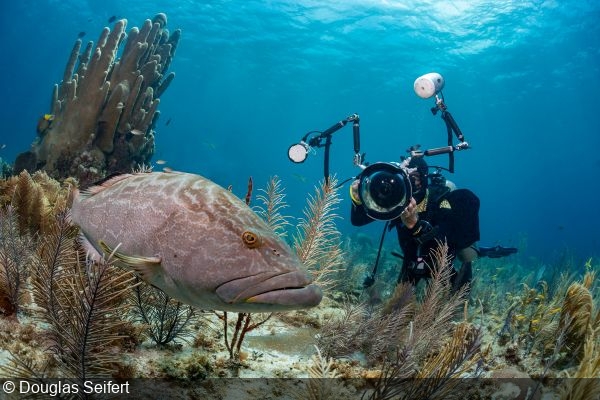 Stephen Frink photographs black grouper, Cuba
10. You have spent plenty of time underwater with sharks during your career. What is your favorite species and most memorable shark encounter?
Clearly the most charismatic shark on the planet is the great white. It's also the one most difficult to photograph, only because proximity is so random. First you have to be where they are, and then they need to come close before you even have a chance at getting the shot. Over the years there were three hot spots for great whites … Guadalupe, South Africa, and South Australia. Guadalupe has recently and indefinitely closed to shark watching tours, and South Africa hasn't had the populations of white sharks like they used to for quite some time now. Which leaves the Neptune Islands of South Australia as the last great, great white shark encounters destination.
As for "most memorable encounter" I feel like I've told the story often, but here it is again since you asked. I was in South Africa with my wife, daughter and a small team of shark shooters. We had done safari the first week, and for the second week a few of us went on the boat each day to try to photograph great whites off Gansbaii while the wives (as it turned out) and my daughter, Alexa, did tours of the wine country. At night we'd get together and tell each other stories of the day, but I wanted them to see what happened when we were out at sea, so I chartered a second boat, just to moor next to us so they could see the action. On this day I asked my shark wrangler, the legendary Andre Hartman, to stand above me while I laid down on the swim platform. The idea was to get an over/under of the shark coming for the bait. So, I was viewing the scene through a 16mm fisheye on a Nikon F100, using the swivel-45 viewfinder. Andre straddled me from above and deployed the baited line directly in front of me. When we got a player, he started coxing it near. I kept shouting out "closer, closer", and he did just that, yanking the bait out of the way just as the shark approached my dome. But it didn't end there. The shark's velocity carried his nose against my dome, the momentum smashing the housing into my face. Between the splash and commotion no one was quite certain what had happened to me. There was a cacophony of concern, was I all right? Above it all came the voice of my then 9-year-old daughter from the other boat… "Daddy, did you get the shot?" I got the shot, and always thought if I were to seek an affirmation for my career, those 6 words were what I was going for.

Andre Hartman, shark wrangler, South Africa

Great white shark close up, Neptune Islands, South Australia
11. What is the favorite image you have ever captured and the story behind it?
I don't know if it is my favorite, but it is the one I get accused of using too often. Most recently I am using it as a wrap for a new line of active wear I'm introducing through our new and soon-to-launch www.stephenfrinkboutique.com. It is just a photo of a queen angelfish I shot in Key Largo with a Canon 100-mm macro lens. There is something about the way the fish turns into the lens and the bokeh that makes that one single image resonate with me more than the other thousand queen angels I've shot in my life. Either that or the shot of my daughter swimming next to an Atlantic bottlenose dolphin in the open ocean when she was just 3 ½ years old. As a resonant life experience, Alexa and the dolphin for sure. She has grown up to be a veterinarian, and I think the experiences she had with terrestrial and aquatic creatures helped forge her passion.

Alexa Frink, age 3 1/2, swims with Atlantic bottlenose dolphin, The Bahamas

Queen angel fish portrait, Key Largo, Florida
12. What other photographers inspire you and why?
That's a trap I won't fall into because there are so many good photographers out there. We have published 50 issues of Alert Diver in the coffee-table format since the redesign in 4 th quarter 2009. That's 50 photographers I could list, for if I wasn't inspired by their photography they would not have been invited to share their portfolios and insights on our pages. Plus, Instagram is awash in brilliant underwater photos, daily. Really amazing images are showing up online and in the various contests like the ones DPG hosts. So, while inspiration is more broadly sourced I do have a great deal of respect for specific photographers who have immersed themselves fully into the UW photo culture and lifestyle, and manage to flourish in that challenging niche. For me I always thought it was important to be nimble. The Mile Markers (to borrow a Florida Keys navigational referent) in my career were darkroom work, camera rentals, editorial photography for dive magazines, stock photography, retail photo gear (mostly Seacam), dive travel, photo instruction, and now publishing. If I did any one of those things to the exclusion of others, I wouldn't have made it this long.
When I think of who have both the longevity and an overarching passion for all things underwater photo, I think of these two most spontaneously. David Doubilet probably makes it to any photo enthusiast's short list. He's done it a long time, he does it extraordinarily well, and he continues to surprise me. His is a different career trajectory, for National Geographic has been his springboard. He and wife Jennifer Hayes also lead dive expeditions and have very active speaking schedules, also within the National Geographic ecosphere.
Alex Mustard is a more contemporary inspiration, although if you ask him he'd probably tell you he's been doing it a long time too. Alex has that same passion for both the art and science of photography, but he has more of a commercial influence as well. I don't mean that in a negative or avaricious way, but the things he likes to do … lead dive travel and teach seminars, write articles about dive travel and photo techniques, publish books … are things he can monetize to have a career. If underwater photography is to be the anchor for a life's work, you still need to get paid to do it. Both of these guys have managed to find a way to do that yet stay true to their muse. I find that admirable. Although, drilling down to the core of it, they'd likely shoot even if they didn't get paid.

Marko Dimitrijevic swimming with humpback whales, Silver Bank, Dominican Republic
13. What are your future plans and projects?
More Alert Diver, more dive travel, and one of these days I'll move that photo book off the back burner.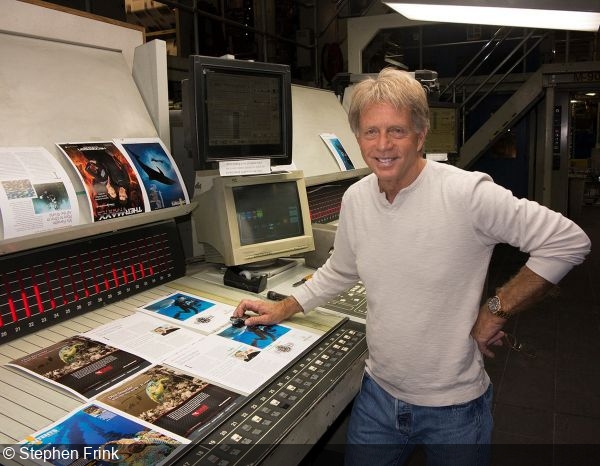 Stephen Frink on location at Quad Graphics, overseeing a press run for Alert Diver Magazine
For more of Stephens epic portfolio, check out his website, www.stephenfrink.com, or if you would like to join him and learn how to take better underwater images investigate the options at www.waterhousetours.com.
RELATED ARTICLES
Be the first to add a comment to this article.
Newsletter
Travel with us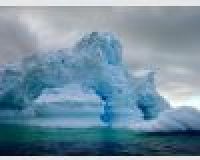 Antarctica
Plan Your Adventure >
Featured Photographer
Ernie Brooks
Expert Photographer
Ambassador to the Marine Environment, Photographer, Adventurer, Diver and Educator Ernest H. Brooks II was born to be a photographer. His Portuguese ancestry, rich in men-of-the-sea, virtually insured the ocean environment...