Articles
Interview with the Pros: Mike Bartick
Yellow barred jawfish with eggs: When trying to figure out which set of eyes should be sharp, you come to realize you have a quality problem. Mike uses off-camera lighting to shoot this photo, which allowed him to frame at will and not worry about distance or angle

As one of the pioneers of blackwater diving and resident photo pro at Crystal Blue Resort in Anilao, Philippines, Mike Bartick is well known for his amazing macro work. Whether it is alien-like creatures in the abyss or iconic critters in the muck, Mike has a special talent for capturing artistic images of the ocean's smallest marine life using advanced lighting techniques and a variety of special lenses and accessories. Having recently reviewed his superb book, The World of Blackwater, we decided it was time to learn a bit more about Mr Bartick: what keeps him busy as a photo pro, his thoughts on gear, and why he loves macro the most.

Sailfin blenny display: Martin Edge said it best—shooting behavior is best captured at the "peak of the action." Mike repeats this phrase frequently during his workshops and pushes himself to do just that when shooting behavior. He calls this the "TLCs"—Technical settings, Lighting and Composition
DPG: How and when did you start taking photographs underwater?
I was pretty young when I first used a camera underwater. The results were everything but good. While in Hawaii, on family vacations, I spent most days in the water, shooting roll after roll of film. I discovered I was a natural and quickly mastered the art of shooting fish butts, creating backscatter and bubbles—I was the master of disaster! But it was there that I did discover my love for the ocean and the differences between the cold Eastern Pacific California waters and the Tropical Pacific.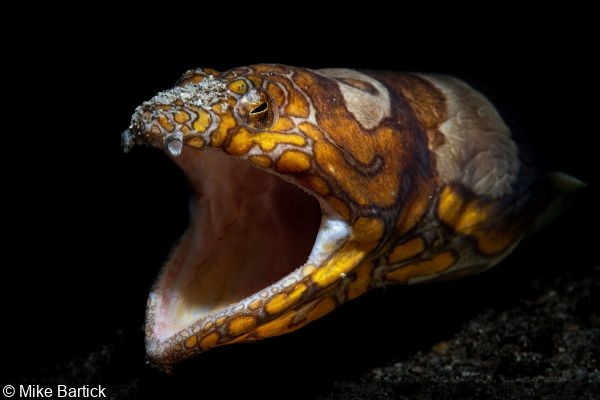 Napoleon snake eel: These sand-dwelling eels are normally very docile, but from time to time, they can become hostile, even downright aggressive. Here, one is posturing and letting Mike know who's in charge
DPG: What equipment do you currently use?
This is a loaded question, as I love all of my gear for different reasons. I currently shoot the following:
Nikon D850 or D500, mostly the former
Sea&Sea housings and strobes
Retra strobes
SUPE Pro strobes
Backscatter Miniflash strobes
Backscatter snoots, Retra LSDs, and fiber-optic snoots
Float arms from Kraken and Inon
Diopters from Nauticam, Kraken and Inon
Clamps from ULCS
Focus lights and downline gear supplied by Kraken Sports
Clingfish spend their entire lives on crynoids; it's a small world, but its their world. Mike uses a diopter to anchor in to the eye and frame tight while filling the frame with color and texture
DPG: You are the photo pro at Crystal Blue Resort in Anilao. What does this job entail and how does it help improve your photography skills?
Being a photo pro is perfect for a guy like me. I love to dive, help others, and of course, I love shooting. The best part is helping shooters develop lifelong skills and watching them blossom into full-fledged photographers. The ability to dive often also means I can try new techniques and gear and work to create my own styles of shooting. I think diving often is really a key factor in helping me keep my head in the game and my heart in the right place.

Green tunicate shrimp: Lighting is everything when shooting macro. If you have the lighting just right, the image seems to be elevated above the norm, even if it's a somewhat common subject
DPG: I think I already know the answer to this question, but do you prefer wide angle or macro? What type of diving and photography excites you the most?
I love all styles of shooting and I am always looking to change it up a bit. I do love critters and shooting macro the most though. There are many styles of shooting macro, too, and depending on what kind of mood I am in, or situation, the style comes out. Some days it's all about crazy pastels and bokeh, while others I'm all stopped down. There is something especially intimate and rewarding about finding a great subject and getting close enough to capture the expression of its face: Seeing its teeth, or the eyes of developing embryos in the mouth of a jawfish—then capturing the image to the absolute best of your ability. Revealing a hidden world is what macro is all about for me. Macro is a mindset and sometimes a fruitless game of patience. One way or the other, I'll try again tomorrow and see what becomes of it.

Diamond squid: The colors are natural; this is not Photoshopped. The diamond squids are really this exotic and beautiful, which is a driving force behind shooting in this kind of environment
DPG: You are one of the pioneers of blackwater diving, and we recently reviewed your excellent book, The World of Blackwater. What made you fall in love with this type of night diving and what special skills are required to do it well?
Thanks for the great review! Writing The World of Blackwater was a labor of love. I tried to consolidate as much info about blackwater diving as possible into a single resource. It's an electronic publication, so that means anyone can download it from anywhere and at anytime.
Special skills needed, hmm? I would say, good common sense, strong buoyancy skills, and being stubborn enough not to give up when a dive is slow! I was inspired to try blackwater by my longtime buddy here in Anilao. I had been doing this style of diving for years with my California dive buddies, so drifting in the open ocean at night, was the next logical step! It sounds funny saying it, but blackwater diving really is the ultimate in photo ops: It's challenging, educational and extremely addictive.

Mike says: "The jack and jelly are symbiotic. The jack is sheltering within the jellyfish; the filefish is trying to bully the jack away from its shelter. Filefish will slowly consume the jelly, so the jack is trying to protect its home. The jellyfish has actually evolved to have a flap for fish to shelter in, under their bell, as you can see in this image"
DPG: Of all the strange creatures you find drifting in the abyss at night, which one is your favorite to encounter?
I love larval fish, as they seem completely helpless but are wild in appearance. And in actuality, many of them are actually quite voracious. I would say my favorites have to be jellyfish and fish symbiosis—it's an unexpected partnership that is hard to understand at first glance but beautiful to watch.

DPG: You also run underwater photography workshops at Crystal Blue Resort. What can people expect when they join you at the resort?
Yes, we run about 12 workshops a year at the resort plus blackwater weeks. They are fun, busy, and from what the guests tell me, educational. I try to pass on as much knowledge as I can during our 10-day modules by concentrating on specific skills. Then, I encourage guests to go out and try to create images using the skills we've discussed. Workshops can be frustrating, informative, challenging and inspiring all at the same time. I don't believe in pulling punches either, especially when I'm coaching someone and analyzing their work. I commit 110% to anyone that shows commitment and will do my best to help them succeed.

Goliath groupers, Florida: Goliaths are endangered and each year they aggregate to spawn around the South Florida area. Locals are fighting to keep them protected but industry and politics continually threaten to push these lovely creatures to extinction
DPG: You are an ambassador for a number of equipment manufacturers. How does this help with your work?
Yes, I have been an ambassador for select companies for many years. I've assisted in bringing excellent gear to the market and have tested and voiced my opinions on others. This includes dive gear, camera gear, torches, diopters, arms, and more. This is somewhat misleading, though, as it gives the impression that I don't pay for gear like the rest of the world! The fact is, I invest in gear that is durable, reliable and tough enough to handle the rigors of diving every day. But yes, I do get a lot of help from various manufacturers—I would be lying if I didn't say it! I consider myself lucky and fortunate enough to have the support when it's needed.

Anemonefish aerating eggs: "Being observant and patient, and looking for the shot you want can be risky but highly rewarding," says Mike. "Sit with a subject and wait for the right moment rather than blasting away, hoping for something good"
DPG: What would you consider to be your favorite accessories for creating unique underwater images?
It's all about lighting: strobes, snoots, color gels, diffusers, limiters, torches and diopters, to name a few. I'm a simple shooter, though, and usually dive with a single snoot and a single strobe. I'll carry a torch for backlighting and sometimes color gels to colorize or accent an image. I'm not into obnoxious bling, although tasteful bling can be nice if it's done well. I hate colored stop signs in the background but love bubbles—as anyone who has listened to me rant about the aesthetics of proper bokeh will attest.

DPG: Besides Anilao, where else do you like to dive?
I love critters, so any critter-rich environment, like Lembeh, Ambon, parts of Bali, Mexico, California, Florida, South Australia—the list is endless.

Rhinopias has great features that keeps these fish high on any macro shooters lists. This scarlet red paddle-flap scorpionfish was living on the Crystal Blue house reef, allowing for repeat visits. The subtle backscatter in this photo gives it a sense of space and feel, adding to the overall composition
DPG: What was your most memorable marine life encounter or dive ever?
That has to be my encounter with a giant blanket octopus that was carrying eggs. I didn't know it at the time, and I discovered it in the early morning hours while editing. The best part was sharing the experience with one of our guests. To my knowledge, we are the only people on the planet to see this behavior "in situ."

Tremoctopus gracilis with eggs: If you didn't get a photo, it's just a story, and what a story this would have been! Shot with a 60mm from about six feet away or more, this encounter is one of Mike's most memorable
DPG: What is the favorite image you have ever captured and the story behind it?
The giant blanket octopus gets this distinction. I was finning back towards my downline when I spied something large. At first its silhouette appeared as a giant manta but it was too stout. Then, as I drew closer, I began to see hues of pink and silver. Once it saw me, it turned and swam right into me. It all happened very quickly and it was startling. I began to shoot and wave my torch up towards the boat above while listening to my mentor's voice shouting at me, "It's a chance of a lifetime, don't mess it up!" My guest saw my torch, grabbed her camera and jumped back in, swam down and joined me. Together, we shared this incredible experience, and yes, I got the photos to prove it!

Blanket octopuses are fast, and once they are on the move, they are hard to keep up with. They change direction quickly and often times rocket for the depths or in this case, the surface
DPG: What other photographers inspire you and why?
I am inspired by guys that like to help others, like Alex Mustard and my old mentor Joe Liburdi. Keri Wilk lit a fire under my butt with his take on lighting that I still draw from. Guys like Franco Banfi, who charge hard and remain down to Earth. There are a lot of shooters that don't really make much noise that are incredibly talented, too. There is more to being a photographer than just taking photos. It's professionalism and being open and sharing that inspires me, and anyone on that path has my respect.

Ribbon eels change colors and sex as they age. Here, different lighting methods are used to create some extremes: high key and a wide open aperture for the blue phase (top), and low key on the black ribbon eel to bring out the texture using longer shadows (bottom)
DPG: What are your future plans and projects?
I have some irons in the fire at the moment. We are running an expedition to Yap for blackwater diving and trying to assist Yap Divers to start their blackwater program. Then, humpback whales in Tahiti. The rainy season here in Anilao allows me to get out and dive in other locations. Beyond that, finalizing another book project. My immediate plans are to fin up and go diving to test out some new fins and some new strobes. I'm pretty excited. Life is good! I love shooting and love the community of shooters that are out there. I am always looking forward to seeing what a seasoned pro can produce, but I am even more interested in seeing what an inspired new shooter can do. I am truly grateful to be in my position. I love diving and I love the ocean. We must do whatever we can to protect it.

Miamira alleni: This is an iconic nudibranch that is known to be found around the Anilao area. Mike says: "Most days, shooting in Anilao means you must battle the sun and current, which were both prevalent when making this shot. It's rare to see the natural blues in macro but everything came together just right to make it happen here"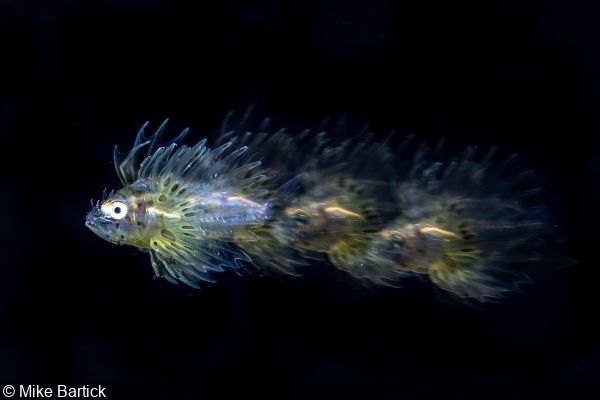 Subtronic strobe flash: The lighting manufacturer reprogrammed a torch for Mike to be able to flash multiple exposures on a single release, resulting in multiple separate images in a single frame. Mike says: "It's a fun technique to try. Good, bad or indifferent, the challenge of making it work is really rewarding"

To see more of Mike's extensive portfolio of images, check out his website, www.saltwaterphoto.com, and his Instagram page.
RELATED ARTICLES
Be the first to add a comment to this article.
Newsletter
Travel with us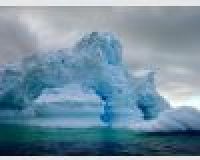 Antarctica
Plan Your Adventure >
Featured Photographer
Libor Spacek
Expert Photographer
I am a photographer and filmmaker, scuba instructor and yachtmaster coastal based in Czech Republic. Me and my partner Petra Dolezalova (photographer, publicist, diver) own a Dutch photography and film production Escape to...