Articles
Interview with the Pros: Jon Anderson
A beautiful orange sea star, bathed in light beams, Monterey Bay, California, USA

Lucky enough to call the world-famous Monterey Bay his backyard, underwater shooter Jon Anderson cut his teeth as an image maker in these cold waters—in a wetsuit! Jon brings a technical acumen to underwater photography, honed by a career as an engineer and it shows in his perfectly executed images. Monterey is his home base, but that doesn't mean he hasn't made world-class images elsewhere.
Jon's images have been awarded in numerous competitions and have been featured in countless publications. From the cold waters of California to the warm tropics across the globe, Jon's portfolio includes images from all over the world. Read on to learn more about the man behind these beautiful pictures.

The diminutive (and adorable) pygmy seahorse, Bangka Island, Indonesia

DPG: How and when did you begin taking underwater pictures?
I was certified to dive at age 12 with my family in Cozumel, Mexico. My father got a Ikelite housing for a small compact Canon camera when I was about 14, to bring on these trips which we did every year or two after that. Initially, he would take photos while we dove, but I eventually asked him if I could use the camera for a dive. Diving continued to be an infrequent tropical vacation activity for me until I wrapped up college and moved to San Francisco. I heard whispers about the world-class diving in the Monterey Bay, just south of San Francisco. I was young and single and looking for something to occupy my weekends, so I decided to give it a shot. I was blown away by the vibrant colors and amount of life in Monterey Bay. Wanting to share this with my family in Colorado, I immediately asked them to ship me the Ikelite setup. The relatively dark conditions of Monterey made it difficult to capture what I was seeing satisfactorily with this old compact camera. In 2016, I bought a new camera and started down the slippery slope of trying to improve the photos I was taking underwater.

Snapper hunting a baitball, La Paz, Baja California, Mexico

DPG: What equipment do you currently use and why that particular gear?
I currently shoot a Nikon D850 in a Nauticam housing. I shoot the NIkon 16–35mm and Nikon 8–15mm fisheye for wide angle. For macro, I use the Nikon 105mm and 60mm, sometimes adding a Kraken +6 or +13 diopter for the smallest subjects. I primarily shoot a pair of Retra Pro strobes but will often switch over to a Backscatter MF-1 and OS-1 snoot when shooting macro. I recently picked up a TTArtisan 100mm bubble bokeh lens that I look forward to trying soon. I was fortunate enough to have the opportunity to demo the latest (in 2018) Canon, Nikon, and Sony full-frame cameras before I purchased my Nikon D850. Ultimately, I found the Nikon D850 autofocus to outperform the others for underwater macro at the time. I have always liked the way Nikon cameras reproduce underwater colors and noticed that many of my favorite underwater photographers are (or at least were) Nikon shooters. I also have a Nikon mirrorless body that I shoot topside, but I am not sure there are enough advantages yet over my D850 underwater to buy a new housing. Many people now shooting mirrorless have said this same thing, so I'm sure I'll follow suit in the next few years.

A cleaner wrasse mimicking sabertooth blenny smiling innocently, La Paz, Baja California, Mexico

DPG: Do you have a preference between wide angle and macro?
That's a funny question: If you had asked me several years ago, I almost certainly would have said macro. I think the scavenger hunt element of shooting macro has always appealed to me. I am not sure what changed but lately I have found myself shooting more wide angle. I feel that the most powerful underwater images not only depict the subject beautifully, but also give you a sense of place and puts the subject in context. That isn't impossible to convey through a macro picture, but I believe these types of images often work better with a wide-angle lens. I guess if we want to get really specific, I would say close focus wide angle (the macro of wide angle) is probably my favorite style right now.

Two marine iguanas catch a breath at the surface, Fernandina Island, Galapagos, Ecuador

DPG: What is your favorite animal to encounter or photograph underwater?
I really enjoy photographing both octopuses and small fishes such as blennies. Both are very charismatic and often exhibit personality through their behavior. I have had some very memorable octopus interactions including the time when one successfully disconnected my strobe fiber optic from my housing! I'm not sure if that was an accident or a signal to me to stop taking photos. I interpreted it as the latter and left that octopus alone.
Blennies are naturally photogenic, with their wide range of colors, patterns, and unique appendages atop their head. Their small size makes searching for them a treasure hunt of sorts. From a photography standpoint, it's nice that once located, they usually stay in their hole, making it a bit easier to get the photo you are after.

An Eastern Pacific red octopus forming pleasing circles with its arms, Monterey Bay, California, USA

Slow shutter speed allowed the blue water background to bleed into this portrait of a Galápagos barnacle blenny, Isabela Island, Galápagos, Ecuador

DPG: Do you have a most memorable marine life encounter?
At the end of a dive at Darwin's Arch in the Galápagos, a pod of hundreds of bottlenose dolphins came by and spent 10–15 minutes circling us. Our guide couldn't believe it. She said she had never seen a pod of dolphins that large there. When we got back on the panga at the end of our dive, everyone was so ecstatic, some people in the group were literally in tears of joy. Bottlenose dolphins are certainly not the most exotic animals you will encounter in the Galápagos, but the sheer number of them and their apparent curiosity is what made this encounter so memorable.

A pod of bottlenose dolphins glides by near Darwin's Arch, Darwin Island, Galápagos, Ecuador

DPG: What is your favorite image you have ever captured and the image behind it?
There is a saying in photography along the lines of not needing the most exotic subject to make a very compelling image, and I feel like this couldn't be more true about my image, "Cathedral of Kelp." Rockfish and giant kelp are two species more or less guaranteed at Monastery Beach in Monterey (if conditions allow you to dive the site). The orientation of the beach leaves it fairly exposed to incoming swells from the open ocean, often making it difficult or impossible to dive safely. Many days when it can be enjoyed safely, thick coastal fog blocks out sun almost entirely and nutrient-rich upwellings reduce visibility to just a few feet and cast a green haze into the water. On rare occasions, the stars align at Monastery Beach, providing calm seas, outstanding visibility, and cathedral-like beams of intense light that pierce though the kelp canopy. On these days, the kelp forest becomes one of the most beautiful underwater environments on Earth. With brand new strobes attached to my housing, it was difficult but I forced myself to shut them off and focused on capturing the dramatic ambience of the dancing light beams. Since winning the Coldwater category in Ocean Art 2020, "Cathedral of Kelp" has received considerable attention in books and magazines.

Cathedral of Kelp: The magical light beams of the kelp forest, Monterey Bay, California, USA

DPG: What animals or destinations are still on your must dive/shoot list?
I have been fortunate to dive many places already and photograph many amazing animals. One of these days, I am hoping to upgrade from my 7mm wetsuit (bearable in Monterey) to a drysuit to head up the coast and explore the colder waters of the Pacific Northwest. I would love to photograph the Pacific spiny lumpsuckers, giant Pacific octopuses, grunt sculpins, wolf eels, and warbonnets, to name a few. Though I have dived a decent amount in Baja California, I still have not been for the Magdalena Bay sardine run, which attracts large numbers striped marlins and other predators, so I would definitely like to do that soon. Swimming with and photographing humpback whales underwater is another dream of mine, which puts Moorea high on my list as well.
Even though there are endless exotic places around the world that I would love to dive, I am super happy to have world-class diving and photography in my backyard, the Monterey Bay. After hundreds of dives here, I still feel like there are plenty of critters I am still searching for and photo opportunities I would love to have the chance to revisit. One of the best things about diving is that you can dive in the same place hundreds of times and still find new things every single dive. I feel some of the best images have been made of subjects and places that are familiar.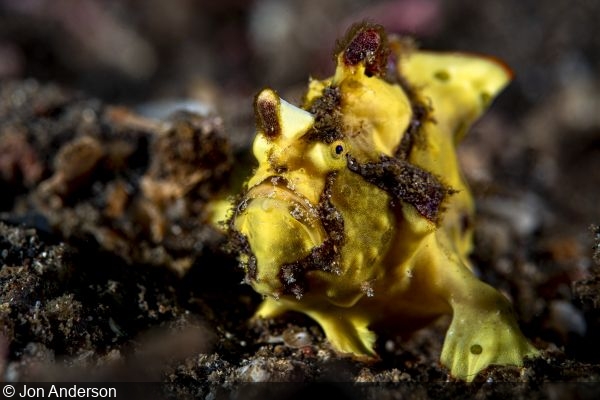 Crosslit to bring out texture, this warty frogfish waddles along the bottom of Lembeh Strait, hunting for its next meal, Lembeh Strait, Indonesia

A sea lion flyby in the sun beams, Monterey Bay, California, USA

DPG: What other photographers inspire you?
When I first started diving in Monterey, and still to this day, other local Monterey underwater photographers have been a big inspiration to me. The number of amazing local photographers is too long to list, but I constantly have admired and sought inspiration from the work of Patrick Webster, Joe Platko, and JR Sosky. On the global stage, I have always loved the work of Alex Mustard—his amazing color and composition always catches my eye. His book Underwater Photography Masterclass was instrumental for me while learning underwater photography, and I still refer to it for reminders on certain shooting styles.
David Doubliet's mastery of over-under/split photos has really inspired me as well. I am always on the lookout for the opportunity to take this type of image combining the worlds above and below the water. Mike Bartick's creativity with macro lighting and composition photography has always been a favorite of mine as well. I was fortunate to attend two workshops taught by Mike at Crystal Blue Resort in Anilao, Philippines. His generosity, humor, and skill at teaching have been extremely impactful to improving my underwater photography. I told you there are too many to list!

This giant moray swimming through a wreck in the Egyptian Red Sea was awarded in the Underwater Photographer of the Year Competition

The most venomous octopus on Earth, the blue ring, stretches before launching into the water, Lembeh Strait, Indonesia

DPG: We have already mentioned it several times, but you live near and dive in the world-famous Monterey Bay. What makes "The Bay" such an amazing place to dive and shoot?
The Monterey Bay is known for its large deep submarine canyon that comes very close to shore. Nutrient-rich upwellings from these depths attract marine life of all shapes and sizes, from the tiniest zooplankton to largest animal in the world, the blue whale. While many of these riches are beyond depths that we can go as scuba divers, the kelp forests just off the beaches along the Monterey peninsula are some of the best in the world. They provide habitat for an amazing variety of photogenic nudibranchs, anemones, invertebrates, fishes, sea lions, harbor seals, sea otters and many countless other animals.
When the water is clear and the sun is shining, the kelp itself is all you need to make a beautiful image! Having world-class macro and wide-angle photography accessible from shore just 15 minutes from home is about the best case scenario any underwater photographer could hope for! It allows you to take advantage of the best conditions and revisit shots and subjects over and over again—two luxuries most photographers don't get when traveling to far-flung destinations.

Monterey isn't all just massive vistas of glorious kelp forests; there are plenty of macro subjects like this nudibranch to be had too, Monterey Bay, California, USA

A diver descending through the towering kelp towards a monster fish-eating anemone, Monterey Bay, California, USA

DPG: You have done a lot of DIY projects with regards to underwater shooting like your "Splitbot." Can you tell us more about these type of projects?
As a mechanical and robotics engineer, I naturally tend to combine my skills and interests with my photography. I started by designing some simple items to use with my underwater camera: extension knobs for strobes, a ball mount for the Shearwater Teric dive computer, and my own 3D-printed zoom/focus gears. Recently, I have been working on a more complex project I call "Splitbot." It is a robotic boat for taking split shots (and videos) in situations that might not be practical or safe to be in the water. For this project, I have designed and built a robotic boat as well as a custom underwater camera housing. I have taken the Splitbot out a few times and I am hoping to get out soon to do some more testing. I am always interested in collaborating on projects at the intersection of robotics, engineering, and underwater photography, so reach out if you have an idea!

A split level image of Arch Rock at Anacapa Island, Channel Islands National Park, California, USA

To view more of Jon's amazing underwater work, please follow him on Instagram and check out his fantastic website, www.jonandersonphoto.com.
RELATED ARTICLES
Be the first to add a comment to this article.
Newsletter
Travel with us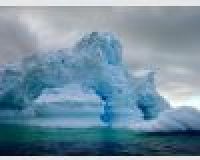 Antarctica
Plan Your Adventure >
Featured Photographer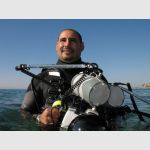 Noam Kortler
Expert Photographer
Noam Kortler is connected to the sea since he can remember him self. he was born on the coast of the Mediterranean sea of Israel and was diving and surfing when ever he could He moved to Eilat, the south popint of israel to...