Articles
Interview with the Pros: Gemma Smith

In underwater photography, there is a special realm of the ocean that is only accessible to a few highly trained technical divers and submarine passengers. Reaching way beyond recreational limits, these depths require an immense amount of discipline, planning and mental equilibrium. But with proper preparation and aptitude comes a new world of places to explore.
And so, to learn more about adding a camera to a scenario where your life literally depends on your attention to detail, we caught up with technical diver Gemma Smith for a chat about her training and teaching, accomplishments of diving two kilometers into a cave, and her newfound passion for underwater photography.

A diver descends onto a submerged diving bell in the chilly U.K. water

DPG: How long have you been diving and how did you get into it?
I was home-educated from the age of 13, and my parents always encouraged me to follow my dreams and interests. I started out in "extreme" sports: I learnt to try fly planes, bungee jump, white water raft, sky dive—and then when I was 17, I tried diving. Nothing has ever come close to that feeling of taking my first breath underwater, and since then I haven't looked back. Diving became all I was interested in!
All my initial training was in the UK, and its not always easy conditions. However, around the UK coastline are some truly incredible First and Second World War shipwrecks, but many of them are slightly deeper than would be sensible for just a single tank. I decided I needed to learn technical diving as well to be able to safely dive these wrecks, and by doing that my diving world just opened up exponentially. Suddenly, there were all these dives I could do that before hadn't been possible for me. I'm now getting ready to celebrate my first decade as a diver, and there is still so much more I want to learn about diving. Still so much more out there to see!

Gemma with ancient amphora on the Antikythera shipwreck site

DPG: Your list of achievements in technical diving and teaching stretches the imagination. Tell us about your rise in the scuba diving field.
Well, I'm not sure I would say it stretches the imagination! I still feel like I have so much to improve on, and so much still to learn. I look at other divers and explorers from the past and the present—for example, Jill Heinerth, Sheck Exley, Hans and Lottie Hass, just to name a few—and I feel like a baby! I am a very driven person though, so I want to keep learning and getting better. I've also been extremely lucky to have met some incredibly supportive people early on in my diving career who encouraged me to pursue it, and who helped me along the way. For them, I am forever grateful, and they are definitely a reason for why I've been able to progress relatively quickly—that and a lot of hard work!

Cave divers in Peacock Springs, Florida

DPG: What is it like to dive 2.2 kilometers?
Diving 2.2 kilometers into a cave, with an average depth of 50 meters, and a maximum depth of 80 meters, is a big dive no matter how experienced you are. It took a lot of time to make sure all the gear was ready, analyzing and labeling all the cylinders, prepping and checking rebreathers, preparing scooters, working out a dive plan, and making sure we had backup plans if the scooters or rebreathers failed.
Actually though, what I found was the most important preparation for the dive was the mental part. Of course, I was nervous beforehand, but that's a good thing. Nerves keep you sharp and keep you vigilant. Anyone who isn't cautious before diving 2 kilometers into a cave has absolutely no business doing a dive like that. It's very easy when you have a lot of hours on CCR, or a lot of cave dives, to become complacent, and that's when accidents happen. The total dive time ended up being almost three hours into the cave, where we then surfaced into a dry chamber. We climbed out and had a break and a snack, and then dived out again. It was a long day, but one of the best dives I've done.

Gemma explores Diepolder Cave in Florida

DPG: When did you get into underwater photography?
I love diving, and I always will. I also love teaching diving and working on archeological projects, and I never forget how lucky I am. At the end of the day though, it is my job, and like everyone else in the world, there are days I wake up and don't want to go to work. I was diving for work so much that I was beginning to not enjoy it quite as much as I should have, so I decided I needed to start putting aside some time just to dive for myself. I'd never even picked up a camera before. At that point, an iPhone was about as technical as I got, but I decided to jump in at the deep end and have a go at underwater photography. I've been taking photos for just over a year now, and I love the challenge and the fact it's something that's totally mine. I do it purely for the fun of it.

A closed circuit rebreather diver illuminates an aircraft wreck

DPG: When you are doing a technical dive and have so many other considerations to think about, how do you balance the many complexities of shooting as well?
I think the key thing is you have to be a very competent diver first, and then a photographer second. I never forget that my priority at all times has to be the equipment that's keeping me alive. As much as I may want a shot, I need to check pO2 [partial pressure of oxygen] on my CCR, I need to make sure I keep track of deco, etc. All that has to come first.
It's also familiarity with gear. I've taught rebreather to several underwater cameramen, and I always tell them not to take the camera with them for the first 20 hours or so. There is no way they have the familiarity with that new piece of equipment yet, so to add in a camera as well is just asking for trouble. Take your time, build up experience, and eventually you'll be able to be at 300 feet in a cave with a scooter and a camera, and be safely managing it all. Look at Becky Kagan Schott, for example: She routinely dives to sub-300 feet off boats and in extreme cold water in the Great Lakes, and takes stunning photos.

Gemma at the deep pump in the Bell Island Mine, Newfoundland

DPG: As someone who is already so accomplished at such a young age, what goals have you yet to achieve?
Oh, so many! There is so much still to see, so many cool dives still to do. I want to improve as a photographer on a personal level, and professionally I want to keep teaching and diving and getting better at both. What's really important for me is to feel like I can encourage more young people, and especially young women, to take up diving, and particularly technical diving. I think it's so intimidating for so many people still, and my goal is to try and help change that negative perception.

DPG: Favorite shooting spot?
The best place for photography that I've been to so far is definitely Cat Island in the Bahamas. Diving and swimming with oceanic whitetips was amazing. I spend so much of my time shoved down some cave somewhere that sometimes I forget how incredible the ocean is!

DPG: A tip for aspiring cave-diving photographers?
Be prepared to carry lots of strobes!

Gemma holds a scooter before a cave dive at Ginnie Springs, Florida
RELATED ARTICLES
Newsletter
Travel with us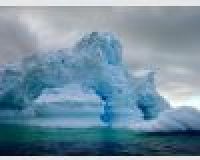 Antarctica
Plan Your Adventure >
Featured Photographer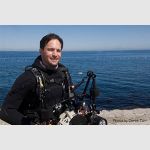 Matthew Meier
Expert Photographer
Matthew Meier is a freelance photographer living in San Diego, CA. He has been diving since the mid 90\'s and shooting professionally since completing his coursework towards a Masters degree in Photography at the Brooks...