Articles
Interview with the Pros: Franco Banfi
Diver under a giant iceberg, Greenland

Franco Banfi has been taking photographs underwater for more than three decades. He became a professional photographer in 2000, and now runs guided photography tours all over the world, seeking out encounters with exotic wildlife above and below the surface.
Since turning pro more than 20 years ago, he has captured award-winning images of some of the ocean's most iconic marine life, including elusive subjects such as anacondas, walruses, belugas and numerous other species of whales. Indeed, think of any underwater creature, no matter how rare, and chances are Franco has taken pictures of it! Rarely do we speak to someone with such a diverse portfolio, so we are delighted to share with you some of Franco's favorite images and learn more about his career as a successful underwater phoographer and trip leader.

Beluga whale, White Sea, Karelia, Russia

DPG: How did you start taking images underwater?
I started shooting underwater pictures about 35 years ago, with analogue cameras and very little underwater equipment, in the cold and dark water of the lake closest to home. It was the very beginning of recreational diving, when most people going underwater did so for work and not for fun, and many things that are now common simply did not exist. I became a professional photographer in 2000, and now specialize in wildlife and nature, specifically in underwater environments.

DPG: After decades of travel around the globe, what is your favorite dive destination and why?
Actually, I do not have one favorite destination, but find some places much more interesting than others because they temporarily host animals I'm interested in. I also love destinations where I can stay underwater for long time and am not limited by the schedule of the diving centers. Classic dive spots can be as attractive as new ones, if you dive at different depths or if you give to the animals the time to accept your presence.

Walrus tusks, Svalbard, Norway

Sleeping sperm whales, Dominica

DPG: Macro or wide angle? What gets you the most excited and what are your favorite subjects to shoot?
I think that more than 90% of my images have been shot with wide-angle lenses. I'm very much focused on showcasing big subjects, and in documenting behaviors and relationships between the main subject and their environment. Therefore, my preferred lens are wide angles—most of the time a 15mm fisheye. The remaining 10% (or less) are super macro, since I like the details, textures and patterns of smaller fish.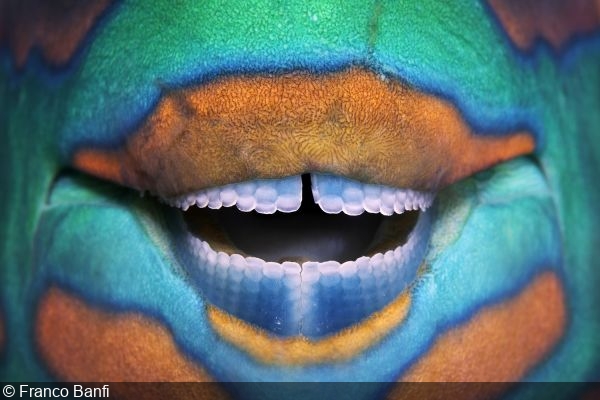 Parrotfish teeth, Maldives

DPG: What equipment do you use?
Sony a7R Mark IV, Sony a9II, Sony a7 Mark IV, Sony FE 16–35mm, Sony GM 70–200mm, Canon EF 8–15mm, Zeiss Batis 18mm f/2.8, Isotta underwater housings, Isotta RED64 strobes, Light & Motion video lights.

DPG: You organize dive expeditions for your company Wildlife Photo Tours. What is it like being a trip leader and helping others capture awesome underwater images?
The average number of customers is four or five people, who all have the same expectations and desires to interact with specific marine life. This creates an understanding with my customers, since we are guided by the same interests, emotions, and passion for wildlife. I don't really help others with technical details; instead we exchange points of view and discuss our approach to each encounter. Sometimes, we start talking about photography and end up discussing philosophy, news or politics!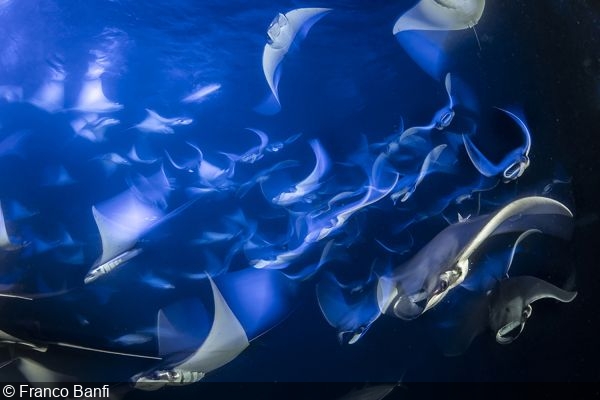 Mobula ray motion blur, Baja, Mexico

Humbolt squid cannibalism, Sea of Cortez, Mexico

DPG: What does it take to be a successful photojournalist and how does shooting for assignments differ from a normal dive trip?
Considering how many talented amateur photographers I've met, the main difference between a pro and someone who does it for fun is simple: If you are on vacation, or take pictures just for your family or to be posted on social media, then you can make mistakes, or choose to skip dives and not take pictures if the weather conditions are bad, or you don't feel well, or your equipment is not ready, etc.
But when you are a freelance professional and live from the income of your job and cannot count on a regular monthly income, then you need to be on the top of your game at all times, including when the weather or sea conditions are bad, or you have limited time to take pictures, or your luggage is stuck somewhere, or the wildlife you are going to shoot is not in the mood to accept you. Being a professional often is more complicated than it may seem, because your living depends on the incomes you are able to gain, in a world where amateur photographers give their pictures for free; hence many customers expect that professionals should also work for free.

Manta ray belly rub, Socorro, Mexico

Caiman split shot, Brazil

DPG: You often swim with whales and other pelagic species at the surface. How does shooting while freediving differ from taking pictures while using scuba gear?
I think that the biggest difference is between shooting fast-moving animals (cetaceans or fish) close to the surface (without strobes) or slower-moving creatures at depth (with strobes). When I shoot whales or pelagic species swimming at high speed, I need a camera with a fast and accurate focusing system. I don't use strobes for these assignments, since I need a handy and ergonomic rig. Close to the surface, there is normally enough light anyway—at least in the tropics and temperate latitudes—but you often need to use a higher ISO to compensate. Therefore, professional cameras give the best results.

Bryde's whale, Indian Ocean, Sri Lanka

DPG: In a career spanning three decades, what has been your most memorable underwater encounter and why?
That's very difficult to answer! I've been lucky enough to experience many memorable encounters. To name a few: blue whales in the Azores and Sri Lanka, a huge pod of sperm whales sleeping and socializing in Dominica, the green anaconda in Pantanal, and interaction between Manta birostris and my partner in Socorro Island, leopard seals in Antarctica, giant wels catfish in Switzerland, beluga whales in the White Sea, smalltooth sand tiger sharks in Malpelo, the Mobula munkiana and the giant squid at night in Mexico, icebergs in Greenland, and a polar bear climbing onto the sailing boat in Svalbard archipelago. Plus many more!

Green anaconda, Brazil

DPG: What are your future plans and projects for the new year and beyond?
During the current pandemeic, we have to be as flexible as possible. This means being able to organize trips and assignments at short notice, and visit "unlocked" destinations and those where quarantine on arrival is not required. Traveling has been much more difficult recently because of the pandemic's restrictions, but it is still possible to travel in compliance with the rules and protocols, in total safety. Destinations such as Dominica, the Azores, Mexico, and Norway are all open for business, and it is wonderful to go there and find very few tourists around, no crowds, and relaxed local operators.

Blue shark motion blur, Azores

DPG: Any advice for aspiring underwater photographers wanting to work in the industry?
Considering the editorial market is more or less at the lowest point I've seen in my career, I suggest two different possibilities for young aspiring underwater photographers to start a career. The first one is to study marine biology and to work with researchers and document their work. The other is to work in the dive industry as a dive professional, to become at least a dive master, and to work on liveaboard boats or for respected dive centers that may require their own photo pro.

Wels catfish, Lake Neuchatel, Switzerland

DPG: What other photographers do you admire and why?
There are many internationally recognized photographers I admire, including Brian Skerry, Thomas Peschak, Patrick Dykstra, David Doubilet, Paul Nicklen, Laurent Ballesta, and Vincent Munier, because of their perseverance, perspective and technical ability. They never give up until they reach the result they are looking for. Obviously, they can do this because they work for large organizations and receive sponsorship and funding.

Greenland shark, High Arctic

Franco in action shooting sperm whales in Dominica

For more of Franco's work, head over to his website, www.banfi.ch, or his Instagram page, and if you'd like to join him on an epic underwater adventure, check out where he's off to next at www.wildlifephototours.ch.
RELATED ARTICLES
Be the first to add a comment to this article.
Newsletter
Travel with us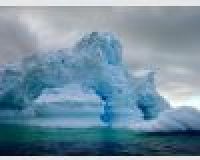 Antarctica
Plan Your Adventure >
Featured Photographer Tanya Burnett
Expert Photographer
Starting with a passion born from a youth spent in the warm waters of the Caribbean and matured by a master in dive business and a minor in photographic technique at Miami's Barry University, Tanya has never strayed far...