Articles
Interview with the Pros: Brook Peterson
A snake eel and its symbiotic resident shrimp with creative lighting

Brook Peterson is an underwater photographer from California who has an insatiable desire to share the beauty of life beneath the sea and to teach others how to capture better underwater images. Her website contains a comprehensive tutorials section that covers every aspect of underwater photography, and is a great resource for beginners and experts alike. She also runs regular expeditions and photo workshops in some of the world's best dive destinations, where she is able to demonstrate particular tips and techniques and dive with others who share the same passion.
Her work has been published in popular magazines such as Scuba Diver AustralAsia, Oceanographic Magazine and Asian Diver, and she has also contributed some great technique articles here on DPG, covering interesting topics such as circular fisheye photography, reef fish photography, and a guide to diving the oil rigs in her home state of California. We recently caught up with Brook to discuss her latest work and learn more about her favorite dive destinations, photography subjects, and future plans.

A cormorant hunts fish under the oil rigs in Southern California

DPG: How and when did you start taking photographs underwater?
As the daughter of a professional landscape photographer, I have always been interested in photography, but could never really find my niche. About 10 years ago, I put my head underwater for the first time and discovered the reason why. I had been looking in all the wrong places! Once I went underwater with a camera, the rest was history.

DPG: What equipment do you currently use?
I use a Nikon D850 camera in Sea&Sea housing, Retra Pro strobes, and Nauticam Zen ports and WACP. My go-to lenses are the Nikon 105mm for macro and the Nikon 8–15mm fisheye for wide angle, but I also use a Nikon 60mm, 16–35mm rectilinear, and a 28–70mm kit lens with the WACP.

A freediver swims with a pod of spinner dolphins in the southern Red Sea

A larval stage wunderpus found on a blackwater dive in Anilao, Philippines

DPG What is your favorite dive destination and why?
People ask me that all the time and my response is always "wherever I am going next." That said, I have spent a lot of time in the Red Sea and Anilao, Philippines, not to mention my home waters of Southern California.

DPG: Wide angle or macro? What type of diving and photography excites you the most?
That is a tough question. I dedicate my dive trips to one or the other. I don't usually try to shoot both. If I am at a macro destination, I am very excited about all the macro possibilities. If I am at a wide-angle destination, my mind is on all the creative ways I can shoot wide angle. For me, it's not about the subject, but about the photography and the creative possibilities. I guess you could say I love both macro and wide angle equally.

A jawfish broods its eggs in Anilao, Philippines

A turtle gazes at its reflection under the wreck of the Kittiwake in Grand Cayman

DPG: What was your most memorable marine life encounter or dive ever?
That would be the electric kiss! I was diving at Santa Barbara Island in Southern California and encountered a large, pregnant torpedo ray. She hovered near my head for several minutes, allowing me plenty of opportunity to photograph her. When she decided to leave, she darted away suddenly, over my head. Her pregnant belly bumped my regulator, delivering an electric shock to my lips. It wasn't until that moment that I remembered that torpedo rays are electric rays. I wasn't hurt, but I had numb, tingling lips for the next hour or so.

DPG: You now run guided trips for other photographers. What made you decide to do that and what can people expect when they join you on an expedition?
My first inclination when I learn something new is to teach it to someone else. I was a career music teacher and teaching is dear to my heart. I decided to run trips because it is the most effective way to teach photography. My expeditions consist of daily workshops on technique and post-processing, taught between dives. I feel that is the best way to learn something new. Teach it, experience it, evaluate it. I apply that philosophy to my workshops.

A pair of dragon shrimp march along a whip coral in Anilao, Philippines

A banded shrimp hides inside a tube sponge in a deep canyon in the Caribbean

DPG: Your father was a professional landscape photographer. How has this helped you on your own journey as an underwater photographer?
My dad taught me that a photograph is created in your head before you ever take the camera in hand. I was skeptical about applying this to underwater photography, because I thought you never know what you will encounter, so how can you plan the shot? Experience taught me that I was wrong. Nature is more predictable than you think, and technique is 90 percent of planning a shot. My most successful shots are the ones I thought out before diving and executed according to the plan.

DPG: You live in Southern California, where you can dive among the kelp forests and swim with sea lions. What is the best thing about diving on the West Coast and what is your favorite local dive site and subject?
The best thing about diving on the West Coast is the unique flora and fauna and the topography. There is no place else like it. My favorite dive site in Southern California is under the oil rigs off the coast of Long Beach. The support structure is amazing, and you never know what you might find there. Birds fishing 70 feet underwater? Yes. Great schools of sardines? Hopefully! Sea lions? Undoubtedly. Sea lions are, for sure, the best marine animal ever. They are playful, curious, and love to pose, making them my favorite subject.

A gorgonian fan growing under the giant kelp forest in Southern California

Strawberry anemones grow on the oil rig supports in Southern California

DPG: If you had to pick one, what is the subject that you would most like to photograph that you have yet to encounter?
I would like to photograph a narwhal. I realize it is unlikely, but I really like the idea of photographing something rare. Seeing things that others only dream of is one of the driving forces behind underwater photography. In fact, showing images to my non-diving friends and family is what motivated my craft in the first place. It is watching the look of discovery on their faces and realizing that I brought it to them that is the most rewarding to me. So yeah, the narwhal is the unicorn of the sea, and who doesn't want to see a unicorn?

DPG: What is the favorite image you have ever captured and the story behind it?
My favorite image is a split shot of snorkelers entering the water at sunset. The reason it is my favorite is because of what I discovered while taking the photograph. I was practicing sunset splits in the Red Sea and using the pier as my foreground subject. Several people entered the picture and at first I was eager for them to get out of my shot. But then I realized that they were the shot; they were the story. Now, when unexpected conditions affect my shots, I find ways to use them, rather than waiting for circumstances to change.

Snorkelers go in for a sunset swim in the Red Sea, Egypt

DPG: What other photographers inspire you and why?
Alex Dawson for his creativity with ambient light. Alex Mustard for his forward thinking and kind philosophy that the more you share your knowledge of good photography, the more the ocean will benefit from future photographers. Becky Kagan Schott for her work with off-camera lighting and photogrammetry. Brandon Cole for his marine knowledge and eloquent writing ability. I am also inspired by all the regular Joes, my friends and colleagues, because everyone has something to give, and I have learned the most by listening to little bits of advice from them.

DPG: What are your future plans and projects?
This may all sound self-serving, but my future plans are to visit some new diving destinations that I haven't been to before. Covid has actually helped with this, because I have had to plan to go to places that are open while all my old favorite destinations are closed. Future projects have also been affected by Covid because my planned workshops have been postponed. Meanwhile, I hope to tidy up my website, do some writing, and work on my social networks.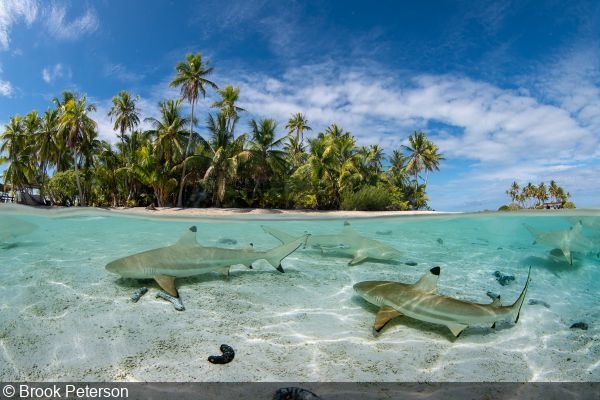 A split shot of a small island in Tahiti surrounded by blacktip reef sharks

Stingrays at Stingray City in Grand Cayman

To see more of Brook's amazing images or to join her on a guided photography expedition, check out her website, www.waterdogphotography.com.
RELATED ARTICLES
Be the first to add a comment to this article.
Newsletter
Travel with us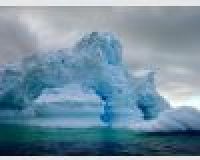 Antarctica
Plan Your Adventure >
Featured Photographer
Joshua Lambus
Photographer
"My photos are to show people things they haven't seen before... or maybe things they see all the time... in a way they've never cared to look" Joshua Lambus is a fine-art and underwater photographer from...