Articles
Interview: The Inertia's Reid Levin
By Lia Barrett, September 26, 2014 @ 06:00 AM (EST)
In this latest article in our new section, The Guide, Reid Levin, Social Media Editor for online surf publication The Inertia, talks to Lia Barrett about being a young editor, what it takes to be a contributor, and the quintessential post-surf burrito…

My role involves a combination of editing, reporting, the odd feature, managing and developing our social platforms, and cultivating partnerships for the purposes of social media. It's an exciting mix. We're always on our toes
—Reid Levin
The editors at DPG make it no secret that we have a bit of a blue crush on the ostensibly cool editors who run the popular surf publication, The Inertia. Not because we aspire to a life chasing tours or interviewing good-looking surfers (well…), and not just because Forbes called them "The Huffington Post for Surfers" (OK, maybe a little). But rather, surf journalism, the sort that you find in The Inertia, has become a pipeline of thoughtful stories, anecdotes, and insights into the broader culture within and surrounding ocean-related issues. And with an editorial team that cleverly wields youth, ambition, and humor emerges a literary assemblage of entertainment and critical writing that deserves nothing short of accolades.
So in trying to get a little insight into the minds of The Inertia bunch, I decided to interview Reid Levin, their Social Media Editor. And from the following Q&A, you'll get a sense of the driven, ambitious, and thoughtful minds who propel this very successful publication.

Reid Levin, Social Media Editor at The Inertia

DPG: How did you get involved with The Inertia and what is your role?
Reid Levin: I got involved at The Inertia initially as an avid reader, but right before the 2012 ASP [Association of Surfing Professionals] tour season, I was talking with friends about who might take the world title. From there, I wrote a piece predicting Parko [Joel Parkinson] to win it all and turns out he did. I'll admit it was a shot in the dark. No one can predict what will happen over the course of 10 months, but I laid it out in detail and Parko pulled it out. I was pretty surprised.
Then, starting in January of 2012, I contributed here and there. I kept asking for more work—writing, editing, etc., and I was afforded the opportunity of an internship. After my internship, the founder, Zach Weisberg, offered me the position of Assistant Editor. That was my position for about a year, until this May when I switched titles to Social Media Editor.
I feel my role isn't that of a typical editor. Since there are four of us working full-time, my role involves a combination of editing, reporting, the odd feature, managing and developing our social platforms, and cultivating partnerships for the purposes of social media. It's an exciting mix. We're always on our toes.

An old 35mm-film shot captured by Reid when he lived in La Jolla

Our contributors run the gamut, from 16-year-old photographers and college journalism majors to Kelly Slater and Gerry Lopez
—Reid Levin
DPG: What do you do when you're not editing?
RL: Lately, when I'm not editing, I've been playing with my camera a bunch. It's an old, hand-me-down Canon EOS Rebel with a pretty basic 28–80mm lens. My brother gave it to me when I was in college. Living in Los Angeles, there's always something interesting going on and it's cool to see how shots turn out. It's not a digital camera, which I've learned to like. The added mystery of how each shot turns out is what keeps me rushing back to the store to develop film. I've also acquired some Olloclip lenses, which fit easily on my iPhone. They're great tools, and I've taken some images with them that I'm pretty proud of. It's incredible that something the size of a quarter can do what it does.
DPG: What is it like being a young editor in the industry?
RL: Being a young editor [25] in surfing is interesting. I'm excited to be doing what I love almost straight out of school. Meeting and working with people I used to read, and read about, is quite a learning experience. Being a young editor does come with a couple drawbacks, though. Mainly, people can be hesitant to accept the opinion of a younger writer because they haven't been involved as long. When you're this young, it's easy for people to write you off and justify it. But as The Inertia continues to grow, it's nice to see them reconsider.
DPG: Where is surf journalism/photography heading?
RL: I believe surf journalism and photography are headed mainstream. Ultimately, mainstream media will start to give the sport real coverage and do more than note a potentially world record-setting wave or something shark related. When they do, I imagine—I hope—they'll ask for seasoned surf writers' and photographers' correspondence.
DPG: What qualities do you look for in your contributors?
RL: Our contributors run the gamut, from 16-year-old photographers and college journalism majors to Kelly Slater and Gerry Lopez, so the community is pretty broad. We're interested in passionate and knowledgeable contributors who bring something new to the table, who further the ongoing discussion in The Inertia community. If they have something new to share, or a different look on a familiar topic, we're interested in what they have to say or show. There's a certain quality bar they must meet, but after that, what they choose to present can vary widely. And it does. We get some pretty far-out contributions, and we love looking through them.

From 2013's Pipe Masters. Reid says: "I love the Pipe Masters mascot in the foreground cheering on Yadin Nicol's perfect 10 in the background."

DPG: Most interesting item…
RL: My dad does sculpture in his spare time, and last year, he made me a small bust of a man's head—face and all. It's so detailed and animated. Almost everyone who comes over asks about it.
DPG: Favorite water-related movie…
RL: Chasing Ice. I'd recommend it to anyone who gives a shit about this planet, likes photography and/or wants their mind blown. It's so well done.
DPG: Biggest inspirations…
RL: My family and the people I work with. Those I'm around daily—my mom, dad, brother, Zach, Alex and Michael at The Inertia—keep me inspired and on my toes creatively.
DPG: Blogs/websites/mags I read…
RL: Before the merge, I used to read Transworld Surf mag for Chris Coté's intro, mainly when I stood in the check-out line at the grocery store. These days, my homepage is The Huffington Post, and I read VICE a lot.

K58, Baja, on a trip The Inertia did for Subaru. Reid says: "We didn't get the best waves, but we still came back buzzing."

DPG: The quintessential post-surf burrito is…
RL: … filled with slow-cooked or grilled meat of some sort (carnitas is a personal favorite), black beans, brown rice, fresh pico (no tomato run-off juice), a little greek yogurt or sour cream, fresh jalapeños, all wrapped in a large, warm, flour tortilla. In the other hand, something spicy to drizzle on top. And a cold beer goes nicely.
DPG: Other water sports…
Bodysurfing is great for small days or for when the tide is off. I recently tried hand planing and it's kinda like bodysurfing. You can make it out of barrels pretty easily, but I'd much prefer to surf.
DPG: On surfing around sharks…
If the water's salty, they're around. It's part of it, but I try not to think about them. However, I've seen them in Manhattan Beach and have been bumped by them when I was in school in the Carolinas. It's always creepy when it happens.
DPG: Do you scuba dive?
RL: I don't scuba dive, but I'm not opposed to getting my certification and going. Being around the ocean a bunch is an unbeatable perk of this job, but there's a whole other world that surfers don't really see until they strap a tank on their back and take a dive. I'd like to see it.

Inertial space (L–R): Former colleague Nick, Reid, Managing Editor Alexander Haro, and Publisher and Founder Zach Weisberg
RELATED ARTICLES
Be the first to add a comment to this article.
Newsletter
Travel with us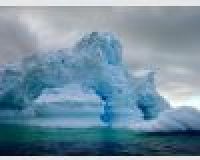 Antarctica
Plan Your Adventure >
Featured Photographer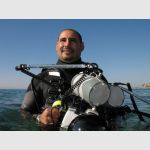 Noam Kortler
Expert Photographer
Noam Kortler is connected to the sea since he can remember him self. he was born on the coast of the Mediterranean sea of Israel and was diving and surfing when ever he could He moved to Eilat, the south popint of israel to...