Articles
Interview: Daniel Botelho's Out of Cage Great White Shark Photography
In life, there are those who stay in the cage and those who are brave enough to swim outside.
And then there's underwater photographer Daniel Botelho, who doesn't even think about going in the cage in the first place. Daniel's spine-tingling, pulse-pounding images have appeared in publications like National Geographic. Last week his image of a Mola mola was named in the list of "AOL's 2012 Most Awe Inspiring Images."
From bus-sized sperm whales to swimming elephants and the crocodiles of the Nile, there's one thing you can guarantee with Daniel's images—he got up close and personal. So why would it be any different with the world's greatest predator?
Recently DPG had the opportunity to interview Daniel about his experience photographing great white sharks out of the cage!


DPG: Great white sharks—the name says it all. For those of us who haven't had the opportunity to dive with these amazing animals, what is the experience like?
DB: No words could actually describe the experience of interacting with such a magnificent animal! However, it is also very demanding, especially if you are working as the safety diver for the operation. I compare diving with great whites to climbing Mount Everest: It can be very glorious, but if you make the wrong decision, it can also be fatal.


DPG: How do you prepare both mentally and in terms of equipment for such an intense photographic experience?
DB: The trick is to be completely relaxed and comfortable in the water, so the shark can approach in peace. Surely I could get a shark to come very close by attaching a piece of tuna to my camera, but that wasn't the behavior I wanted to show people. Having the camera always ready before action is one of my first rules, no matter where I am and what animal I am photographing. In this specific case, the photography was truly secondary, as I couldn't even review the images while in the water. I only had time to take advantage of the shark's approach to take the photos while keeping an eye on my surroundings, constantly looking up, down, and behind me, non-stop. I was kind of spinning during the entire hour dive, checking my perimeter and making sure my guests were covered as well.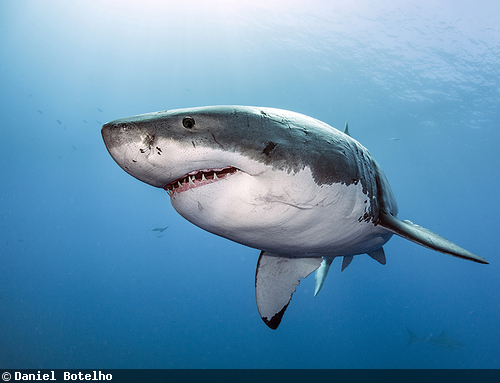 DPG: You made the choice to dive without a cage. How does this allow you to improve your photography?
DB: The option of being out of the cage can be less productive than being inside, as the sharks, on average, are more shy around free-swimming scuba divers than those inside a cage. We don't bait the sharks with chum like it is done for cage diving, but I knew from my experience out of the cage in 2006 that with the right animal interaction, we could get images that can only be made out of the cage—that is, pictures of people swimming with great whites. This assignment was for Walt Disney Company and they specifically requested those types of images.


DPG: I see that some of your most powerful images include humans in them. What is the effect of including a model or another diver in these pictures?
DB: These images can cause paradigm shifts, transcending art and journalism. They affect the core of a society's conscious and unconscious thought, changing and denouncing dark perceptions we have of sharks. I have had friends consumed by lions, yet Disney made Lion King, so I asked, "Why for the Great Whites do we leave only Jaws?"


DPG: What was your lens selection for these images?
DB: For this essay I used the Nikkor 16mm fisheye, the Nikkor 14mm and the Nikkor 17–35mm. My camera was a Nikon D4 in a Nauticam housing.
DPG: Were you surprised how close you were able to get to the sharks? Do they approach you?
DB: I was not so much surprised with their approaches, but more with the fact that they let me take images from below. In general, they tend to approach things in water in such a way as to protect their belly which is the most vulnerable part of the shark. The interaction was so intimate that the shark allowed me to get into very interesting positions with regards to their normal dominance behaviour. They bumped my camera sometimes, but only when a guest moved in a way that stressed the shark, forcing me to interfere.


DPG: Which is your favorite image in the series? Why?
DB: My favorite image was the main request from Disney—the vertical one with shark in the front focal plane and divers on the rear plane. The shark is diagonally positioned and there is eye contact with both the diver, the shark, and the lens. I saw the divers coming by the side of the shark and I swam hard to put myself right in front of the shark—a very tough composition!


DPG: What is your secret to getting such good blue water background in these photos?
DB: The secret is the pre-production. Many people talk about post-production and, while this is very nice (with RAW files), the best way to have fun taking photos is adjusting my JPEGs in pre-production, the presets in the camera. With these I can adjust color, contrast, saturation. Another important thing is using full-manual control. I have the best camera body on the market but I don't want it to think for me as all cameras think using the same algorithm, so to become different I only work full manual, no priority mode, including white balance in Kelvin mode.


DPG: As underwater photographers, we all know that sharks aren't as dangerous as they seem. How do you tell this story with these photos to show the public.
DB: I think that in this specific case, images can speak for themselves—people and sharks swimming together in peace.
DPG: What would you do differently next time you get back in the water with great white sharks?
DB: The most important thing is to keep your self-confidence level very low and the respect level for the sharks very high. I've been diving with great whites since 2006 and nowadays my biggest concern is to never think that I know too much. The interaction should always be a humbling experience.


DPG: What is your advice for those seeking to dive with great whites?
DB: Like climbing the Everest, I do recommend you climb some smaller mountains first to gain more knowledge about interactions with sharks and consequently you will enjoy your dives with great whites that much more. Go dive with tigers, bulls, oceanic whitetips before moving on to great whites. That's not say that you can't dive with great whites without this past experience, but it will feel more like a "Discover Scuba" experience. My advice: Get the experience with other sharks, such as big tigers and bulls and inquisitive oceanic sharks, so that you will feel more comfortable with great whites and truly enjoy your dive.

RELATED ARTICLES
Be the first to add a comment to this article.
Newsletter
Travel with us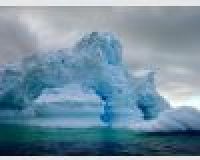 Antarctica
Plan Your Adventure >
Featured Photographer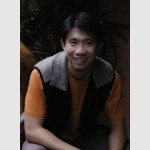 Lawrence Alex Wu
Expert Photographer
Color and light take on new sensations through a lens when combined with water and modern imagery techniques expressing a totally different art form. Alex specializes in creating underwater images as well as multi-media content...