Articles
The Guide Defined
By Lia Barrett, August 29, 2014 @ 11:30 AM (EST)
Waterman, Joe Knight, assessing the freediving conditions at his favorite dive spot near Byron Bay
As underwater photographers and videographers of varying levels of skill and experience, the members of our community are a diverse bunch, from enthusiastic hobbyists to full-fledged professionals. Yet our shared affinity for the ocean encompasses not just diving and capturing images, but also our innate curiosity for all things related to the water.
It is in this spirit that we at DPG are seeking to create a wider platform specially tailored for ocean lovers that addresses a broad range of topics not widely discussed through the lens of underwater photography. We're calling it "The Guide."
A new regular feature on DivePhotoGuide.com, the section will be offering a photography-oriented mélange of travel, sports, style, food, gear, and more, brought to you by camera-toting surfers, sailors and freedivers, and other water-disciplined photographers, with thought-provoking perspectives from athletes, record-setters, innovators, and insider experts.
To kick things off, Photo Editor Lia Barrett explores the notion of "ocean lifestyle" while shooting a campaign for the clothing brand Prawno Apparel.
Joe Knight making his way towards the ocean for a freediving session
Living the Ocean Life

Lifestyle. Ocean style. What does it all mean? How does one achieve that feeling you get from a photograph in a travel magazine? Who lives like that? These are all questions I am pondering as I peer aimlessly out the airplane window, staring down at a vast Australian landscape. The vista seems to be a parallel to my quandary of defining lifestyle: so expansive from afar, yet in intimate glimpses, you can never fully grasp it. Perhaps it's more of a takeaway feeling, a perception, or an idea—one that others get, but one that hasn't quite declared itself in a way that speaks to you individually.

Surfer, spear fisherman, and freediver Julian Hansford just before a morning surf

But this hurts my head, for I remind myself that it's the journey, and not the destination, that you feel day to day. Life is about the ritual, concrete elements of problem solving, planning, going through the feelings of each experience as it comes. All this knowing that somewhere lies the fruits of your efforts: balmy beaches, salty boat rides, checking your deco time as a symphony of fish swirls around you in seemingly organized disarray.
To some of us, this is life; this is what it's all about. Capturing it in photographs is like trying to take the ocean home in a glass jar—in its new environment, it takes on new meaning; it's different. Taped on the refrigerator, your destination photograph of swirling fish looks like a utopia as you stare out the window into a wintery reality, as effort, process, and the journey to capture it, disappear. But screw the sunburn and the bad airplane food, anything to get back to that feeling in the photograph. That's what it's all about.

Byron Bay's waterwomen and watermen

Meet the Watermen and Waterwomen of Byron Bay
Stepping into moderate winter temperatures of the Gold Coast, removing the Melbourne sweater, and piling photo and freediving gear into the little hatchback rental car, I feel naked, like I'm missing something. And it is true: I've left my scuba-diving gear behind. BCD, regulator, booties, and stiff fins have been replaced with an awkwardly long, slender pair of carbon freediving fins, a low volume mask (to replace my "fishbowl" mask), and a snorkel. I feel like I'm taking off the training wheels, and it's liberating.

Julian Hansford catching a few waves

I drive towards Byron Bay, a town that to some is merely an overly touristed destination for Aussies and foreigners to get drunk, shop, and eat. However, I am not going to do the touristy stuff. No, I'm here to hang out with the locals, to feel the beat of a true outdoor Australian destination—one that, in my mind, oozes that rugged spirit romanticized in Hollywood movies, and that is idolized by young American adults who long to live that life of those people in surfing ads. My goal in Byron is to portray true lifestyle using "real people." And frankly, I am curious to explore the factors that make one's life interesting enough to emulate in an ad. Can it really be done when people are just being themselves?

Surf ladies of Byron Bay

I am here on behalf of Prawno Apparel, a clothing company that is wholeheartedly for ocean and underwater photography lovers. We need some snaps that show the honest-to-goodness everyday people who wear the clothes and who inspire the designs. So I have come to spend a few days with my good friend, Joe Knight, who, in my estimation, epitomizes what it means to live an ocean-centric life.

One Ocean International founder and waterman Joe Knight

Embodying the Culture
Joe is a waterman. He is also a freediver, a surfer, a former military paramedic, and founder of One Ocean International. Surfers, spear fishermen, and others come to Joe for his expertise in ocean survival, but they don't expect that he will hold their hand or give them a certificate. Indeed, he will kick their butts so that when a heavy wave is on top of them, an instinctual mode will, in turn, kick into gear. But he will teach them limits, to harness their adrenaline, their ego, and their machismo; he will discipline and craft, so that people survive.
Watching him in his element, I realize there is a reason why people like Joe are sought after to serve as ambassadors for outdoor brands. His life and philosophy are a raw display of actual, genuine leadership, influence and courage that people look up to, want to learn from, and in their own ways, accrue. Not to mention, he can literally roll out of bed, grab his surfboard, and walk out of his yard onto the beach for a few waves, he has a coif that screams "relaxed dude," and is one of the most genuinely nice people you'll ever come across.

Pilates instructor and founder of Wahine on Waves, Fiona Duncan

While in Byron, I photograph other individuals who channel this vein of existence: Pilates instructor Fiona, who has started a group that encourages women to surf called Wahine on Waves; Kylie, a shark attack survivor and former Sea Shepherd deck hand turned environmental student and activist; Lucas, a spear fisherman, TV figure, and freediver; Julian, who works on fishing boats, freediving for abalone or diving to gather urchin, and is headed to the Spearfishing World Championship in Peru in October; and Tom, a guy who springs from helicopters to save stranded individuals. They're not super humans, but real people who have aligned their lives to coincide with the ocean.

Joe Knight conducting stretches and breathing exercises during a waterman course

I spend four days watching them surf, freedive, work on static training, and mold their minds and bodies for their next water encounter. Over smoothies instead of beer, chatter about ocean conservation and debates about freediving strategy dominate the conversation, as people network and brainstorm about how to get others involved in positive ocean interactions. I come away from the weekend with a truly uplifting buzz about this whole side of watermanship outside of scuba diving that I had never really explored. I can see why ocean lifestyle is so attached to surfers and other water sports: the culture is around individual impact and the ocean as a whole.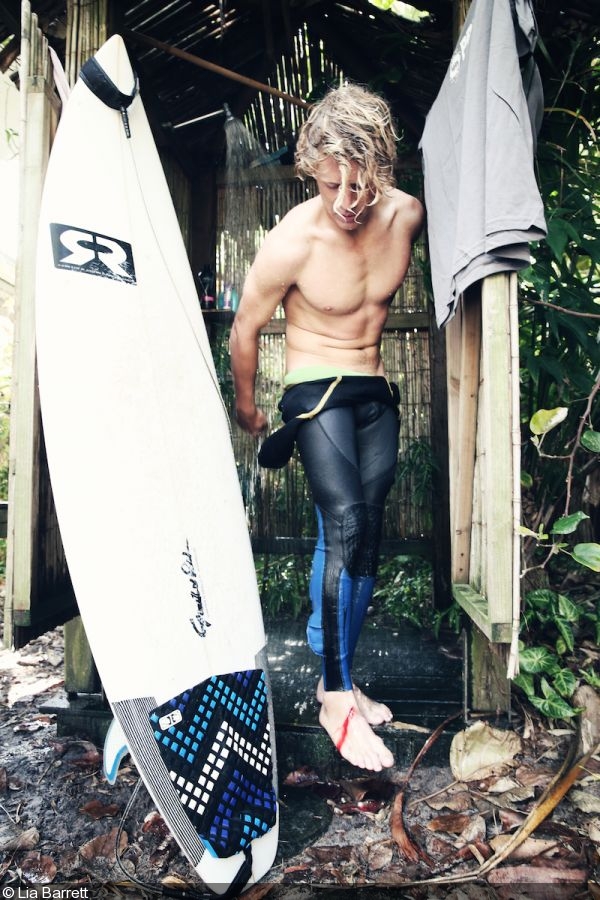 Helicopter rescuer Tom Lee Lewes tending to a surfing wound

Coming away from my trip to Byron Bay, I want to find a little beach shack, buy a surfboard, own an outdoor shower, and grow an organic garden. It seems that my refrigerator photograph could become my kitchen window, and the jar of ocean could be dumped into my new backyard whence it came. The possibilities are extensive, challenging, and wildly exciting. But first I need to refine my freediving skills, so I can fill these long fins with more confidence, and figure out a way to maintain the positive vibes I feel around my new ocean comrades, so that they flow seamlessly into everyday life.

Look out for forthcoming articles in The Guide, giving you fresh inspiration on ways of living an ocean lifestyle, broadening your photographic horizons, and motivating a more active and conscious existence.
RELATED ARTICLES
Be the first to add a comment to this article.
Newsletter
Travel with us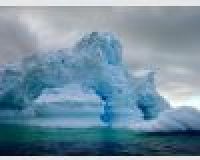 Antarctica
Plan Your Adventure >
Featured Photographer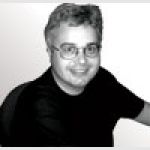 Simon Rogerson
Expert Photographer
Simon Rogerson is the editor of DIVE magazine, the best-selling dive mag in the UK. He took up diving in 1992 and documented his first dives with a Minolta Weathermatic (great above 5m, though mostly useless). Initially a crime...