Articles
DPG's New Guide to GoPro: Setting Up
The new GoPro HERO9 in action underwater in Sint Maarten

With the recent release of the HERO9 Black, GoPro have introduced a number of new features to the world's most popular action camera, and it is now more suited to underwater photography and videography than ever before.
Having looked at how to accessorize your GoPro, we will take a close look at the performance of the HERO9 in a series of articles covering wide-angle and macro video, underwater photography, color, topside use, and editing workflow. We kick off the series by unboxing the latest model and discussing the best settings for capturing awesome underwater video footage.

What's New in HERO9
The first and perhaps most important upgrade is the introduction of a new 23.6-megapixel sensor capable of shooting 5K video footage at 30fps and 20-megapixel RAW images. It is also possible to pull 14.7MP JPEG stills from this 5K footage, so even if you are shooting video, you can still produce high-quality images from every frame.
If 5K footage seems a bit excessive—and for GoPro users, it probably is—the HERO9 also shoots 4K footage at 60fps, a combination that is perfect for underwater video and that until recently was only available in large and expensive professional cameras. Another important feature of a good action camera is the ability to shoot slow motion video, and the HERO9 can now record at 240fps in 1080p (Full HD), great for fleeting encounters with dolphins, sharks and other fast-moving fish.

HERO9 Black setup with Backscatter Double Handle and Tray, Backscatter FLIP9 filter system, and Backscatter Macro Wide 4300 lights

To help capture smooth footage in all environments, GoPro introduced in-camera stabilization in the HERO5 in 2016 and have continued to improve upon it since. The HERO9 comes with the latest iteration of this technology, Hypersmooth 3.0, which promises to be better and more effective than ever before. Battery life and performance have also been significantly improved, so you can comfortably shoot for an entire dive without worrying about missing any of the action. The camera, sans housing, is now completely waterproof to 30 feet, so no need to worry about small amounts of water destroying the unit anymore either.
On the outside, the camera now has a front screen for the very first time, something that will be useful for shooting vlogs or tutorial films to post online, and also for taking awesome underwater selfies with your dive buddies. In addition, the rear screen is bigger, 2.7 inches across, a 40% increase on previous models. This is good news for underwater use, as it can sometimes be tricky to see what you are filming on such a small screen, especially if you are used to using bigger cameras or monitors. Finally, the front lens is now removable, so if you accidentally scratch or damage the most important part of the camera, you can simply take it off and replace it with a new one.
Some other interesting new tools have been introduced such as hindsight recording, scheduled capture and live burst, but these are not particularly relevant to underwater use, so I will talk more about that in a future article about topside use and performance.

The new GoPro HERO9 now has a front screen
Initial Setup
The first thing you will notice about the HERO9 is that the packaging is plastic free and the camera now comes in its own carry case, something that most users will find very useful. Due to its improved battery and back screen, the camera is now larger than previous versions, but this is of little consequence for underwater use and is well worth it for the extra battery life. The build of the camera is solid and sturdy, and the front screen is a great addition, but aside from this obvious change, the camera is very similar to previous versions and will still require an underwater housing for use when scuba diving.
Another change is that the camera is now operated by touchscreen, or a dedicated GoPro application that connects to your smartphone via Bluetooth. By downloading the app, you can access nearly every menu on the camera, and you can also make changes to the settings when the camera is inside the dive housing, view media on the memory card, and even publish live video online—if that is something that interests you. It goes without saying that you'll want to make use of this feature right away.
As useful as the app is, there are still some advanced settings you will want to adjust that are not available there, so you will need to use the touchscreen for your initial setup and then revert to using the app later to jump between presets and access other basic settings.

The GoPro application is the best way to adjust settings and view existing media

With your camera in hand and powered on, it is time to make some important changes to the default settings to enhance the performance of your GoPro underwater. The first thing you should do is input basic information such as your language and the date and time. Don't skip this step, as it may prove vital later when you are looking for a particular shot or clip in your catolog or hard drive.
In the main menu, you should then adjust the screen saver and automatic off settings. While useful on land, these power saving settings can be annoying and disruptive to your filming underwater. The last thing you want when you find a good subject is for the screen to black out or the camera to turn off! Personally, I like to set the Screen Saver Rear setting to "Never" and Auto Off to "15 MIN," just in case I finish filming and completely forget to turn off the camera. One good way to save battery life without affecting performance is to reduce the screen brightness to 40–50%. This is still plenty bright enough for everyday use, but will provide some savings that will help to compensate for turning off the Screen Saver setting.
It is also a good idea to make use of the QuikCapture feature, which basically means that if you press record on the camera, it will turn on and immediately start filming without you having to press the power button first. This may sound like a solution to a problem that doesn't really exist, but you will soon get used to shooting this way and recording at the press of a single button.
Like any camera, you will find it much easier to operate if you dedicate some time to learning how to use the menus and various settings before you attempt to take the camera underwater. For some users (including myself) the touchscreen can be a bit sensitive, and it may also be difficult to find where some menus and settings are found, so read the manual and watch some online tutorials first to get familiar with your new kit.

A full list of my camera preferences and settings from within the GoPro app

Besides the increase in picture quality and resolution, the HERO9 also comes with up to 10 customizable video presets, which can each be separately programed. This is great news, as it means you can input a number of different settings for various environments and conditions, and then access them anytime at the press of a button. As a default, the camera has four banks active, which should be more than enough for most people, and in each preset you can specify the resolution, frame rate, field of view, stabilization options, and a variety of more-advanced settings in ProTune (which we will discuss in more detail later).
While you are setting up the camera, you should also consider what you intend to do with the final product so that you can program your presets and settings accordingly. If you are interested in capturing the highest quality footage and don't mind doing some basic video editing then you should be shooting in 4K resolution at 60fps. This combination gives you ultra-high-definition clips that can be slowed down by 50% in a 30fps timeline to make them smoother and more visually appealing. Be aware, though, that shooting in 4K means recording your clips using the high efficiency video codec (HEVC) so be sure your computer can handle it.
To give you an idea of how you can use presets to improve your workflow, here are my own settings and some brief information about where and when I may use them:
4K/60fps/Wide: My go-to underwater film setting for most situations
5K/30fps/Linear Plus Horizon Leveling: Maximum quality video setting for use on land
2.7K/60fps/SuperView: Underwater setting for large subjects such as whales or wrecks
2.7K/120fps/Wide: Slow motion setting for fast-moving subjects or action shots

A screenshot from the application showing my four chosen video presets

You should also turn on the Hypersmooth setting to assist with stabilizing your footage. GoPro have spent a long time perfecting this software and it is now super effective so make use of it. My underwater settings utilize the lens at the Wide setting, while on land I prefer to use Linear and sometimes Horizon Leveling, another new feature that is great for topside. Wide view gives a fisheye effect, which is perfect for getting close to wildlife underwater, but on land it's not as desirable, so I go between the two settings. SuperView may be worth considering if you are able to get super close to giant animals such as whale sharks or humpback whales, so I have that programed in just in case.
Best of all, these presets can also be changed when the camera is inside the dive housing, so the better you understand the options and the more presets you have programed, the more flexibility you will have when underwater. To change presets while the camera is inside the housing, click the mode button and then the shutter button immediately after. The presets menu will appear on the GoPro HERO9 front screen. Then press the mode button to cycle between your presets, and the shutter button to select the desired preset. It's a bit tricky at first, but once you have it mastered, you can quickly select the best settings for each situation.

The best thing about action cameras is that you can use them anywhere
Advanced Settings Using ProTune
Changes to more-advanced settings such as ISO, bit rate, sharpness, and color profile can all still be found in the ProTune section, but annoyingly this is the only part of the camera that cannot be accessed through the GoPro app. It is important we make some adjustments here, so you will need to manually set these for each preset before putting the camera in the housing when doing your initial setup.
First of all, start with ISO. It is important to understand the limitations of any GoPro camera in order to get the best possible footage, and while its low-light performance has improved dramatically over the years, the HERO9 still shoots best in bright daylight and at low ISO settings. In order to prevent the camera from using an ISO that is too high, set the camera's maximum ISO to 400 to avoid capturing grainy, unusable footage. The next thing to change is the sharpness, as the default High setting is way too harsh. Set this to Low if you plan on doing post-production work. If you just want to film something simple and post it without editing, Medium may be fine, but the High setting is overkill. It is easy to add sharpness in any editing program so "flat" is the way to go for most people filming underwater.
It is also important to consider shooting at a higher bit rate. There is really no drawback except the increased size in files, but it is well worth the extra storage space. Set this to the maximum: 100 Mbps. Why should you care about such numbers? Simply put, bit rate allows for more image data per frame to be stored in the video file, allowing you to capture the best quality footage you can in every one of your presets. Other settings you may want to change here are the color profile and exposure compensation, but you will find that both of these require further research and experimentation underwater to see what works best. (We will discuss this in more detail in the next part of the series.)

Screenshots of my ProTune settings, which are only accessible by using the touchscreen

Above are screenshots of my ProTune settings with a summary of each one below:
Bit Rate: High (100Mbps) – Best quality footage
EV Comp: –0.5 – Previous models had a tendency to clip highlights, so I set this to underexpose by half a stop
White Balance: Auto – Works perfectly well on Auto so no need to change it!
ISO Min: 100, ISO Max: 400 – Prevents grainy footage
Sharpness: Low – Choose Low for maximum control in post-production or Medium for immediate output
Color: GoPro – The GoPro color profile is vibrant and great on land, further testing underwater is needed to see if Flat is worth the extra work in post-production
A diver shoots a wide-angle reef scene using the new HERO9
Preparing to Dive
Now that you have your settings dialed in, all that is left to do is to insert a new battery and memory card into the camera and put it inside a dive housing with any other accessories you may be using, including filters and lights, to improve color and stability. (Check out our comprehensive guide to accessories for your GoPro.)
To ensure you never run out of power, you will want to use a new battery for every dive, so make sure to purchase some spares and charge them all the night before you plan to go diving. I recommend you own at least three batteries, as that will cover a two-tank dive trip and also give you one spare to shoot topside action before and after the dive. If you choose to utilize the highest settings and bit rates, the memory card will fill up quicker than before, so get into the habit of transferring your files from the day to an external hard drive each night, and formatting the card before using it the next time.

Keep your camera and lens safe by storing in a bag or box full of fresh water between dives

Although lenses are interchangeable, it pays to protect the one you have as much as possible. I'm using an old neoprene lens bag to cover the lens while the camera is not in use, which prevents any unwanted scratches or damage. You can further protect your system by using a special camera bag or box to keep your camera safe on the boat. You can also fill this with fresh water to prevent salt buildup when not in use. Finally, keep your phone close by in case you need to make any changes to settings while the camera is inside your housing.

Filming schooling fish under a shipwreck is easy with this compact GoPro camera rig

---

When purchasing underwater photography equipment like the products mentioned in this article, please support DPG by supporting our retail partner—Backscatter.com.
RELATED ARTICLES
Be the first to add a comment to this article.
Newsletter
Travel with us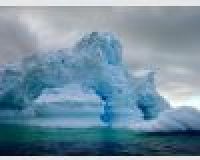 Antarctica
Plan Your Adventure >
Featured Photographer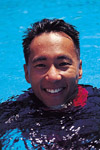 Tony Wu
Expert Photographer
Since having his toe pinched by a crab as a child, Tony has been obsessed with the inhabitants and ecosystems of the sea. Combining this with his love of visual art, Tony has been photographing marine life since he acquired his...