Articles
Going Nudi in California: Part IX
This month I was able to dive the northern most Channel Island, San Miguel. San Miguel Island sits outside of the protected California Bite, exposed to the power of the open ocean. Still, we found some interesting nudibranchs while we were there. Perched on the edge of the North/South Faunal divide, finding unusual animals here is the norm.
The Dirona albolineata is a perfect example of the unusual species found in San Miguel. As with other types of nudibranchs, the Dirona can eject the cerata to escape harm.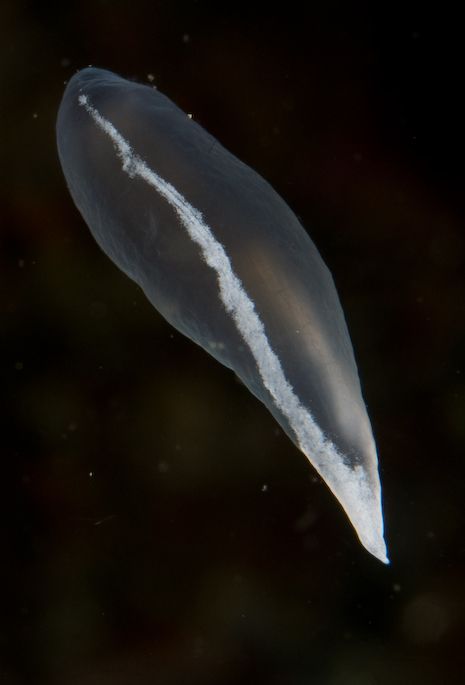 The color of these nudibranchs, alabaster white with frosted cerata tips, make these guys tough to expose well. I tried a little side lighting to see if I could make him glow a bit. Side lighting is a great technique for picking up good detail without blowing out and overexposing a light colored subject.
Near the tops of the reef systems I find large amounts of feathery hydroids. With a quick glance I see that they are full of eggs, this is a favorite food source for Dotos and other small nudibranchs. I begin to examine them closely and find that they are infact filled with Dotos. These are so small that I have to use my patented method to figure out which end to shoot. When a nudibranch is so small that I cannot tell which end to photograph, I will shoot a photo, then enlarge it in my LCD monitor. Okay, so it's not patented, but it is simple and works pretty well. Try that with a film camera!

Logging well over three hundred dives in the Channel Islands, it isn't until this San Miguel trip that I ever had the chance to do a night dive here. Even with four dives already under our belts for the day my buddy and I still make plans for the night dive.
We motored to the Eastern tip of Miguel where we set anchor and backed into a calm cove. The Captain briefs us and then opens the pool.
Descending through a kelp canopy at night is simply thrilling. Your light beam glances off distant kelp stalks, a playful harbor seal will zip by just at the edge of the light, and it seems that there is always something right at the fringe of the light source. Arriving near the bottom, I am reminded of the Lembeh Cotton dives, COTN- Critters of the night. Octopi, Pricklebacks, Gunnels, Shrimp and, of course, nudis are out in force.
We are fortunate enough to find another rare specimen, Aeolidia papillosa. At first it was curled up into itself looking like a pale pock mark on the underside of a rock, but then it began to unfold and move around. This guy was seriously large and pale white in color with a dense cerata pattern along the dorsum. The nickname for this nudi is "Shaggy", and it makes perfect sense. As I hunker down and begin shooting a few photos, I'm swarmed by clouds of krill. Working quickly, I shoot then shut down my lights for a few minutes and repeat.

Even after such a productive trip, I am still craving some adventure. It seems like I'm always on the prowl for a new dive territory, and looking for that next productive place is half of the fun.
When exploring, finding the right Captain in the right area can be the difference between whether exploring a new rock pile or seamount is either exciting or a complete dud.
After the Miguel trip we decided to charter a new boat in the Marina Del Rey area. Our boat is "The Giant Stride" which has served as a research boat for many scientists and shooters alike. Jim the captain is a really hip LA character that loves to put diver's right where they want to be. This is my kind of Captain. On this particular outing he sets us on a wreck called "The Star of Scotland". Wow, this wreck is loaded with Nudi's, and with the density of the Nudibranchs I find here I am convinced that something unique will be found.

This next year we plan on using "The Giant Stride" to explore the Santa Monica Basin area. With the few first trips out we have already found some promising signs of different critters.
As the year winds down I can't help but to reflect on all of the great subjects Mother Nature handed me this year. I put togethor a quick file of some of my recent favorites.

Next month I will be heading to the Philippines. Anilao is the base of an ongoing opisthobranch biodiversity study that has been very productive since 1994. In addition to the density of nudibranchs, there is also a huge variety of other critters, leading to people calling it the Lembeh Straits of the Philippines. You can read my special report on the nudibranchs of Anilao and also my trip report that discusses all the photo opportunities of this destination.
RELATED ARTICLES
Be the first to add a comment to this article.
Newsletter
Travel with us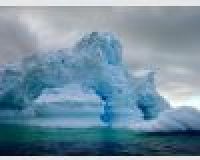 Antarctica
Plan Your Adventure >
Featured Photographer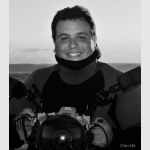 Daniel Botelho
Expert Photographer
Daniel was born at Rio de Janeiro,few steps from Copacabana Beach.Growing with the sea and with the rainforest around, he found in the wildlife photography a mission and work.Photojournalist,he is always trying to go beyond of...