Articles
Freshwater Photography Adventures in Your Backyard
By Ian Bongso-Seldrup, October 13, 2019 @ 06:00 AM (EST)
Growing to five feet long, paddlefish have been the stars of the show in Steven Miller's natural pool. Native to this region and under "Threatened" status, they never stop swimming, eat plankton, and do just fine under four inches of ice

Unless you're minting money in your backyard, or your backyard is the big blue, you might find underwater photography to be a frustrating pastime. For most of us, given the natural constraints of your bank balance, you can count the number of dive trips you can achieve in a year on one hand. Do the math: How are you going to become an award-winning underwater shooter if you have such limited time in the water to hone your skills?
Well, if you ask Steven Miller, you don't go to where the water is—you bring the water to you. "Just because you're landlocked, say in the US Midwest, doesn't mean you have to travel for quality open water underwater photography," Steve writes. "Natural swimming pools can attract a wide variety of aquatic life that are just waiting for you to work on your skills year round."
The seasoned underwater photographer first heard about the popularity of natural swimming pools in Europe. As an Ikelite Ambassador who spends a good portion of his time testing imaging equipment (but who doesn't happen to live on an idyllic Bahamian island), this seemed like an ingenious way to make things easier, but also more interesting, with the life-quenching chlorine of a traditional pool replaced by life-giving aquatic plants—and photogenic freshwater subjects.

The natural swimming pool allows Steve to use lights, booms, tripods and light stands in ways that would be impractical at his favorite dive destinations
Building a Backyard Underwater Photo Studio
So how do you go about creating an awesome underwater photo studio in your backyard? For Steve, it's been a decade-long project: The first version of his natural pool had a lined bottom and walls built from cinder block separating the swim zone from regeneration beds filled with gravel rather than soil, which forces the plants to gather nutrients from the water, providing a natural filtering function. Once animal life was introduced—some redear sunfish (which "don't nip at swimmers," advises Steve), some bullhead minnows, and even a few paddlefish—additional mechanical and biological filters, along with ultraviolet sterilization, ensure that the water stays clear.
After 10 years, the regeneration beds had become clogged, the visibility issues making photography increasingly difficult, and it was time for Backyard Photo Studio 2.0. Recently completed, the bigger, better and prettier new pool took 18 months to complete and involved a massive liner weighing 1,100 pounds and some 50 tons of stone for the bottom and walls, avoiding the use of gravel. "No glue, cement, or foam was used in the project," writes Steve. "Everything is dry-stacked and changeable."
With spring rains, the completed pool filled rapidly, eventually holding around 16,000 gallons of water, roughly double the volume of the first version. Finally, throughout the shallows were distributed large pots of lilies and lotuses, which soak up the nutrients and suppress algal growth, creating beautifully clear water—primed for photography.

The pool uses pond plants, a liner, and an under gravel filtration system to stay clear. The rain gutters of the house are diverted to feed the pool clear water during rains
Let the Experimentation Begin
It didn't take long for the local frogs, toads, snakes, and assorted bugs to move in to their fresh aquatic home. But while the water clarity is excellent, capturing the new members of the community of critters isn't completely straightforward. You still can't just jump into the water without stirring up the bottom and creating a backscatter nightmare. The other problem is that frogs are no fans of frogmen and are far from willing photo subjects.
The solution is using the camera rig on a boom, which allows Steve to avoid upsetting the clarity of the water. It also makes it possible to create ideally lit split shots: With a stationary camera, he can combine multiple exposures and perfectly balance the lighter top half of the frame with the darker bottom half. All you need is a way to control the camera remotely—either a very long USB cable or a more high-tech solution like CamRanger, which creates its own Wi-Fi network that allows you to wirelessly stream live view from the camera to a smartphone or tablet. And as it turns out, frogs don't mind a camera housing and its big, shiny dome—as long as there's no diver behind it.

A layer of ice means the water below is crystal clear—the challenge is to shoot without kicking it up

A boom allows Steve to lower his camera in Ikelite housing into the pool without stirring up the bottom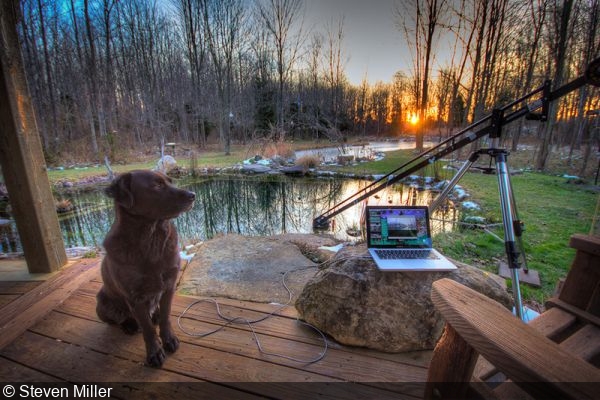 Remote control of the camera can be done a few different ways, but if you are going to submerge, you will need a cord. Ikelite fashioned a 20-foot USB cord to use the laptop and live view to shoot

Many lighting techniques can be utilized in the "studio," but for real control of light and shadow, you have to shoot at night

CamRanger is a pretty cool tethering setup, but it still requires a cord from the camera to the surface. From there you can control it wirelessly with a tablet—just hit "Capture" when you see something you like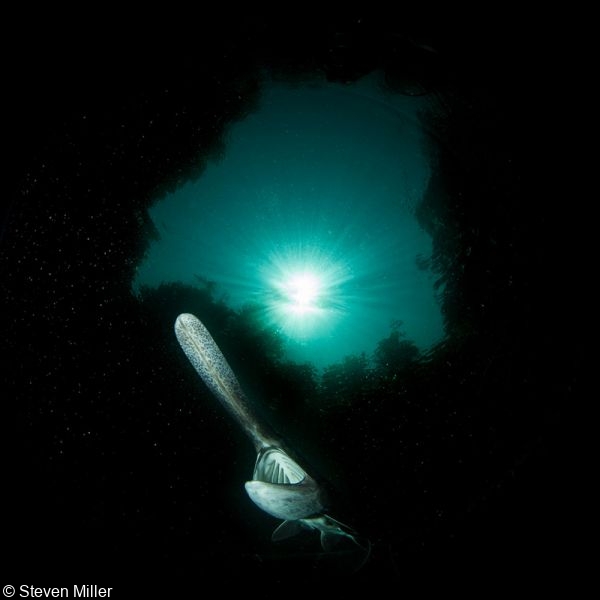 This paddlefish shot was taken during the peak of the near-total solar eclipse of 2017
Creative Freshwater Photography
A few seasons in and a little ecosystem has been established in Steve's rebuilt natural pool. There's now a nice little collection of subjects to choose from—and plenty of opportunities for Steve to test Ikelite's systems built around everything from the smallest compact to the chunkiest DSLR. The introduced paddlefish made ideal wide-angle subjects in the initial version of the pool, but before work could begin on the redesigned pool, they had to be relocated to a nearby pond—and that's where they're staying until Steve figures out how to get them back in the pool!
So the frogs are the new stars of the show. And there are seemingly endless ways to photograph them, at different times of the year, with varied lighting setups, and using various techniques—from capturing the mass spawning event that takes place for a week in spring, through macro photos of tadpoles, to close-focus wide-angle shots and over-unders of the adult frogs. Also, of course, this being Steven Miller, there's always scope for getting creative in post, as demonstrated brilliantly by his cleverly composited pictures that seamlessly blend two or three separate images in one.

Why bother with a remote tether and all the complications? Cubes of foam were cut and attached to the Ikelite housing to turn it into a boat, pushed around with a 20-foot pole. With this method, the frogs have no fear: They will even climb onto the "boat"

The camera boat isn't considered a threat: You can't get within a foot of a frog (or a dragonfly), but you can touch them with a camera rig, iPhone, or any other inanimate object

A full moon captured using a 2000mm telescope is composited with a frog at night for one of Steve's favorite images

Studio at night: There are so many ways to configure lights, each producing very different results

Flat water is a mirror: Refraction, reflection, and ghosting can all be visual elements in an image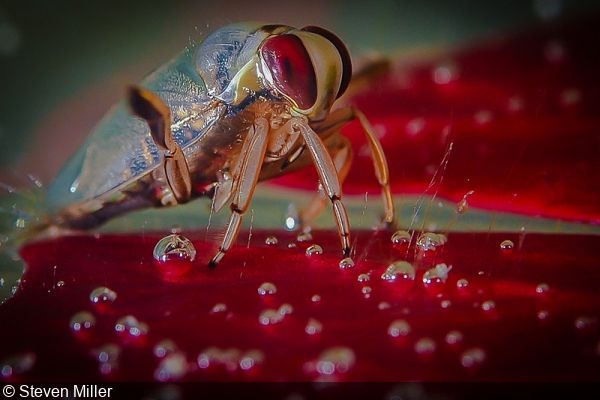 A boatman, or oarsman, about a half-inch long is on the underside of a lilly leaf—yes, it is upside down

If you run out of wildlife to shoot, there's always the family dog!

Butters is actually looking for the photographer. He thinks anyone swimming needs to be saved, and he is the designated life guard!

Steve's amazing natural swimming pool is an undertaking that has taken impressive dedication, skill, and plain old hard work—and you may not be able to see yourself ever attempting something quite so ambitious. But you don't have to build your own underwater photo studio to practice your picture-taking skills. Do some research on your local lakes and rivers, and see what freshwater opportunities you can find. You may be surprised by how much you can learn, and how much fun you can have, in your own backyard waters.

An 8mm fisheye lens and six images stitched together create this bizarre "tiny planet"

---
About the Author: Steven Miller has been a passionate teacher of underwater photography since 1980. In addition to creating aspirational photos as an Ikelite Ambassador, he leads the Ikelite Photo School, conducts equipment testing, contributes content and photography, represents the company at dive shows and events, provides one-on-one photo advice to customers, and participates in product research and development. Steve also works as a guest experience manager for Wakatobi Dive Resort in Indonesia.
RELATED ARTICLES
Be the first to add a comment to this article.
Newsletter
Travel with us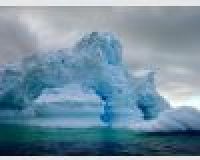 Antarctica
Plan Your Adventure >
Featured Photographer
Julian Cohen
Photographer
I have only been taking underwater photos since 2007 so I started by shooting everything I saw. As I started to learn about light and how to manipulate it underwater, I changed my style so that now I go into the dive with an...