Articles
The World's Deepest Man
Standing on the bottom of Casa Cenote, taking in the sunbeams coming through the mangroves

Freediving has become a common force in our underwater community. As a result, we are seeing more and more collaborations between ocean shooters and freedivers to create jaw-dropping photography. What has really emerged is a relationship very prevalent in the surfing world, that of athlete and photographer. It's a beautiful symbiosis where each individual benefits in terms of both creativity and inspiration.

Swimming through a school of sardines alongside a large bull sea lion

I have been privileged to enjoy such a relationship. In November, I met up with the world's deepest man, Alexey Molchanov, in Mexico to shoot for my company, Prawno Apparel, and to see what we could come up with together. Usually, when I'm photographing Alexey, it is in competition where he is tethered to a line somewhere in the blue, so this was most certainly a treat for me.

Alexey silhouetted with lights in his hands in Casa Cenote

In between courses, meetings and taping for a documentary about his mother (the late Natalia Molchanova), Alexey and I courted sea lions, played in trees, and basked in the stillness of Mexico's brilliantly lit cenotes. To say that this man plans a packed schedule is an understatement, but I guess that's what you have to do when you are at the top of your game.

Standing in a tree just above the false bottom at Cenote Angelita

Using the video lights in subtle gesture to make the image stronger

Those times that I was able to have him all to myself, shooting was nothing short of delightful. He did all of his shots on pure breath hold (no assisted breathing), diving down several times in a row at Cenote Angelita (90 feet), in order to run through the different scenarios we had discussed on land. I gave him two video lights that he harnessed in the sleeves of his wetsuit in order to add another element of light. With so many diverse cenotes, we were able to stand at the edge of cliffs (Laguna), meander around mangrove roots (Casa Cenote), and do a superhero pose at the end of light rays (The Pit).

Rising out of the halocline, Alexey's boundaries were different from Lia's, as she was on scuba

Alexey stares down the edge of a cliff, contemplating whether to go deeper

Between shots, Alexey would surface and give a pointer or two to students and others who flocked to each cenote just to dive with the world's deepest. With an accompanying team of safety divers and a couple of locals to show us the best spots, I got to tag along for a few hours in the life of a top athlete—and it was nothing short of inspiring.

Alexey and Lia celebrate their shoots on their last dive with a mandatory selfie
RELATED ARTICLES
Be the first to add a comment to this article.
Newsletter
Travel with us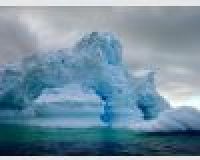 Antarctica
Plan Your Adventure >
Featured Photographer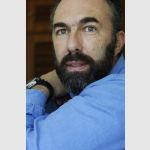 Luis Quinta
Expert Photographer
Luis Quinta was born in Lisbon on March 6, 1965. When he was 14, he began wandering underwater in Sesimbra and in 1988 he took his first underwater photos. During his 18-year career he published around a thousand articles,...