Articles
Freediving Photography at Jason deCaires Taylor's Museo Atlántico
Freediving with an eagle ray at "The Human Gyre," Museo Atlántico, Lanzarote

I've been following the work of Jason deCaires Taylor for some time, and as a freediver, I've had a keen interest in seeing his underwater art installations firsthand. So when the sculptor and environmentalist announced the opening of his new Museo Atlántico off the island of Lanzarote—in my home country of Spain—I knew it was only a matter of time before I paid a visit.
I first got the opportunity to shoot deCaires Taylor's work at the underwater contemporary museum of art, MUSA (Museo Subacuático de Arte), in the Caribbean Sea surrounding Cancún and Isla Mujeres, while shooting for a Brazilian TV channel. The warm, clear and shallow waters provided the perfect conditions to admire—and capture through my lens—deCaires Taylor's unique masterpieces. I was immediately struck by how, in their new roles as artificial reefs, the carefully crafted installations had formed an intimate bond with the ocean and its inhabitants.
Before making the journey south from Madrid to the rugged shores of Lanzarote, I had some careful planning to do—an important aspect of freediving, and freediving photography in particular. I set up a special visit to the museum for the shoot, generously hosted by local dive center Atlantis Diving Lanzarote, and my freediving buddy, Pablo Valencia, joined me as a safety freediver and camera assistant.

"Crossing the Rubicon" looks like a human migration, with some of the figures checking their smartphones or taking selfies

Arriving on Lanzarote, we met up with Sergi, a divemaster and museum guide from Atlantis Diving who provided a comprehensive briefing on the exhibition, including background information and details about the different groups of sculptures and the meanings behind them. The dive center hadn't had experience hosting freedivers—especially a freediver with a big camera, like myself—so we spent some time figuring out the optimum itinerary to avoid the same areas that another scuba group would be visiting that day. We also discussed safety procedures and freediving protocol, so we could fit in the key parts of the museum in only an hour.
Dropping my trusty Canon EOS 5D Mark IV into its Nauticam housing, I made sure my two Inon Z-240s strobes were firing correctly, checked that the reassuring green light of the leak detection system was glowing, and started to focus on my warm-up breathing patterns. The sculptures are at a depth of 45 feet, allowing me some bottom time to formulate my ideas and work on composition and exposure adjustments.

"Abyss": A strong conceptual sculpture of a man facing the wall

A "migrant" is poised to cross the mysterious divide

That day, conditions weren't ideal and visibility was lower than it is typically. From the surface, I couldn't make out the exhibition area, but fortunately, our guide was able to take us to the optimum start position. Diving down, I began to get a sense of the impressive dimensions of the museum and the different features of each group of sculptures. Feeling more confident after the first half hour, I started to understand how the light and sculptural forms worked together. My main goal was to capture, in an artistic way, a more personal approach to the museum.
deCaires Taylor's exhibits are carefully conceived artificial reefs. Each sculpture is created using non-toxic, pH-neutral marine grade cement, free from harmful pollutants, and as such, becomes an integral part of the local ecosystem. Only a year since the museum's opening, it was amazing to see how life is taking hold, with large schools of fish surrounding the entire area and rays occasionally cruising by.

Artificial reefs attract a host of marine species, increasing overall reef biomass and aggregating fish species

The sculptor was inspired by the "jolateros," boats made of recycled oil drums that local children traditionally played with

"Deregulated": An expressive sculpture about the political and economic power game

Businessmen enjoy their own playground in the "Deregulated" sculpture area

Freediving Photography at Museo Atlántico
Freediving photographers used to tropical oceans, like me, will find the cold-water conditions at Lanzarote make for quite short dives. A large camera rig reduces one's agility underwater, and I gently propel myself to the bottom in the most hydrodynamic way possible, trying to minimize the drag of the gear. Then it's like being in a slow-motion movie: I compose my scenes carefully, taking time over every photo I take.
As a photographer, I've generally worked with available light, so shooting with artificial lights is offering me a whole new spectrum of creativity. However, with that comes added complexity. While I'll always prepare ready-to-shoot settings, some images require exposure adjustments or additional fine-tuning of strobe intensity and positioning to create a particular effect or reduce backscatter. These complicating factors typically reduce my freediving times, so each shot that I achieve to my satisfaction becomes all the more valuable.
The very physical aspects of freediving photography make every shoot both a joy and a challenge, but it goes without saying that safety is of paramount importance. Even as a seasoned freediver and freediving instructor, I never ever dive alone or without the supervision of a safety freediver with enough experience to deal with any possible problem. For this project, Pablo was at the surface taking care of my bottom times, providing support on surface recovery times, and even shooting some great behind-the-scenes photos with a GoPro.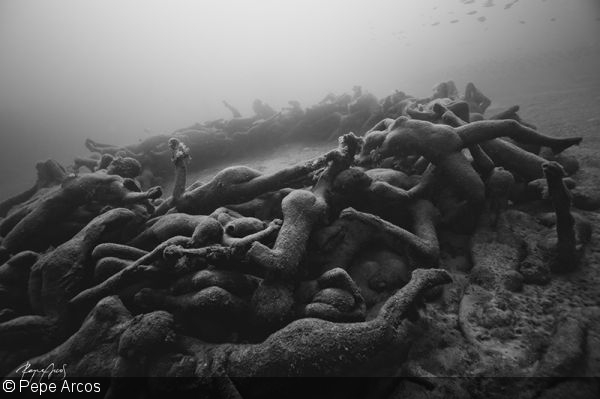 "The Human Gyre": deCaires Taylor's spectacular circular formation

Capturing the details of "The Human Gyre"

Marine life is thriving around the museum, just a year after opening

With the lack of natural light as well as the less-than-perfect visibility, I relied on my strobes to bring back the natural colors and fine details of the sculptures. I also made the decision to post-process the final images using a mix of monochrome tones and low-saturation colors, with high contrast in the shadows, to maintain the otherworldly mood of the shoot.
The murky conditions lent the resulting images an evocative, dream-like quality, made all the more interesting by the mysterious subject matter. I found the overall creative experience extremely satisfying—after all, you aren't normally allowed to take pictures when you visit a museum. But even if you're not an underwater shooter, any scuba diver or freediver that has an appreciation for art will find Museo Atlántico one of the world's most unique diving experiences.

Pepe glides around the museum looking for the perfect composition

Holding steady while holding your breath

Pepe readies his Canon EOS 5D Mark IV

---

The author would like to thank Museo Atlántico, Atlantis Diving Lanzarote, and Nauticam for their support.
RELATED ARTICLES
Be the first to add a comment to this article.
Newsletter
Travel with us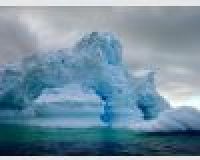 Antarctica
Plan Your Adventure >
Featured Photographer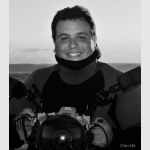 Daniel Botelho
Expert Photographer
Daniel was born at Rio de Janeiro,few steps from Copacabana Beach.Growing with the sea and with the rainforest around, he found in the wildlife photography a mission and work.Photojournalist,he is always trying to go beyond of...