Articles
Go Inside Shooting a Freediving Competition
Intense focus is a hallmark of any freediver

It seems to me that my last freediving competition was a very long time ago. I remember the long days of training and the echo of voices during the countdown saying, "30 seconds to official top". The mental training especially comes to mind – constantly repeating the number of kicks while diving down, one, two…fifteen. Fifteen monofin kicks takes me all the way to 30m, and the light smoothly dims into a dark blue world. The color is a shade of blue that you almost can't imagine; it is greyer and somehow heavier. Suddenly while floating in this otherworldly place nothing else matters. All thoughts of the competition are gone, now it has become a solo journey into another world. The only conscious activity at this point is to equalize the pressure while switching off all unnecessary mental activity, just dropping down into the depths.

Heading down it's just you alone in your mind

Those are my memories of years gone by, but now I have assumed a different role. I came to Pulau Weh (Banda Aceh, Indonesia) to participate as part of the media team for the 3rd edition of the Sabang International Freediving Competition. The event lasts six full days and covers the main freediving competition disciplines. My job was to shoot the athletes as they competed, but I wanted to do more. It took a lot of thought, and in the end, I decided to try and capture the action by using my memories of being in the diver's shoes.
The International title for this competition couldn't be more appropriate; we had competitors from Japan, Korea, Philippines, Malaysia, Europe, the USA, and Mexico. Joining the divers were the Indonesian organizers. There was ample support by the government and tourism board who were seeking to promote Sabang and Aceh as an incredible destination and also a top-level freediving competition site.
Sports photography is challenging, as everything happens quickly. The whole process is very different than traditional underwater photography, and you learn some very interesting lessons while doing it. Here then are a few basics and some other lessons, I learned about how to shoot a freediving competition.

The Sabang International Freediving Competition had an amazing crew

1. First, and most obviously, you must be a certified freediver with a lot of experience in the water. The rescue divers are focused on the competitors, so don't make their life harder by doing something that you are not ready for.
2. The days will be long, and you must be ready to dive many, many, many times following the athlete's performances. You can't skip a dive here; you always need to be ready to perform. Being in good physical condition is essential.

If you are going to shoot the event make sure you are honest with your capabilities

Competitive freediving requires intense concentration and years of experiene

3. Our depth range goes somewhere between 10-30m, so you have to be comfortable doing these depths with short breath up times. Once again, this is all about experience and conditioning.
4. The judges will demand a rigid timing between athletes, use this to your advantage so you can calculate and anticipate what is going to happen. By getting in rhythm with the judges you can better plan your shots and adjust your camera settings.

Figure out how the process flows and make use of your limited surface time

The competitors won't wait for the photographer so always be ready

5. Think quickly about the type of shot you want to achieve and dive before the athlete does to be ready in position. You want to capture the beginning of their descent from the surface until they disappear from your view below.
6. While the diver is heading down to their maximum depth head back up to breathe and quickly adjust your camera. Then you will dive again to snap the diver as they come back up. There is no rest as you surface with the competitor as you need to swim quickly to the judges to shoot their white scoring card. This last shot is essential because we all want a nice white card and a great celebration!

Get that white card shot at the end!

Do not underestimate the challenge of shooting your camera on M mode in the most difficult environment possible. Here is the basic sequence of shots you need to plan for. First, you shoot from bottom to top as the diver comes down. The highlights in the background are very harsh, and you need to compensate. As the diver comes to you and goes past you will be shooting at your level, remeasuring the light and adjusting for even exposure. This is the easiest shot. Finally, the diver will pass you and head into the deep. Now you are shooting down in a very low light condition.

The diver coming down shot has very harsh highlights and is a challenging shot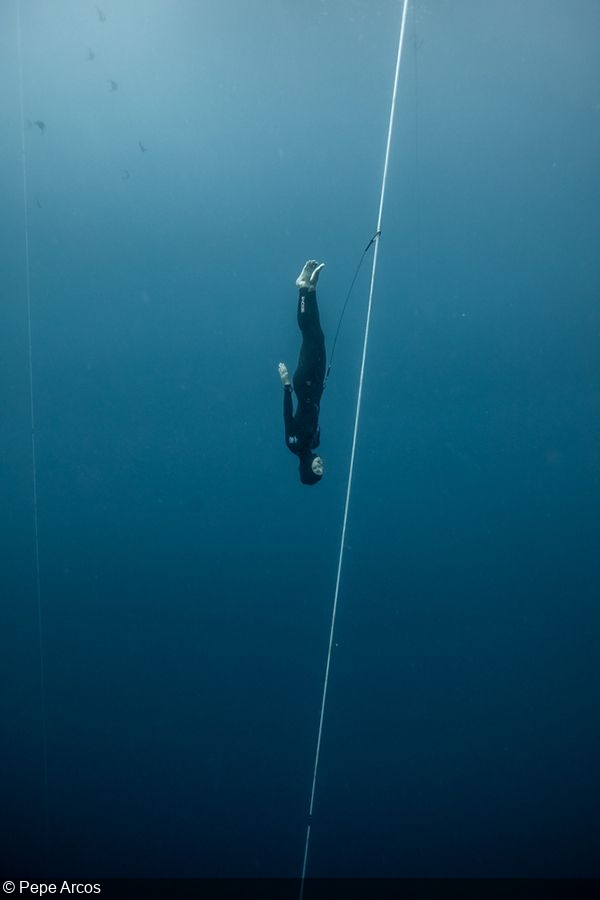 The easiest shot is when the diver is level, but it is still a challenge to change your settings

When the diver heads deep you need to compensate for low light and deep shadows

At this point, it will be time to head up for a breath and to prepare for the next sequence of shots. You won't have much time to collect yourself as the athletes move very quickly in the water, and you'll have only seconds to adjust your settings. So, you better get your ISO fixed, your optimum aperture set, and be quick playing with the shutter speed to compensate for light. I decided to shoot my Canon 5mkIV using ambient light and leave my strobes behind this time. The camera was in a Nauticam housing with a 16-35mm f2.8mm lens.

Shooting with natural light has some challenges, but it reflects how I remember it in my mind

Sometimes you get some interesting company in the dives

In the past, I shot many freediving competitions focusing on completely shooting the athlete's performance. Looking back on my shots I realized that all the photos were pretty much the same (freedivers going down and freedivers coming up). For this competition I wanted to try to capture those magical moments that I remember so vividly from my time competing. I know what these guys and girls are going through in every single moment, starting with their arrival to the platform, what they might be thinking during the breath up and count down and, of course, the performance itself. My goal was to transfer the visual memories in my head to the shots I took of the divers. It was a wonderful challenge, and the results were much more like I remembered things.

With only freedivers in the water there was surreal silence

Witnessing from a VIP position, the incredible and strong dives from some participants was overwhelming. The gold winners, Sendoh and Jessea from China gave us a show with their clear dives to 95m for him and 85 for her. Alejandro Lemus, all the way from Mexico, was also amazing, displaying self-confidence while going seriously deep and always coming up with a big smile. Seeing my friends blowing up national records for Singapore, Malaysia, Thailand, Japan made me feel very proud to be a part of this event. The comradery and spirit of the competition were some of the best you will find in modern sports. It was also nice to see an equal number of men and women participating.

The safety divers were excellent and always in position to help

I must thank the extraordinary work and effort of everybody from the safety team, taking care of the athletes but also supervising our work with the cameras and keeping us safe. The judges, medics, and boat crew were also outstanding. I cannot forget to thank Stanely Saraputta for being the man behind the scenes and mastermind of this event. Finally, a very warm thanks to my media teammates: Guna Darma, Victor Yuslih, Jamaluddin and Bridget Ferguson for never being tired while creating such a stunning audiovisual content! Oh, that amazing Sumatra coffee during our editing afternoons was so good!

The moment when you know you've accomplished your goal!

During a dive your focus will narrow and the only thing you are aware of is the line

With freediving you need to be extremely vigilant at shallow depths

We had competitors from all over the world in Sabang for this competition

Months of training finally paying off!

---

For more of Pepe Arcos' work, visit www.pepearcos.com or follow him on Instagram and Facebook. Pepe has also appeared as a DPG Photographer of the Week.
RELATED ARTICLES
Be the first to add a comment to this article.
Newsletter
Travel with us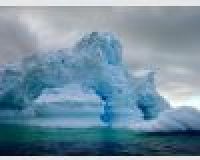 Antarctica
Plan Your Adventure >
Featured Photographer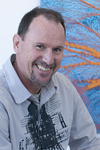 Glen Cowans
Expert Photographer
Glen Cowans is a professional underwater photographer from Western Australia. He developed his passion for the ocean and all that it holds through the unique glimpses of the underwater world afforded by Cousteau, Doubilet and...