Articles
Freediving with Blue Whales and Sperm Whales in Sri Lanka
By Ian Bongso-Seldrup, April 7, 2016 @ 06:00 AM (EST)

Alex Roubaud and Alex Voyer are accustomed to getting their fill of awesome underwater encounters. Whether they're swimming with massive pods of dolphins in the Red Sea or plunging into the freezing depths to photograph iceberg formations in Antarctica, this dynamic duo never stops pushing the boundaries of what's possible. And what makes their exploits all the more impressive is that there's never a scuba tank in sight.
So when these freediving best buddies recently dropped into Sri Lanka's balmy seas armed with their camera gear, it was with a very impressive prize in mind indeed: the blue whale. When you've already mingled with everything from humpbacks to sperm whales, it's only natural that the next step is hanging out with the planet's largest living animal.

Staring down a blue whale

Ever the committed photographers, Alex and Alex (along with fellow freediver Marianne Aventurier) went out to sea every day for a week, for around six hours a day, in a small boat chartered exclusively for the purpose. But finding these oceanic behemoths wasn't especially hard during a particularly good season for whale watching: Although they are found quite far from shore, around 10 to 20 miles, blue whales tend to stay in the same area to feed—and there were plenty of whale-watching boats on the sea to help locate them.
"Finding them is not the most difficult thing," says Alex Voyer. "We are already used to diving with other marine mammals: sperm whales, dolphins, humpback whales… and they can be quite interactive, because they may be socializing or playing, or just resting. For blue whales, it is quite different: They were eating or swimming, so they didn't care at all about boats or divers."

You can begin to understand just how big the whales are

For the freediving team, the hardest part of swimming with the whales was getting the timing of their interactions perfect. "Each whale has its own rhythm, which is very precise," says Alex. "For example, one whale might do a freedive for 12 minutes and then breathe for two minutes on the surface." Because they follow quite a straight line when they dive, and travel at a steady speed, it's possible—in theory—to predict where they'll be underwater to capture some great shots. But that's just the theory: While they managed to find the whales a total of five times, they only managed to get the timing just right underwater on two occasions.

Freediver Marianne Aventurier swims with a blue whale, a rare encounter indeed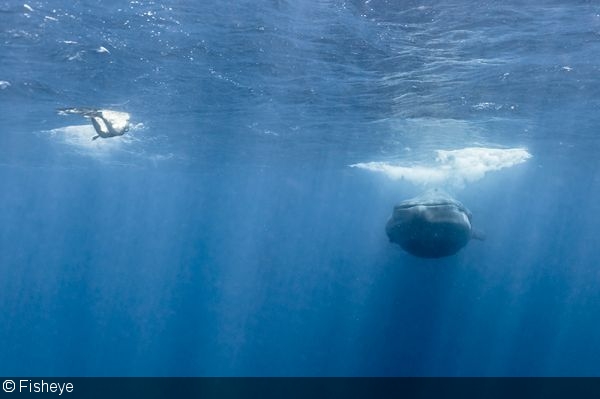 Marianne, face to face with the blue whale

Photographing Sri Lanka's Blue Whales
When it comes to photographic technique, equipment and settings, Alex Voyer says they used a simple approach. For the whole week, he shot with a fisheye lens, while Alex Roubaud used a 24mm lens, to capture a different perspective. "We knew we wouldn't swim and stay a long time with each whale," Alex reveals. "The encounters would be very brief, and we had to be almost certain of our camera settings." To ensure sharp captures, he chose quite a high ISO setting of 640 and a medium aperture, to allow a shutter speed of about 1/250s.
Alex describes the frenetic interaction thus: "During a swim, everything goes very fast. There are always waves in the open ocean, so when you get in the water about 50 meters from the whale, you don't see anything before it is at your fins! You see it at the very last moment: First you are very surprised, then you are very, very impressed by the animal, and only then do you think that it would be cool to take a photo!"

Despite being huge, blue whales are really quite quiet and calm when they swim by

From a distance, they seem to be the size of a bus...

... but close up, these whales are more like an airplane gliding through the water

Alex admits they were "quite lucky" to get the blue whale shots they'd dreamed about, but their good fortune didn't end there.
"On the last day, we were looking for blue whales, and we spotted a blow quite far away, then five blows, 10 blows in the same place; then 10 blows 600 feet away, and perhaps 20 more on the other side. We were totally surrounded by a pod of sperm whales traveling together. It was an absolutely incredible moment!" Alex doesn't know how many sperm whales there were, but he estimates there were at least 50—or perhaps two or three times that…

Could it get any better? A pod of sperm whales surrounds us

Marianne enjoys swimming with her new friends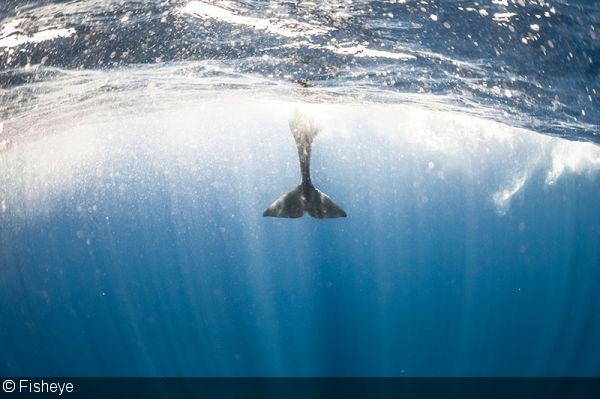 The tail of a sperm whale disappears in the distance

For those wanting to photograph Sri Lanka's blue whales and sperm whales, Alex says the best time seems to be March, when the sea is calmer. Other than that, you'll just need a swimsuit (the water is almost 90°F), a snorkel, a good mask, and lots of sunscreen.
"Then you must be very patient, as for all the cetaceans," he warns. "We spent more than 40 hours in the boat to see the blue whales for just a few minutes in the ocean. It is amazing and very exciting… but nothing is ever for sure!"

It's a strange feeling to have two sperm whales coming right at you

A sperm whale leaves a little surprise behind!

An unforgettable moment: Marianne dives down with the pod
---

If you are interested in having an experience like this, you will have to use a licensed boat and obtain an official authorization. For this trip, a Sri Lankan travel agency called "Cross Country Travels Sri Lanka" (www.facebook.com/cctsrilanka.i/) made the appropriate arrangements. To see more of Alex and Alex's work, visit their website, www.fisheyes.fr, or their Facebook page. Also, make sure to check out freediver Marianne Aventurier's blog post on this unique encounter.
RELATED ARTICLES
Be the first to add a comment to this article.
Newsletter
Travel with us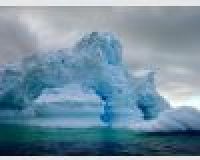 Antarctica
Plan Your Adventure >
Featured Photographer
Nicholas Samaras
Photographer
Nicholas Samaras, is one of the most passionate and committed underwater photographers. His love and dedication to sea and its creatures in combination with his characteristic effort to bring out to surface the beauty of the...