Articles
My First Underwater Fashion Shoot
My two greatest passions are photography and diving. I've been fortunate enough to make a living from both, first as a dive instructor, then an underwater photographer. For the last 10 years, I've worked as a wedding and portrait photographer in Providenciales, a small Caribbean island in the Turks and Caicos.
Since 2003, I've photographed hundreds of weddings, even more portraits and various high-end commercial jobs. My love for the ocean has taken a backseat to my career, although I still dive when I can and often take my camera into the ocean with me – usually for fun, but sometimes for work.
While browsing the pages of a dive magazine about a year ago, I came across photos from an underwater fashion shoot. The images stuck with me - they were unlike anything I had done before.
Underwater photography wasn't a new concept for me. I've even experimented with underwater photography with some of our clients, and most recently, I took a couple to a local beach for a "trash the dress" session. It took some coaxing, but I got them into the clear shallow water just offshore and captured some of my favorite shots yet. When I saw the photos from an underwater fashion shoot, though, it occurred to me that I could take the collaboration of my two favorite activities to a whole new level.
I envisioned underwater models in brightly colored, free-flowing dresses with a dark background for a striking contrast. I had tried an underwater shoot in a pool before, but without a backdrop the effect simply wasn't as dramatic. I imagined the models appearing perfectly comfortable, as if life for a human being submerged under water was as natural as life on land. But to bring this dream photo shoot to life would require far more time and planning than I could have imagined. I had a vision comprised of so many ideas but hadn't a clue where to begin.

A few months ago, I reached a point where I was tired of dreaming and ready to start doing. And thus began the planning stages of our own underwater fashion shoot. I knew the shoot wouldn't be easy. Our first challenge was finding the right swimming pool, location is absolutely critical. It had to be deep enough for a model to stretch vertically without touching the bottom, and it had to be a private pool.
Before we could start shooting we would need to shut off the pool pump for a few hours to avoid micro-bubbles, which most resorts simply wouldn't allow. We eventually found the perfect pool – about 8 feet deep - at a local couple's home. Then we had to decide on wardrobe for the shoot, which is very difficult on an island with limited shopping. So our stylist had to search for dresses online.
Another important task was finding the right models. The most critical prerequisite was that they were comfortable in the water (while wearing a heavy dress) and could convey that through a camera lens. One of the models we found is a free dive instructor, so she was incredibly helpful by giving our other models tips on holding their breath and becoming comfortable underwater. And then, of course, there were logistics. We had to prepare two 20'x30' backdrops and a15-foot custom-made underwater cable to enable the perfect lighting. Without the right equipment, the shoot simply would have been impossible.

The day of the shoot was a long one. We began at 11 a.m. and didn't finish until after sunset. We didn't start shooting until late afternoon, but had to begin early to set up the backdrops, which we weighed down with sandbags, to ensure no bubbles were trapped underneath. We set up two studio lights at the edge of the pool and connected our 15-foot sync cord from the camera to an underwater light that would trigger the studio lights.
Each model arrived at a different time, the first arriving at 3 p.m. They each spent about half an hour with a local makeup artist and were briefed with instructions. Then they each spent time in the pool practicing before shooting actually began.
Every model was different (one was pregnant), so you couldn't expect the same process with every take. Using six models gave me plenty of material to work with, but I would use fewer next time to simplify the process, as having too many models can get hectic. I shot everything manually with a Canon 5D, a 16-35mm and a Sea & Sea housing. I also attempted to shoot with a Tokina 10-17, but the lens was too wide.
As soon as I began shooting, I knew we had something special. The colors of the dresses popped against the backdrop, creating a brilliant juxtaposition. By sundown, we had to call it a day though, as it became impossible to work in darkness. I would advise anyone trying something similar to begin earlier to ensure you get the most time out of your shoot.

I've been shooting weddings for 10 years, and after awhile you learn what to expect. An underwater fashion shoot, however, is much harder to predict. You don't know what to anticipate until you start shooting. I'm thankful that all of our hard work and preparations culminated into something so beautiful.
I can't stress enough how important it is to take the necessary time to plan this kind of shoot accordingly. And don't expect to be able to do it all on your own – this shoot wouldn't have been possible without the efforts of our stylists, models and everyone involved in the process. They all helped me bring my vision to life.
RELATED ARTICLES
Be the first to add a comment to this article.
Newsletter
Travel with us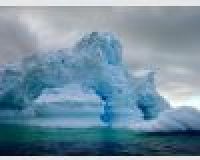 Antarctica
Plan Your Adventure >
Featured Photographer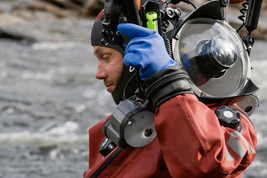 Magnus Lundgren
Expert Photographer
ABOUT MAGNUS Instagram - magnuslundgrenphotography "It is all about positive change for me, as an image may lure a person's mind and move the heart. I always use my own passion for nature to inject fuel into my...