Articles
First Look: Subal's New Ultra-Rugged Housings

National Geographic shooter Daniel Botelho knows a thing or two about harsh photography conditions. Whether it is being chomped at by a crocodile in the Nile or pushing away the noses of great white sharks out of the cage, the Brazillian-born underwater photographer is constantly pushing the boundaries of his photography—and he needs gear that can do the same.
Through the years, he's gone through countless housings and brands, each having a breaking point along the way—be it the aforementioned crocodile or a fumbled hand-off to a crewmember on the deck of the boat. His journey through various brands finally ended at Subal, an Austrian manufacturer known for their high-end housings. For 15 years now, you'd be hard-pressed to find this pro shooter in the field without the signature tan Subal housing.


But, as with his photography, Daniel wasn't satisfied with the status quo. So, he decided to work with Subal to craft their most durable housing series yet—one he wouldn't have to worry about even in the harshest of conditions. "I decided to create a housing that can take all the hits," says Daniel, "keeping it reliable and long lasting."
The new "Daniel Botelho Signature Series" of underwater housings debuted at DEMA in November. Daniel's thousands of hours in the field led him to realize the small changes that would make all the difference. The new line of housings feature an extra resistant bottom, reinforced buttons, and extra weatherproof paint.
"There are many awesome 'BMW' and 'Mercedes Benz' [housings] available in the market, but I wanted to make the 'Rolls-Royce' of housings," says Daniel, adding he wants his namesake signature line to be "beautiful, luxurious, reliable and of course with 800 horsepower!"


While the new line of housings might not literally have 800 horsepower, they are designed with as much emphasis on aesthetics as durability—much like a $300,000 sports car. Gone is the humdrum beige paint. Instead, a sexy black coating covers the housing, punctuated with bright gold buttons. On the front of the housing, accent streaks arouse that sports car feeling. And then there's the pièce de résistance: Daniel's signature scrawled across the lower left side.
"The best [feature] is the fact that it is an unbreakable piece of art," explains Daniel of the coalescence of beauty and durability. "You can rely on this gear without needing to take that much care of it." Daniel's methods for quantifying the ruggedness of his signature series housing may be less than scientific, but it's nonetheless impressive. First, there was the bite of a great white that may have left his dome port a bit scratched, but the housing itself unscathed. Oh, and then a crewmember who literally stepped on top of it full force—again no damage.

Daniel poses with his new baby at DEMA 2015

The signature series will roll out in the new year, and Daniel expects compatible cameras to include flagship models from the likes of Nikon, Canon, and Sony, so it is accessible to as many underwater photographers as possible. "Sometimes 'tough gear' isn't always the most fancy," jokes Daniel. "But I wanted both together—toughness, but also a beautiful piece of art."
RELATED ARTICLES
Be the first to add a comment to this article.
Newsletter
Travel with us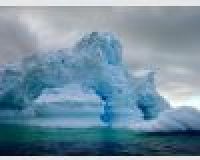 Antarctica
Plan Your Adventure >
Featured Photographer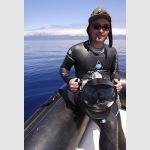 Jens Kuhfs
Expert Photographer
Born a Pisces, it should be no surprise that he has taken to the water. Jens Kuhfs has taken to the underwater. And he takes us with him when he captures his encounters in the blue depths of our planet with his camera, and...