Articles
Fifty Years of Underwater Photography with Howard and Michele Hall

It's hard to put an exact date on the golden age of underwater photography. But if we had to give a guess, it would be a time when a young Howard Hall thought his underwater imaging could bring a Ferrari, hordes of young beautiful girls and a globe-trotting career into his life.
The early 1960's serve as a significant growth of the popularity of underwater photography not because of any of the aforementioned perks. Well, mostly not. In 1963, the introduction of the Nikonos camera sets the standards of underwater imaging for decades to come. Two years earlier, legendary photographer Chuck Nicklin co-founds the San Diego Underwater Photographic Society—the first of its kind.
Enter stage left: Howard and Michele Hall. Although the filmmaking couple are best known today for their success in underwater IMAX filmmaking, they have played witness to and played significant roles in the evolution of the underwater imaging industry in the last 50 years.

Circa 1978: Michele Hall uses a Nikonos II with extension tubes and SR2000 strobes to photograph at California's Channel Islands

1960s–1970s: Porsches and Potential
It's hard to imagine today an underwater photographer living the glamorous life with sports cars and beach babes. But back then, diving and underwater photography were dangerous, edgy and a bit… sexy. So it isn't all that surprising that famed photographer Chuck Nicklin drew a college-aged Howard Hall to the industry.
"[He] was a constant inspiration for me," says Hall of the San Diego Underwater Photographic Society co-founder. "He drove a Porsche, had a harem of beautiful girlfriends, and made money traveling the world with his camera."
Howard took a job at Nicklin's Diving Locker in 1972 while attending school at San Diego State University. Hall describes his meeting Nicklin as a "pivotal moment," but not so much because of the enviable lifestyle—he realized his diving skills and education to capture images of a still mostly undocumented realm could be marketable.
"I never expected or even hoped this would become a career," says Hall, frankly. "I was just thrilled to occasionally see one of my images published, and surprised that I sometimes received a few bucks in payment."

Newly certified Howard Hall, age 16

Those few bucks were enough to save up for an early-model Nikonos—a path followed by many up-and-coming photographers at that time. One such photographer included a diving student of Howard's. That student would eventually become his wife, business partner, and a Women's Diving Hall of Fame member.
Michele Hall's Nikonos II served her well for more than a decade. Although, she admits to being perhaps a bit naïve when getting started with underwater photography. She started taking pictures just for fun, as a way to show her non-diving friends what she saw every weekend diving California's Channel Islands. Soon, however she was picking up skills from her dive buddy and entering the monthly San Diego Underwater Photographic Society contests.
"With Howard as my dive buddy, I had one of the best teachers one could hope for," says Michele. "So, frankly, I just followed his example and suggestions about equipment and technique."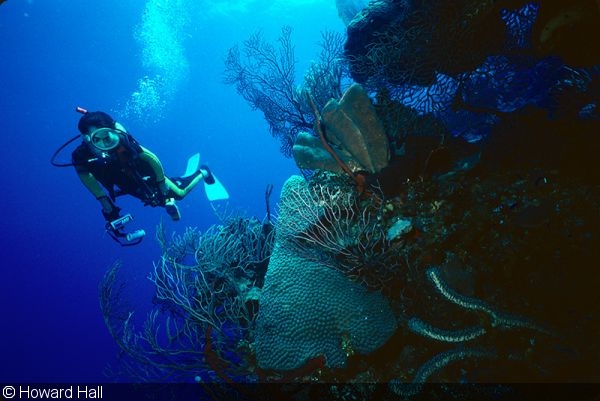 June 1986: Michele Hall looks for photographic opportunities along a coral reef in Cayman Island, with her Nikonos II with extension tubes and SR2000 strobes

1980s–1990s: Hitting Stride
As the Halls continued to refine their skills as photographers and filmmakers, the initial plan was to use the value of a large photographic library as a source of retirement income.
"We thought that, since ecosystems are in decline and many animals are increasingly rare, our images would be unique and valuable in the future," recalls Howard.
Fortunately, the health of the oceans hasn't collapsed to the point making their images and film relics of a long lost past. For the Halls, the 1980s represented a shift in their direction from preserving the fragile ocean through imagery to documenting it's bounty and diversity through filmmaking.

December 23, 1978: Michele poses for photographer Howard Hall while on assignment for International Wildlife Magazine in the Coral Sea

It started with a letter with unlikely success sent from Howard to a PBS Nature executive suggesting a film about the kelp forest. Fresh off the success of a Nature episode about the Coral Triangle, Howard received a response that's very rare to a query like that: "Yes."
"It was arguably the first underwater animal behavior film," says Howard about the project, which won "Best in Show" at the 1990 Wildscreen Wildlife Film Festival in England—a first for both an American and underwater film.
Soon, National Geographic, PBS and IMAX came banging on Howard's door begging for more. He said "yes" to them all, but realized he'd probably need a little help. Fortunately, Michele began joining Howard's expeditions in 1980, and would use the next decade's worth of vacation time from working as a full-time nurse to learn about field production as the "unpaid help." But as the shoots became more and more complicated, and the list of clients grew ever longer, it became clear a new hire was direly needed.
"Since we enjoyed working and traveling together, we decided that rather than bring someone into the business from the outside I would leave my near-two-decade nursing career, and join the family business," says Michele.

February 1979: Michele Hall modeling masks for photographer Howard Hall's "equipment" article in Skin Diver magazine

2000s and Beyond: From 3D to VR
With nearly a century of combined experience in the underwater imaging industry, Michele and Howard have seen a lot of changes. But arguably none has been more impactful—both good and bad—to professional underwater imaging than the digital revolution.
"The instant feedback and unlimited image capacity of modern digital systems has allowed the art to leap ahead at a pace I could not have imagined in 1975," admits Howard.
And while this benefits beginners and amateur level shooters, it's also changed how professionals assess the quality of their portfolio. When the Halls started in the industry 40 years ago, there were only a couple dozen people producing underwater videography at a professional level. The cost is a big reason: Back then it cost $2,000 an hour to shoot and edit 16mm film. Today, the comparative cost is next to nothing.

Circa 1976: Michele Hall explores a magnificent underwater forest of a kelp bed at California's Channel Islands

But Michele, for one, doesn't regret the sweat and tears that went into learning the ropes before the digital age. "While I'm happy to have a virtually unlimited capacity of '0s and 1s' on my camera's memory card, I'm not sorry that I cut my teeth on rolls of 35mm film with 36 exposures," she explains.
The Halls have been at the cutting edge of underwater imaging technology from the early days through the emergence of IMAX 3D in the 1990s and the 4K abilities of today. They've seen incredible advances in technology and image sharing never thought possible. So what about this whole "virtual reality" (VR) 360-degree video thing?
"I just don't know," says Howard. "Great sums are being spent to develop this technology, but it is hard for me to imagine people sitting in their living rooms wearing VR goggles."
Hey, stranger things have happened in this industry.

June 1986: Michele having fun with a discarded bicycle found on a reef in Grand Cayman
RELATED ARTICLES
Be the first to add a comment to this article.
Newsletter
Travel with us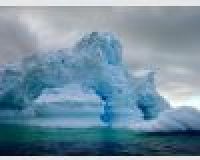 Antarctica
Plan Your Adventure >
Featured Photographer
Henri Eskenazi
Expert Photographer
Henri Eskenazi is a professional photographer with over 50 000 images from 140 different countries all over the world. He works as a free-lance photo-journalist for several magazines and teaches underwater photography at the...