Articles
From the Field: Portrait of a Cormorant Fisherman

When a world-famous Scotch whisky brand approaches a photographer with the assignment of doing a photo shoot unlike you've ever done before, what do you do? Take a shot, and start planning something epic, we'd say.
That was the result of photographer Benjamin Von Wong's shoot as part of Ballantine's "Stay True" Campaign, which encourages artists to experiment and pursue the impossible. Last month, Von Wong's "Portrait of a Cormorant Fisherman" in Mexico's cenotes exploded onto the Internet. But perhaps more impressive than the final image is the months of planning, preparation and precision that went into photographing a freediver posing as a fishermen at a depth of 100 feet, floating above a toxic river of hydrogen sulfide.

Multiple cameramen and safety divers were involved in this complex shoot, which lasted just 20 minutes at a depth of 100 feet

"As a general rule, taking underwater portraits is extremely complicated," explains Von Wong, who has pushed the boundaries of conceptual underwater photography before. "Transport that shoot [100 feet] underwater and suddenly things become exponentially more complex."
Von Wong wanted to capture a quickly fading cultural icon—the cormorant fisherman. For thousands of years, Asian fishermen have used trained cormorant birds to retrieve their catch. Today, however, the practice is limited to tourism applications—a remnant of its once ubiquity in maritime trade.
Rather than photographing a cormorant on an above-water river, Von Wong wanted to transport the scene and the viewer by changing the setting to the cenotes' famed underwater river—a thick layer of toxic hydrogen sulfide. Since Mayan culture viewed this as the entrance to the underworld, it seemed a fitting farewell to the fishing tradition.

Freediver Lance Lee Davis held his breath for two minutes while Von Wong composed his image

The list of items required for the shoot included Von Wong's Nikon D800 in Nauticam housing, lights, cables, a raft crafted from tubing, a stuffed cormorant, and one brave freediver, Lance Lee Davis. Dressed in traditional fishing garb, Davis held his breath for two full minutes while Von Wong fired away.
"With only 20 minutes of shooting time underwater and two-minute breathing-cycles for Lance, the shoot was frenetic and fast paced with little room for waiting around," says Von Wong, who tweaked lighting and prop positioning while Davis caught his breath at the surface.
All documented through a behind the scenes video, the shoot went off without a hitch, and the resulting image is one that has to be seen to be believed—and even then, it seems almost surreal.
"I believe that projects like these are important," states Von Wong, who only three years prior worked as a mining engineer. "They prove that nothing is impossible if you set your heart and mind to it."

---

For your daily dose of photographic inspiration, we highly recommend checking out Von Wong's website and his blog. See the rest of the results to come out of Ballantine's "Stay True" project, here.
RELATED ARTICLES
Be the first to add a comment to this article.
Newsletter
Travel with us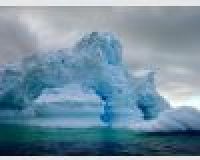 Antarctica
Plan Your Adventure >
Featured Photographer
Polina Reznikov
Photographer
My style can only be described as experimental. I'm in awe of all things underwater, and am inspired by nearly everything I come across. But what I enjoy more is the challenge and the reward of capturing and sharing those...