Articles
Bioluminescence Light Painting

Every source of light has some potential for long exposure photography. I've worked with many kinds of light tools in recent years. But when we're talking about living creatures that emit light, it gets very exciting. That's a first for me.

Planning the Plankton Shoot
I was lucky enough to be one of the invited artists at the International Public Art Festival (IPAF), Holbox Island, Mexico, and one of the goals was to see what I could come up with by using bioluminescence as a source of light. April is a good time of year for the glowing plankton in this part of Mexico. And having extended experience taking long exposure images with model Kim Henry, it was a perfect opportunity to experiment in this magical location.
Daniel Trigo of the Casa Blatha Hotel did some experiments prior to our visit on the island. He sent me his pictures as a reference, so I knew what kind of light I would find on the shoot. Short answer: It's very, very dim. I mean, when you experience it, when you swim in it, it's just pure magic. It sparkles all around you. But to get that on camera is another story. The plankton blinks very quickly when agitated and then it's gone. So the best strategy we found was to run into the water like crazy to generate some light. The funny thing is that we were in nearly total darkness, and we could barely see each other—and we kept being hit by weird ancient crabs (horseshoe crabs).

More traditional style of light painting in the ocean, without using the plankton's bioluminescence
Photographing Bioluminescent Plankton
Once at the right spot (far away from the village to avoid light pollution), I simply installed my tripod in the water, set the exposure to 30 seconds and we started shooting. As with any kind of long-exposure photography, your two main tools are a high quality tripod and a remote trigger to avoid any blur when pressing the shutter.
The hardest part with this style of shot is balancing all the sources of light in a single image. That means some trial and error to find the right exposure to capture the bioluminescence, while ensuring the models get just the right amount of light. The models themselves are not lit by the bioluminescence (or maybe a little bit, but I think it's negligible). Instead, they are lit by the distant village lights and the residual light in the night's sky. However, it is the glowing plankton alone that creates the blue shapes of light seen in the pictures.

Why Does Plankton Glow?

Scientists have long studied why and how plankton produce bioluminescence, or glow. Many species of plankton use their bioluminescence to draw in larger predators that eat any other animal that might consider the plankton as food. The glowing effect occurs when the plankton become agitated, most often by human activity or the crashing of waves onto the shore.

I really went to the limit of my camera's ISO capabilities (ISO 6400), which is still possible given today's standards, but advances in technology in the future will certainly expand the possibilities for these types of images. The quantity of plankton was very variable from night to night, and we were only able to find a high enough concentration of bioluminescence on one occasion.
Once we found the plankton, all it took was a couple of people running around in the water to activate the bioluminescence. Maybe we could become "plankton chasers" and travel the world in the search of the most glowing beaches! To get trails of bioluminescence, I could have used a low ISO and ultra long exposure time (five minutes or so), but that would have been without a model, and without any human context. I really wanted to use a model, like I do in the studio. Ideally, I wanted to use the bioluminescence as the single source of light, but it was much too dim for that.

We had to run around the models to activate the bioluminescence to get the glow I was after in these photographs
Final Thoughts
This whole experience really felt like we were just a bunch of kids playing in the water. Holbox is a magical island; the people over there are so nice. We're already planning a trip for next year.

---

Additional Credit: The Bioluminescence Team, Kim Henry, Millie Caron, James Trotta-Bono, Sophia Moelk, Cedric Taillon, Guillermo Castellanos, and the IPAF Festival.
RELATED ARTICLES
Be the first to add a comment to this article.
Newsletter
Travel with us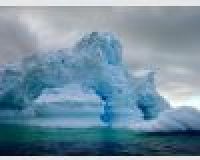 Antarctica
Plan Your Adventure >
Featured Photographer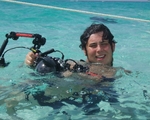 Joseph Tepper
Expert Photographer
I started diving at the age of ten and since that time have wanted to become a better photographer whether using a disposable Kodak waterproof (you know the blue ones) or my D300s. Last summer I received my dive-master in Grand...