Articles
Exploring Blackwater Diving in Thailand
Motion blur image of a para-larval squid during one of Thailand's first blackwater dives

Diving in the dark, far from the reef, drifting over the abyss with the bottom way beyond your maximum depth limit isn't every diver's idea of a good night out. But this style of diving—coined "blackwater"—gives us access to marine life we simply would never encounter on a standard night dive. This makes blackwater photography a way of adding some unique images of rarely encountered deepwater and larval stage creatures to your portfolio.
Moreover, many deem it as a challenge of their photographic skills; this is macro shooting taken to the next level, which will test your framing and focusing skills to the limit. But the challenge is worth it, so persist through the first few dives until you get your eye in for access to a new and extensive critter list: blanket octopuses, paper nautiluses, diamond squid, ribbonfish and oarfish, to mention just a few of the potential rock star photographic highlights.

Male paper nautilus (Argonauta hians) atop a jellyfish

Having said that, I would like to offer a potential warning: It is also very addictive! Once you have a few blackwater dives under your weight belt, you are likely to get hooked. Having completed hundreds of blackwater dives, there is still a high level of anticipation every time I'm entering the water, as you simply never know what you're in for.
Even on the nights when the action is slow, in the back of your mind, the little voice is telling you that something special could appear out of the darkness at any moment to make it an unforgettable dive. In fact, it isn't uncommon for the first half of a dive to be quiet, and then out of nowhere the action kicks up a few gears and there is a flurry of subjects to shoot. I have lost count of the number of times I ascended from a blackwater dive because I was running low on air, as leaving that photographic potential behind is something you wouldn't do unless you had no choice!

A larval stage flounder floating towards the light in Koh Tao
Blackwater in My Own Backyard?
So what made me want to explore this type of diving in Thailand? I got my first taste of blackwater when visiting NAD-Lembeh Resort in April 2016 when Serge, the manager at the time, took my group to a dive site named Jahir, where they set up a powerful light on the bottom that attracted creatures up from the depths. We didn't encounter any really special subjects on that dive, but I saw the potential and I couldn't wait to try it again. A few months later, I was heading to the Philippines for the DRT Show and had added a few days of diving afterwards with my friend Mike Bartick at Crystal Blue Resort in Anilao. He had very recently started exploring the area for blackwater opportunities, and we had planned a few nights out, but the weather got the better of us and made it unsafe to dive, so I had to wait a little longer to try again.
After the disappointment of missing out in the Philippines and not having any overseas trips scheduled for six months, I decided the best way for me to get shooting was to get my own high-powered light and test out my local waters in the Gulf of Thailand. We do not have any deep water close to where I live in Koh Tao, but l knew we must have larval-stage creatures, so jumped on a dive boat and went out on a normal night dive. Instead of heading to the reef with everyone else, I swam off the dive site into the sand that surrounds it at about 60 feet, set the light on the bottom, and waited to see what would show up. As expected, tiny zooplankton were duly attracted to the bright light, forming a swirling ball around it, which in turn attracted plenty of shrimp, some post-larval reef fishes, and a few different small squid to feed.

A hunting squid in Koh Tao, one of my first ever Thai blackwater images

This showed that there was potential even without deeper water, so I went back out a number of times over the next few months trying a few different locations, before I got another chance to try things in Lembeh during the Underwater Macro Photographers Group Meeting. We dived in a similar style, high-powered lights set in the sand at around 30 feet to lure creatures up from the depths. There is, unsurprisingly, much more life in Lembeh than at Koh Tao, so this time we encountered many larval-stage crabs and shrimp, some cephalopods, and a variety of post-larval-stage fishes.
Since then, to fuel my newfound addiction, I have completed hundreds of blackwater dives in various locations, mainly in Asia, but also a couple in West Palm Beach, Florida. And now, after completing actual blackwater dives—drifting in open water—this is by far my preference over having a static light on the bottom, which has been termed a "bonfire dive." I find it much easier when both you and the line are drifting, as when there is any current on a bonfire dive, you drift while shooting and then have to swim into the current to get back to the lights. On a blackwater dive, everything moves in unison, so most of the time, there is no need to swim against a current. Occasionally, you can get currents in different directions at different depths, but by simply ascending shallower, you normally exit the current and then it's an easy swim back to the downline.

Hydromedusa (Eirene lacteoides), Koh Tao, Thailand
Setting Up the Downline
The downline is a weighted line suspended beneath a buoy with lights attached to it, which is then left to drift. The setup I use has the first light attached to the buoy at the surface, making it glow and therefore be visible from a distance, allowing the boat to easily stay in contact. Then at 10 feet, I have a 5,000-lumen video light facing up towards the surface in the hope of attracting surface dwellers, like flying fish. The next set of lights is at the safety stop depth of 15 feet, where I have a pair of Kraken Hydra 8,000-lumen video lights facing downwards, but slightly angled outwards, and then the same at 30 feet. The final set of lights is at the bottom of the line at 45 feet, where I have one Kraken Hydra 8,000-lumen light plus a pair of Weefine 6,000-lumen lights that shine a ton of light into the depths.
With no references in open water, the illuminated downline forms the center of the dive site, which then expands outwards 360° as far as visibility allows the downline to still be seen, and down as deep as you feel comfortable, but keeping it safe. You need to ensure that you can always see the lights of the downline, as if you can't, and haven't been paying attention to your compass to know which direction to swim, then you are lost and need to ascend for a pick-up. Bad visibility will increase the chances of lost divers, as does having underpowered lights that are only visible from a closer proximity. The further throw of powerful lights expands the "dive site" and decreases the possibility of lost divers. But do note that some creatures are photo phobic and will stay away from the lights, so it is recommended to mainly search a little way off from the lights in darker water. However, I would suggest periodically checking back in closer to the line for anything attracted right into the lights, as I have found some cool subjects that come in to feed from the cloud of plankton that forms around each light head.

Male paper nautilus (Argonauta hians) in salp chain

You would think that finding these deeper water creatures would require diving deep, but this is not necessarily the case on a blackwater dive. Subjects can be found at, or close to, the surface. I have shot ribbonfish, blanket octopuses, nautiluses, and so on, in the top 10 feet. My normal searching technique has me starting the dive at around 45 to 60 feet, then venturing deeper if I'm not finding many subjects. If there isn't much showing up in either mid or deep water, I then ascend shallower to see if it is any better. Sometimes, the action is around a specific depth and other times more evenly dispersed, so it is always worth checking around. If you get perfect conditions, providing a flat-calm surface, stay shallower for the entire dive to maximize the opportunity to create reflections and incorporate surface textures into your images.

Pharao flying fish can be found close to the surface in good conditions

Venturing into Open Water
Back on Koh Tao, the next step was for me to get off the dive sites and into open water. A small issue was that the norm for night dives on Koh Tao requires a short 20-minute steam from the pier to the dive site, then the boat moors up for an hour or so to dive, leaving the captain free to relax, maybe have their dinner or even a snooze. They do not need to do anything until the dive is over and everyone is ready to head back to the pier, so asking a boat captain to take us out at night to dive in open water, stay alert for the entire 90-minute dive to ensure they stay in contact with the downline, plus keep a watch out for potential lost divers was, unsurprisingly, not met with much enthusiasm!
So, I turned to my friend Tim, who ran a small speedboat out of his dive center Good Time Adventures, who was happy to take us out. The dives proved to be much better than on the dive sites, and we started to see larval-stage flounders, Phronima amphipods, larval-stage anemones, comb jellies, sea butterflies, larval mantis shrimps and crabs, plus lots of squid, and a few post-larval octopuses. It wasn't as good as Anilao or Lembeh, but it was on my doorstep, thereby allowing me to get out anytime I could round up enough divers to cover the cost of boat rental.

Larval tube anemone

Crab megalopa

We went out quite a few times with Tim, but then Covid hit, causing a massive drop in tourist numbers in Thailand, leading to him having to take his speedboat out of the water. I had to find a new ride. Luckily, another dive shop, Dive Wishes, was still operating their speedboat all through Covid, so we still managed to get out and started to try some different spots around the island. I knew the Gulf of Thailand didn't have deep water, but upon checking the nautical charts on the Navionics app, it became apparent that—at a push—I might hit close to 200 feet, but the majority of the time we would be diving in 130–170 feet. The deeper water hitting 260-plus feet is a long way from Koh Tao and therefore not an option for a single dive.
The generally flat, featureless bottom of the Gulf (apart from the dive sites) means there are no formations that would create upwellings, so I found that the best strategy was to go out as the sun was setting, when there was still some light, and then look for current lines on the surface that indicated there was some water movement. My theory was that any current would suck in the plankton and less-able swimmers, and therefore diving in the current would give us the best possibility of finding them. This has been a better approach than the random drop point I started with, but it can still be a bit "hit or miss"—some nights there's loads of action; other nights, not so much. But that's nature for you!

The Smiling Seahorse liveaboard, home base for blackwater dives in the Andaman Sea

The next step in my Thai blackwater discovery was to get over to the west coast of Thailand, which has deeper water on offer, potentially providing the opportunity to see some different creatures. So, in early 2021, I put together a short liveaboard trip aboard the Smiling Seahorse, which I'd chartered, and after explaining the logistics of blackwater diving to the co-owner Camille, who discussed it with her husband and cruise director Franck, she said they were fine to try out blackwater diving, something that hadn't been conducted in the Andaman Sea before.
In early March, I went ahead with the trip, which I had filled with fellow underwater photographers and videographers. I had scheduled an itinerary to hit just the three best sites: Koh Bon and Koh Tachai for chances of manta rays, and then the premium site of Richelieu Rock, which, for me, is the most photographically productive. Our schedule had us heading directly to Richelieu after leaving port in Ranong, where we spent the first two days (seven dives) shooting. Then we would steam out in the direction of Koh Tachai to deeper water for the first blackwater. We would dive Koh Tachai and Koh Bon the following day and then complete another blackwater dive that night, before heading back to Richelieu for two more dives on the final morning before heading back to Ranong.

Dives during the day are action-packed at Richelieu Rock

After some amazing dives at Richelieu, we unfortunately had to change the location of our first blackwater dive, as some emergency welding work was needed to repair the dive deck ladder, and this required us to head to the protected waters of the Surin Islands. We couldn't make it out to deeper water in time, so instead we dived closer to the islands. Sadly, the visibility wasn't great, and although we still saw plenty, it was more similar to a dive in the shallower waters of the Gulf.
The following night, we did manage to get into deeper water, the bottom being approx 260 feet below us—and this changed everything. The visibility was excellent and the marine life more varied, giving everyone a great dive encountering pelagic sea snakes, larval snake blennies, and a variety of juvenile boxfish and pufferfish. Plus, Franck saw a larval tripodfish and everyone saw juvenile sailfish—something that had been on my hit list for a while but I had yet to encounter.
Following the success of the first blackwater dive in deeper water, Franck, who is also a very keen photographer, asked if I could come back on-board the following week to conduct more blackwater dives, as both him and Camille loved it. A week later, we managed another three dives and right at the end of the last one, with only Franck and I left in the water, I spotted the familiar shape of a female paper nautilus at the top of the downline. It was fairly cooperative, allowing both Franck and me to shoot it, which I'm pretty sure resulted in the first photos of a female paper nautilus taken in Thai waters.

Female paper nautilus (Argonauta hians)—a first in Thailand?

Post-larval smallspine turretfish (Tetrosomus concatenatus)

Over the two trips, we managed to conduct five blackwater dives, though one of them was shallow, close to Surin. The area certainly looked promising for more exploration, which the now "blackwater addict" Franck was well up for. So, over the closed season (mid-May to mid-Oct), we made plans for a blackwater trip where would be able to complete two dives per night, diving into the early hours, and then skip the early morning dive.
Franck had also decided that he wanted to offer at least one blackwater dive per trip for the season, so I set up a line for the boat and they invested in a batch of high-powered lights. In addition, this would be the first season the boat would be running a mixture of itineraries covering both the north and south Andaman routes. This would allow us to explore in different areas to hopefully ascertain where was best. We were, however, restricted to specific nights on each cruise where we would be in a suitable area, so it only gave us one or two opportunities per trip. This obviously meant that it would be slower to work out the best spots, tides and moon phases, in comparison to a resort-based operation doing the equivalent, but we had the whole season running from October to April, which gave us lots of time. Fortunately, I would be on the boat for the majority of the season working as a guide, with the exception of the blackwater dives, when my camera always came along with me.
Frustratingly, the weather was anything but kind to us for the blackwater trip, and we were unable to get offshore on any night; the waves were just too big to safely get back into the boat after the dive. So we were forced to dive closer to shore in protected water, which still provided subjects, but it wasn't what we had planned. Despite these issues, over the course of the 2021–22 season, we did manage quite a few blackwater dives away from the islands, mainly in the North Andaman, closer to Koh Tachai and Koh Bon, plus the northern Similan Islands, and down south, closer to Koh Haa and Hin Deang/Hin Mueng.
As expected, some dives were slow; others started slow then picked up as the dive progressed, and the odd few had action throughout. How productive it was appeared to be more to do with the tidal state than moon phase, which is a more traditional indicator of the optimum times for this activity. The run-up to the new moon and the period after—basically, when there is less moonlight—is generally considered to be the better moon phase, but we didn't really see this to be the case. An incoming tide was more productive for us and for our trips, where we needed to dive between 7–10pm for logistical reasons; the incoming tide tended to fall in this window around the time of the full moon.

Three-spot seahorse (Hippocampus trimaculatus) blackwater motion blur

All of these locations we dived had been in a depth range of approximately 230–260 feet. The water depth closer to the islands/dive sites maxes out around 200 feet and then the seafloor is a gentle slope gradually dropping off to 230–260 feet as you head offshore. However, the charts showed a ridge running from north to south where it then dropped off to 650–1000 feet, and from what I had ascertained from both Mike Bartick at Crystal Blue and Simon Buxton at NAD-Lembeh, who have extensively explored their respective local waters, these steeper depth changes cause currents to upwell, bringing plankton up from the depths and, in turn, this also brings along with it the creatures that feed on the plankton.
These creatures were what we were hoping to see, so it seemed sensible to head out to the drop-off to check it out. The only issue was the three-hour steam from Koh Tachai or Koh Bon, so we needed good weather to venture out into open water at night that far from land. There were a number of trips that we had planned to go, but frustratingly had to cancel with the waves being too big to safely dive. Even more frustrating were the few instances where we were most of the way to the drop-off and then conditions deteriorated, so we had to turn back!

Post-larval burrfish (Cyclichthys sp.)

It wasn't until March 2022 that we finally made it out to the drop-off. Using a combination of the nautical charts and the depth sounder to get us to around the midpoint of the slope in around 650 feet of water, but with an incoming tide, we should gradually drift shallower. As soon as we entered the water, it was immediately obvious that the marine life was richer here. The dive was productive from start to finish, the visibility was better, and there was that feeling of improved odds that a special subject might make an appearance.
The following trip, the weather allowed us to get back out to the drop-off and once again the dive was great. As soon as I descended, I saw a paper nautilus at the bottom of the line, and over the course of the dive saw another seven! We were also seeing a variety of other post-larval and juvenile fishes that we hadn't encountered in shallower water. It seemed like we had found our spot! The only issue was the location. With six hours of fuel consumption getting there and back, most operators would have weighed up the costs and decided that it wasn't financially viable. But having a passionate underwater photographer as the owner of the boat meant that Franck wanted to be out there as much, if not more, than everyone else. So we went anyway!
Over the course of the season, we perfected the blackwater dive procedures, which needed to be a little different for an 80-foot liveaboard compared to entering from a small speedboat. Having a large group of divers around a single line isn't ideal, so if we had more than 10 divers total for a blackwater dive, we used two separate lines to avoid overcrowding. But whether we used one or two lines, the dive procedures were identical; the only difference was having the zodiac supervise one line, while the boat stayed with the other. All of the blackwater dives were conducted as unguided, so divers would be in buddy pairs for the dive, but we always had staff in the water to keep an eye on things plus point out any cool critters they found.

Larval spiny lobster (Panulirus sp.)

Tonguefish (Cynoglossidae sp.)

Our entry procedure was to have the entire group ready on the dive deck, and when everyone was in their kit, the downline would be deployed from the back of the boat and left to drift. We would ensure everyone was ready to enter the water, and the captain would then pull the boat up alongside the downline, maybe 30–50 feet away, and then signal it was safe to enter. Once the divers were in the water, they would swim at the surface away from the boat towards the downline, giving the boat space to safely move away, and then descend in buddy pairs.
We normally had a maximum dive time of 60–70 minutes, but if divers wanted to finish the dive early, they could; they just needed to ascend next to the downline and then swim 80–100 feet away from it before signaling to the boat for a pick-up. The same procedure was completed at the end of the dive for pick-ups. This avoided a large vessel coming close to the downline, which would likely be directly over divers. During the dives, visibility was generally good, letting you see the downline from a distance, but if you lost sight of it, the first thing to do would be to cover your own dive light and look for the glow of the downline lights in all directions. With photographers in the water, you had the added benefit of flashes going off, so these were also a good indicator to help you get back to the line. If you couldn't see either, then it was time to ascend for a pick-up, and if time/air supply and no-decompression limits allowed, a drop back to the line.

Post-larval starry puffer (Arothron stellatus)

Marbled shrimp (Saron sp.)

Messmate pipefish (Corythoichthys intestinalis)

---

Alex Tyrrell is a professional underwater photographer and underwater photography instructor based on Koh Tao, Thailand. His company Dive4Photos teaches all levels of image-makers how to improve their diving and photo skills. To see more of Alex's vast portfolio of images, check out his website, www.atyrrell.com.
When the 2022–23 season commences (from mid-October), the Smiling Seahorse will be offering blackwater diving to their guests on every trip. Though Alex won't be working on the boat, he is planning a special blackwater cruise for January 5–11, 2023, diving the stunning sites of the Andaman Sea during the daytime combined with a blackwater dive every night, heading out to the drop-off if possible. On a subsequent trip, he is also running a photo workshop concentrating on the rich marine life of Richelieu Rock, with a few dives at Koh Bon and Koh Tachai in case the mantas are out to play, and he will include some blackwater dives on this trip, too. If you fancy joining one or both trips, email Alex for more information or get in touch with the Smiling Seahorse direct, quoting discount code "Dive4Photos."
The author would like to thank Doug Taleski from Kraken Sports and Damou at Weefine for sponsoring him with their video lights, which have allowed him to explore the depths.
RELATED ARTICLES
Be the first to add a comment to this article.
Newsletter
Travel with us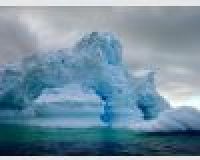 Antarctica
Plan Your Adventure >
Featured Photographer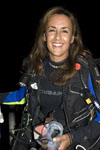 Michele Hall
Expert Photographer
Michele\'s work in film production began in 1991 when she retired from a 19-year career as a pediatric nurse. In addition to taking underwater still photographs and authoring a children\'s book on sharks, she has...