Articles
Glass Bottle Goggles and Dugout Canoes
High five! An underwater greeting with a freediving kid in Alor, Indonesia

There are a lot of things you might expect to see while diving Indonesia's Alor Archipelago. Scads of soft coral? Sure! Rare Rhinopias? Right on. Wobbegong sharks? Why not?
Reviewing my images in the shallows off Pura Island, I notice a phantomic figure reflected in my LCD screen. A pair of eyes peer through homemade goggles fashioned from glass bottles. It's a young boy freediving down from a dugout canoe. His "thumbs up" is an albeit unintentional (hand) signal that it's time to head towards the surface to shoot these young divers' shenanigans.

Photographing Freediving Fun
Boats surrounding a dive site are rare in the remote region of Alor. Following my exhaled bubbles to the surface, I count more than half-a-dozen dugout canoes hovering above. Before I know it, there are loads of young islanders divebombing down. Is it training for a future in traditional freedive fishing? Maybe curiosity over this strange submariner? Either way, it's a fantastic photo opportunity!

Two thumbs up signals me to come to the surface for some awesome images

In such shallow, clear conditions, you could utilize only ambient light for the images. However, strobes freeze the action and provide fill light. Most of the children dive down to less than 10 feet—an impressive achievement without fins—and so I am forced to shoot upwards towards the surface. The strobes are an essential ally in illuminating the kids silhouetted against the bright sun shining through Snell's window.
Even with the subjects' impressive breath-holding abilities on display, I have only seconds to frame and capture each scene. By combining the continuous shooting mode of the camera and medium-low power outputs of my strobes, I maximize the properly exposed frames for each freedive.
The kids aren't the only compositional element to work with. Varying the shooting angle makes the sun more versatile—from a true "sun ball" aiming directly upwards to subtle light rays at a position more parallel to the horizon. Composing a boat in the background not only adds a compositional element, but it also gives a sense of scale to the image. Finally, including the coral reef in the bottom third establishes orientation for the viewer. All of the elements are there: It's the photographer's job to put them together in an engaging way.

The boat is one compositional tool that can be used to make the image more engaging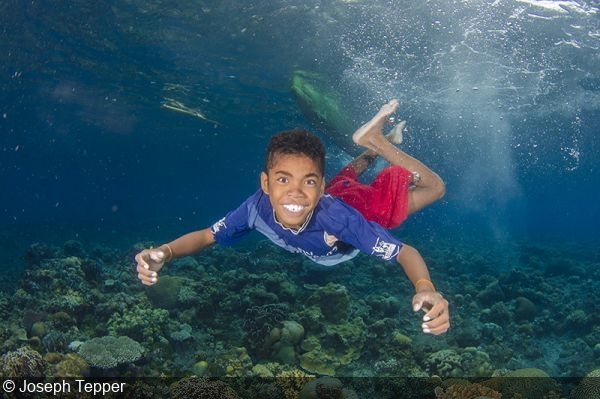 Including the reef not only adds a bit of a natural element; it orientates the viewer as well
Dugout Canoes and Over-Unders
One of the most effective ways to document the interaction between humans and the sea is through over-under (split-shot) images. They combine the familiar above-water landscape with the more alien sub-surface environment.
After wrapping up my dive, I swiftly hop back on the Arenui luxury liveaboard to swap out my mini-dome for a larger dome designed to take over-unders. My goal is to capture both a freediving child, canoe, and landscape in one image—but it won't be easy.

Over-under images aren't always easy with kids vying for the photographer's attention

By this point, bubbles have become the bane of my efforts. Young kids diving in the water makes for a great action shot, but the turbidity created by splashing around results in a distracting backscatter of frothy water. In order to minimize this, I move my strobes to the outmost position underwater and angle them outwards.
For over-under images, I choose a fairly closed aperture (f/8–f/11) to increase depth of field. I also prefer to use a manually selected autofocus point/region as opposed to full autofocus. This allows the shooter to select the primary focus point on the under half of the image—if the subject is diving—or above if the main compositional element is above the waterline.

Taking turns: One young man waits for his turn to dive in for a photo while the other poses

Canonball! A young man dives off a dugout canoe and into the shallows
This Mask Is Your Mask
Sometimes it's important to see the world through another person's eyes—and vice versa. So, after snapping away for more than an hour, I gave my dive mask to one of the rambunctious youngsters. I might have lost the ability to see underwater for these images, but the look on their faces more than made up for it. Talk about eye-opening images!

A whole new world: Trying my mask on for size gives a new perspective
RELATED ARTICLES
Be the first to add a comment to this article.
Newsletter
Travel with us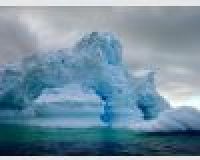 Antarctica
Plan Your Adventure >
Featured Photographer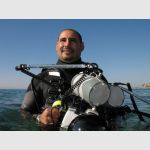 Noam Kortler
Expert Photographer
Noam Kortler is connected to the sea since he can remember him self. he was born on the coast of the Mediterranean sea of Israel and was diving and surfing when ever he could He moved to Eilat, the south popint of israel to...