Articles
Drones for Underwater Photographers – Part I
Drones provide a unique way to photograph dive destinations, Socorro, Mexico

Never before has it been so easy to enter the rapidly evolving world of aerial photography, and many underwater photographers now consider a drone an essential part of their camera kit. Only a decade ago, to take photographs from the sky would have required the use of a helicopter or plane, but now it is possible to visit your local electronics store and walk out with an aircraft that can capture professional quality aerial images and video footage at a very reasonable price.
With that in mind, what better time to publish the first part of our guide to drones for underwater photographers, which focuses on still images and hopefully provides some useful advice about how to make the most of your new equipment on your next dive trip.

Choosing a Drone
Underwater photographers already have to deal with bags of expensive dive and camera equipment and contend with airlines ever-evolving weight restrictions, so size is one of the most important things to consider when choosing which drone to buy. There are many different units on the market to suit a variety of levels and budgets, but the most popular models are all manufactured by DJI, a Chinese company with years of experience producing reliable and innovative products.
As camera and battery technology has progressed, so too has the image quality and flight time of their latest quadcopters, and with the launch of the Mavic Pro 2 in 2019, it is now possible to capture 4K video and high-resolution images with an affordable unit that folds up and fits in your pocket—a game changer for travelers, filmmakers, and underwater photography journalists.
While this article is not intended to become a review of one particular product, the Mavic Pro 2 really is the perfect drone for the vast majority of people who wish to purchase an aircraft that shoots high-quality images and video while remaining portable enough for overseas travel. What makes this model so appealing is its one-inch 20-megapixel sensor, which results in the highest-quality images one can expect to capture with a drone of this size. The bigger the sensor, the better the low-light performance, and the Mavic Pro 2's Hasselblad camera is as good as it gets without using DSLR cameras attached to a much bigger aircraft.
Besides the unit itself, you will also need to purchase some other accessories to get the most out of your new toy. The average flight time of most drones is between 20 and 30 minutes, so it helps to have multiple batteries and a charging hub to plug them all in at once. Another essential extra is a number of different neutral density (ND) filters to help block out unwanted light when shooting in tropical conditions and during the brightest hours of the day. Also, don't forget, for most drones in this class, you will also need a smartphone with an application installed to operate the aircraft with its standard controller.
For those unable (or unwilling) to spend close to $2K for all of this equipment, DJI recently released the Mavic Air 2, which comes in at half the price but has a sensor half the size of its big brother. While this is still a good option for those new to drone photography, anyone serious about including their video footage in high-resolution movies—or editing photos in RAW for publication—should consider the Mavic Pro 2 as the entry-level unit.

A promotional shot of the house reef and dive center, Wakatobi Resort, Indonesia

Shooting down provides an entirely new perspective of a beautiful beach in the Dominican Republic
Taking Flight
Although it may sound obvious, the key to getting excellent aerial images is first learning how to properly fly the aircraft and knowing how to access the important information and settings on the controller while doing so. Most drones are easy to fly with a bit of practice, but don't assume you can go out and buy the latest piece of equipment and be an expert at flying it straight out of the box.
Understanding how your particular model functions is an important first step. Most consumer drones take flight with a camera attached to the unit by a powered gimbal which counteracts vibrations and helps to capture stable images and video. They also have multiple sensors to prevent crashes and a return home function that brings the aircraft back to its takeoff point if you get lost or if there are any connectivity issues. These features mean you can concentrate on getting epic footage without spending every minute of each flight worrying about crashing into unknown objects or losing the aircraft.
Once you are familiar with the basics of your new equipment, take it out to some local spots close to home and practice flying in different weather conditions, and experiment with camera settings before taking it abroad. You don't want to arrive at your destination and miss out on killer shots because you are struggling to operate the aircraft. More importantly you don't want to crash or lose the brand new piece of equipment you just paid lots of hard-earned cash for!
In many ways, underwater photography and aerial photography are very similar. When scuba diving, you are restricted by your air supply and bottom time, but when flying drones it is the battery life of the system and your flight skills that are the limiting factors. In either case, time is against you, so the better you understand how to use your equipment, the more likely you are to come away with excellent images.

Flying a drone results in images that would be impossible to capture any other way, Azores, Portugal
Camera Settings: Where to Start
Like all photography, many factors will determine the camera settings you use when working with a drone, but here are some general guidelines you can start with before making smaller adjustments depending on available light and the scene you are trying to capture. First of all, always shoot in RAW for the best image quality and to maximize editing potential in programs such as Adobe Lightroom or Photoshop.
While most drones are incredibly stable in flight, you will still need a relatively fast shutter speed to get sharp images so try not to go below 1/100s and make sure the aircraft is stationary before pressing the shutter. Its no good snapping away while traveling at high speed if you want the images to be in focus! Older models used to come with fixed aperture cameras, but with the Mavic Pro 2, you now have control over the aperture, too.
Sadly, even the best aerial cameras do not compare to handheld cameras in regards to low-light performance, so try to keep the ISO to a minimum whenever possible. The Mavic Pro's one-inch sensor handles shadows and low light much better than previous drones, but you still need to be careful not to push it too far to avoid unwanted noise. I keep the ISO at 100 and rarely push it above 400 unless absolutely necessary.
In reality, unless shooting at night or in very cloudy conditions, this shouldn't be an issue, and a lot of the time you will be faced with the opposite problem. Even when shooting at high shutter speeds and aperture settings, flying the drone in the middle of the day, especially on good weather days, will require the use of ND filters to block out some of that excessive brightness and sunlight.

The Galapagos Master framed perfectly by the iconic landmark of Darwin's Arch, Galápagos Islands
Advanced Tips and Tricks
Although it is fun and standard practice to send the drone into orbit when you first buy it, this doesn't always produce the greatest images. Some of the best drone shots are taken just above the range of normal cameras, so think of the aircraft as a tool to open up new angles on existing subjects—it doesn't always have to be hundreds of feet away to get a good shot.
When you are high up in the sky, shooting directly down provides a unique view that can be very appealing if you choose the right subject. This technique is also a good way to shoot abstract images of everyday scenery from a new perspective, such as a forest of trees, a field of lowers or the surface of the ocean. Get creative and see what happens.
When shooting large landscapes, it can sometimes be difficult to get far enough away to get everything in the frame. Sometimes, I will take multiple still images of a scene and then stitch them together later in the editing suite to create a large panoramic. Another benefit of doing this is it results in super-high-resolution images that are great for large posters or billboards. I also use the bracketing setting often, as it can be difficult to see the screen of your phone and set the exposure perfectly in bright conditions. You can also then combine multiple images to create high dynamic range (HDR) photographs if you happen to like that effect.
Finally, get used to launching and catching the drone alone and by hand, as this will be important later when taking off or landing on moving objects. Flying from boats in rough conditions is the most difficult thing to do as a drone pilot and is much more likely to be a required skill for scuba divers who spend most of their time at sea.
While drones come with many other additional features such as active tracking and hyperlapse settings, I rarely use these due to the nature of my normal shooting environment. I rarely use the return-to-home setting either, as I want to have full control of the unit the entire time it is in the air, and when "home" is on a boat, it is not a good idea to let the aircraft try and land in the middle of the ocean! Normally, I plan my flights in advance and travel to the furthest point first, before slowly making my way back closer to home as the battery depletes. Often I will want to take shots close to where I took off anyway, so I save these until last when the battery is low, so I don't have far to fly once its time to land.

The only way to fully appreciate this beautiful sandbar in Palau is from the sky
Dive Resorts and Marine Life from Above
Before traveling anywhere with your drone, you will need to check the rules and regulations regarding small aircraft in the destination you are planning to visit. Often you will need a special permit or license, and certain places may even try to confiscate your equipment or request that you sign a document agreeing not to use the aircraft, so be sure you know the rules well in advance.
Consider purchasing a specially designed bag for carrying the drone that you own. I have a Lowepro backpack for my Mavic Pro 2 that is perfect for travel, and comfortably holds the drone, three batteries, all the accessories, my laptop, headphones and a DSLR camera I use for shooting topside, while still being small enough to pass as a second carry-on bag alongside my Think Tank roller containing all my underwater camera gear.
Although it is more compact than ever, hauling this extra gear around the world can still be a pain, but the good news is that many of the world's most popular dive destinations just happen to be surrounded by stunning tropical beaches or deserted volcanic islands that will provide you with plenty of awesome landscapes to photograph once you get there.
If you are visiting a liveaboard dive boat or resort on assignment, it goes without saying that the company you are working for will appreciate you featuring aerial images of the resort and/or the boat in your article, so discuss this with them when you arrive, and do your best to showcase their dive operation in all its glory—from above and below the surface.

Tracking whale sharks at the surface in Isla Mujeres, Mexico

Combining shots from above with underwater images adds variety to your portfolio

Using a drone you can get closer to apex predators than you would dare to venture while on foot!

You can also capture special marine life encounters on film using a drone, so always have your aircraft ready when you are out diving, as you never know what you might find swimming around the boat. This is much easier when traveling on a liveaboard as you will be at sea for a week or more, but many day trips will still allow it under the right circumstances. Combining aerial photographs with underwater images is a very effective way of showing how divers interact with certain subjects. And this works especially well with bigger animals that spend time at the surface such as whale sharks, whales and manta rays.
It also allows you to get images of dangerous animals that would never be possible with a normal camera. The above image of Tito the giant saltwater crocodile, a resident of Coiba National Park in Panama, was taken when he made an unexpected appearance at a tourist beach one day! I would never have dared to get so close to him on foot, but by quickly launching the drone, I was able to capture a few shots of this rare event from the safety of the ranger station.
Let's be honest, we all want to come home from a dive trip with cool stories and images like this to add to our portfolio, and the best way to do that is to purchase the best drone you can afford and never leave home without it. Surface intervals will never be the same again!

Snorkelers carefully approach a humpback whale mother, calf and escort in Vava'u, Tonga

The same amazing encounter captured just below the surface, Vava'u, Tonga

The dive boats at Wakatobi Resort anchored and ready for action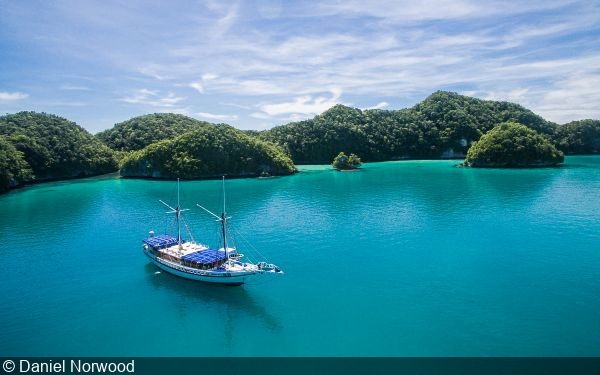 The Palau Siren during a one-week liveaboard trip on assignment in Palau

An aerial view of the ranger station at Coiba National Park, Panama

My favorite dive site in the world, Punta Vicente Roca, Isabela Island, Galápagos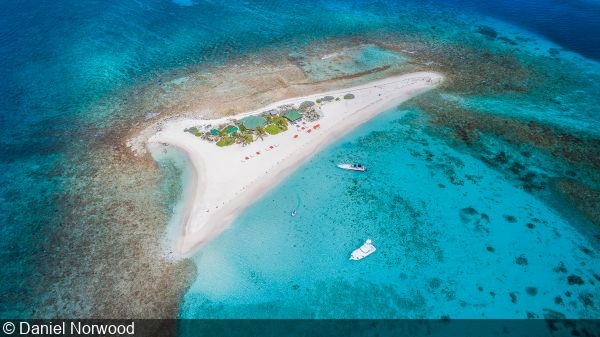 Sandy Island in Anguilla is completely surrounded by shallow coral reef that is clearly visible from above

The Socorro Vortex cruising the Revillagigedo Islands, Mexico

An epic view above the crater rim in Corvo Island, Azores, Portugal

Snorkeling with manta rays in the Yasawa Islands, Fiji

Taking a drone on your next dive trip will result in amazing topside images to add to your portfolio
RELATED ARTICLES
Be the first to add a comment to this article.
Newsletter
Travel with us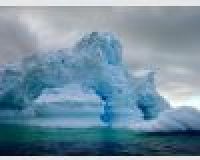 Antarctica
Plan Your Adventure >
Featured Photographer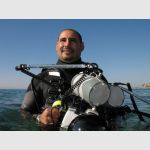 Noam Kortler
Expert Photographer
Noam Kortler is connected to the sea since he can remember him self. he was born on the coast of the Mediterranean sea of Israel and was diving and surfing when ever he could He moved to Eilat, the south popint of israel to...