Articles
Down the Line: Freshwater Cave Diving Photography
Diving in caves can feel like fitting between the spaces where the earth is separating

Countless mysteries lure us to underwater exploration. Though dive skills are generally the same for all types of diving, motivations for underwater experiences vary greatly. Some people are deeply curious about wrecks and their stories. Others delight in discovering new species or learning about ones already identified.
To venture into underwater caves requires additional training, equipment, and experience, so the motivations for this type of exploration must be strong. Cave divers are a tightly knit group of people passionate about visiting places where few—or none—have ventured before. This involves finding new caves, exploring further into known caves, or discovering new features within caves.
Capturing the experience of cave diving in images seems equally daunting, not just because of the investment in training and equipment, but most importantly because of the lack of light. But it's the intriguing way natural and artificial light sources interact with the stunning topography of caves that creates unique opportunities—and challenges—for the underwater photographer.

Rock formations are carved by minerals in the water flowing past soft stone such as limestone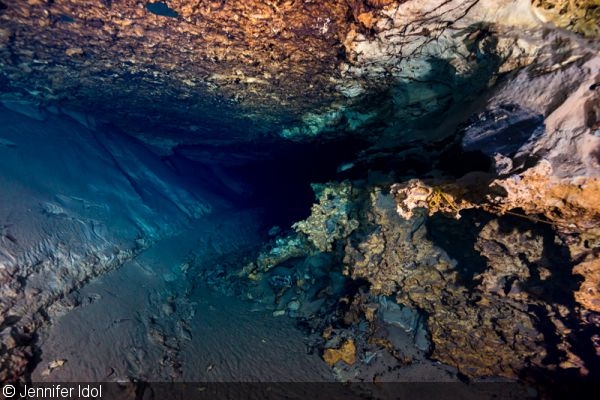 Clay banks and scalloped rock are normal features found in karst caves

Wildlife in caves adapts to its environment over time through features such as loss of pigmentation or even evolving to have no eyes

For divers new to cave diving, all caves are personal adventures. My first journeys into caves began in Florida with cavern training. More than other diving activities, cave diving sets itself apart as more physically challenging. The environment differs greatly from recreational diving in that no direct ascent to the surface is possible, and of course, multiple lights are needed to illuminate caves.
As with technical deep and wreck diving, the redundant systems required for safe diving are heavier and more complicated. But much like getting used to a drysuit, using the additional equipment becomes routine with practice. With these challenges and investments, why is cave diving such a popular and rewarding activity? Perhaps it's the community, the distinct wildlife, or the rush from discovery. My motivations are driven by photography and to what I find visually compelling. My subjects are often other divers engaged in exploration. I love working with others in team environments to achieve greater goals and to have a shared experience.

As a photographer, your most exciting subjects will often be your fellow divers in action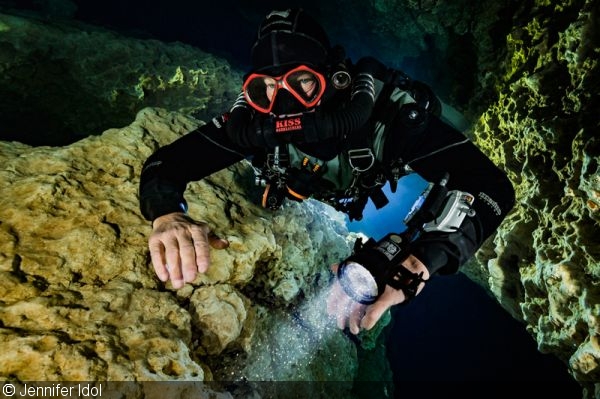 Fitting through tight spaces can be thrilling when they open into grand rooms such as those found in Florida's Jackson Blue Spring
Going New Places
My journey throughout the United States introduced me to divers across the country. I began diving in Florida caves formed in highly reflective limestone with clear blue water. The epicenter of American diving is known as cave country in the panhandle of Florida. The climate is favorable year-round and endless possibilities for exploration abound.
Caves like Ginnie Springs can flow quite hard, so checking conditions is a regular part of diving caves, just as with diving in oceans. Peacock Springs, Madison Blue, and Twin Cave are just a few of the popular Florida cave systems. Tools like rebreathers and dive propulsion vehicles (DPVs) are advanced pieces of equipment that help divers reach farther distances.

Tools such as rebreathers help divers spend more time exploring extensive caves like Ginnie Springs

Buddies are pivotal to enjoying cave diving

A dive can be planned with any desired complexity or can be as simple as a fun cavern experience. Some of my most enjoyable experiences have involved spending time in the front areas of caves absorbing the details that go unlooked by those heading straight to the back. Fish, turtles, fossils, and the fascinating interplay of light and shadow add to the intrigue of caverns.
My dive experience has also taken me to darker places in Missouri with the Ozark Cave Diving Alliance. Some caves like Ginnie Springs in Florida were once dark, but the black algae covering walls has been removed by contact. Caves in Missouri absorb light greedily with thick black walls, adding to the photographic challenge. To be sure, I love all the caves I've seen and haven't spent enough time in any to satiate my curiosity.

Sometimes fish get lost inside caves, such as this brown trout, offering opportunities for unique portraits

Missouri caves like Roubidoux Spring are characteristically dark and change greatly throughout the year

While many caves are open to the public, a few are restricted to those engaged in a team activity. Such was the case with my work in Jacob's Well Natural Area and in many Missouri caves. Missouri caves tend to begin with small entrances and quick drops to depths below 130 feet. However, the front part of the cave systems are riddled with strange pockets and large rooms, such as with Roubidoux Spring.
Cave environments are nearly always naturally occurring, but some include mines such as those found in Missouri, Vermont, or on Bell Island. Mine La Motte can be dived independently in Missouri and features carts filled with lead ore.

Mine La Motte is a maze of twisty little passages all of which look alike and may contain artifacts

When lit, rooms in caves can seem like completely different environments than normally experienced with one or two dive lights
Getting the Shot
Even as an experienced cave diver, creating compelling images in the dark spaces of submerged caves is a challenge. There can never be too many lights. While the waters in Floridian caves are generally clear, Missouri caves vary significantly in terms of visibility. This also influences what lights will be effective for a shoot. Here are some tips for getting satisfying freshwater cave diving images:
Use the lack of light to your advantage by trying silhouettes in caverns.
At cave entrances, over-unders can be an effective way to show the hidden worlds below the surface.
Keep an eye out for interesting split shots: Entrances to caves can be local swimming holes or unseen by all but those who know where to look

Strobes are required, but consider bringing a couple of video lights to add depth when possible.
Understanding available subjects helps give context to images: Dive buddies sometimes make the best subjects to also give scale to the spaces in caves, whether enormous or tight.
Consider photographing speleothems such as stalactites and stalagmites. Mexico boasts some of the best opportunities.
Even macro photography has a place in caves, with fossils, eels, and blind fish as a few subjects.
Capture dramatic color at Ginnie Springs, famous for its tannic river water running across the entrance
Final Thoughts
Broadening a photo portfolio with cave photos is a challenging investment that can help bring you closer to a dive community. Whether you want to support a buddy's photographic obsession and enjoy the dive or you want to capture every second, cave diving can illuminate new experiences.

Caverns can be inspiring locations for silhouettes

---

About the Author: Jennifer Idol is a technical diver, instructor, and underwater photographer who has been diving for 22 years and earned 29 certifications. She is a Nikon Professional Service member, PADI Ambassadiver, and a member of the Ocean Artists Society. She is also the first woman to dive all 50 U.S. states, an achievement she has documented in the book, An American Immersion. Her photography and articles are widely published in periodicals, including Diver, Scuba Diving, Alert Diver, and Sport Diver. Jennifer aims to help others understand the underwater world through her photography, design, and by sharing her exploration.
RELATED ARTICLES
Be the first to add a comment to this article.
Newsletter
Travel with us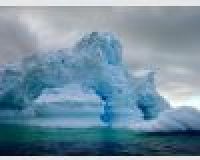 Antarctica
Plan Your Adventure >
Featured Photographer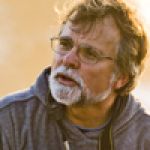 Ralph Clevenger
Expert Photographer
Ralph Clevenger grew up on the coast of North Africa and began diving in the waters of the Mediterranean Sea at the age of 7 with his father. He eventually went on to study zoology at San Diego State University and worked as a...