Articles
Diving the Great Wall of China
There is a "lost" section of the Great Wall of China—and it can only be found underwater…

What is your idea of a perfect getaway? Would going to see the Great Wall of China or the bustling city of Beijing be appealing to you? Or maybe I could interest you in discovering the "lost" section of the Great Wall of China? The lost wall is, in fact, not on land with the millions of tourists but under the water! Here you have the wall all to yourself, with only the sound of your breathing to keep you company. I had the opportunity to do this unique dive, and here's how it unfolded.
It started with a commercial photo shoot with Blancpain. The idea was to have their prestigious dive watch photographed in unique and fascinating environments, and a submerged part of the Great Wall of China certainly fitted the bill. The concept was the simple part. However, the logistics were another story. Countless nights were spent researching, emailing scuba clubs, and getting in touch with various ministries. Everything was moving along slowly until one email from SinoScuba, and a great American guy who has been residing in China for the last 15 years.

Rural Hebei Province is so unlike the China I had come to know over the years

My journey started at six in the evening in Kuala Lumpur, where I boarded a Malaysian Airlines flight for Beijing. Six hours later, I arrived and was whisked off by private car—thanks Blancpain!—straight to my hotel. The following morning, I met with my producer, and model, Dietmar Fuchs. Jet lag was hitting him hard, and he looked like a confused European tourist. But the submerged wall didn't care about his issues, and after plenty of coffee, our epic road trip began.
Our four-hour drive took us to Hebei Province, which is situated in the North China Plain. Located north of the lower reaches of the Huanghe (Yellow) River, Hebei is a major agricultural and industrial center in China. Our drive was rather interesting, with my guide Steven telling me to look out for strange accidents and weird ways of transporting goods. Rural roads in China can boggle the mind, and we stumbled across our share of impossible-to-describe scenes. So we followed winding roads under clear skies towards our destination. It felt so unlike the China that I knew.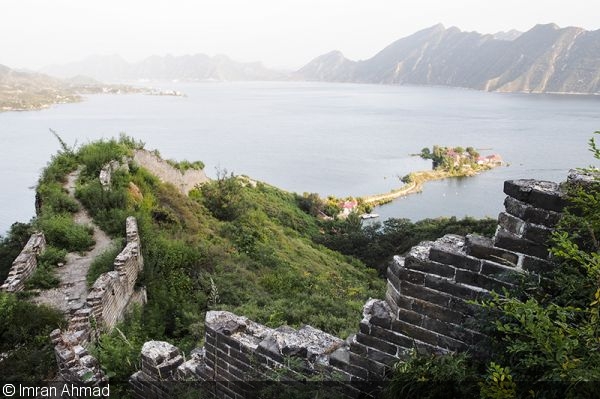 The wall on land in this area is totally untamed—no tourist hordes here

Finally, we arrived at the Panjiakou Dam. In 1975, the government flooded the town of Panjiakou under 165 feet of water to make way for a concrete gravity dam on the Luan River. The primary purpose of the dam is to provide water for the cities of Tianjin and Tangshan, located to the south. In the hills above the town is a section of the Great Wall, part of which is submerged, and that is where we were going diving.
"There have been more men on the Moon than have dived China's Great Wall," says Steven Schwankert of SinoScuba, as Rusty, our transport boat, arrived. Powered by nothing more than a lawnmower engine, it felt like a boat out of the TV show MacGyver. I was worried it was going to sink, but our captain kept us steady as we made our way to a floating house that would be our base. As we chugged along over the next 20 minutes, the view topside kept getting better, but the visibility of the water was dropping dramatically.

The cooks hard at work after our entertaining attempt at communication

The amazing team that made everything possible!

At last, we came alongside what can best be described as a floating restaurant. There we were greeted by three ladies; one had a knife in hand. However, she wasn't a homicidal maniac, but our chef for the next five days. Lunch was simple fried rice, with vegetables and Chinese tea. However, as we ate, I heard screams from the chickens, and evidently dinner preparations were in full swing.
Now, about the language barrier. I do speak a little Mandarin, but only when I am angry, and it gets colorful. In the end, we depended on sign language and sound effects for communication. So imagine ordering chicken breast for dinner. It involved me signaling a chicken movement and sounds followed by a cooking gesture. How do you say chicken breast? Simple, by grabbing my chest, thumbs up and pointing to my thigh while making a cross sign. So much work to eat. Then we found out that our American guide Steven spoke Mandarin!

Diving in a resevoir in the heart of China was not something I ever thought I'd do

We began to unpack the gear and cameras as the wind started to howl. As I donned my wetsuit, I couldn't help but ask myself, "Why am I doing this?" When I plunged into the frigid water, my doubts only grew. The second my head hit the water, I noticed the viz was not good—as in two inches not good! The 40°F water covered my face, slowing my heartbeat as the cold slowly dripped down my back.
These were not conditions I was prepared for or used to. For me, it is all about clear blue water and mojitos in hand when I'm done with a dive! In this case, I knew that I had to be mentally prepared. The water was dark green as we descended, so dark that we needed to switch on our torches while diving at 9am! Tree branches brushed me, and freshwater fish zoomed past us. Then we hit rubble and scaffolding of some sort. By this point, I had lost my guide and buddies. I would end up losing them four times underwater. Was I scared? Damn right!

Descending on the wall isn't for the faint-hearted

This was one of those days where you need 100% focus. I worked to keep my breathing slow and tried not to panic. Then we hit a thermocline, where the temperature suddenly dropped, and it was so severe, it was almost painful. However, with the thermocline, the visibility improved. That's when I saw the Great Wall of China.
I remember touching the walls and thinking to myself how amazing it was that my first time being at the wall was not on land but underwater. There were no tourists and ticket counters; just me and the wall. There was something about how it looked in the dark, almost creepy, as if someone was watching you. The scene was like a set from a horror movie where suddenly a whole horde of zombies jumps out and devours you!

The deep, cold water gave us limited time to work; it was one of my most challenging shoots

The conditions made for a tricky promotional photo shoot, but it came together in the end

I was here to do a job though, so I didn't have the luxury of pondering my nightmares or even feeling accomplished. We proceeded to photograph the segment from the wall to the tower section, all while trying to keep the focus on the Edition Fifty Fathoms watches. Just like that, 20 minutes passed while at 100 feet. We photographed what we needed and slowly made our way back up into the shallows. Was I happy to see the sunshine? You bet I was!
Over the following days, we got accustomed to the dive site and were soon able to head straight to where we wanted to go. The nature of the water was continually changing, and this remained a constant challenge for us. Nothing stayed the same. On some dives, it was near impossible to locate our goal, and we kept going deeper into the void. Working in cold water is very taxing on the body, especially when you're used to much warmer climates.

The cold, murky, green water made for some moody images

Over the next few days, we spent our time hiking up the wall on land. Dirt trails with plenty of loose rocks led us to outstanding views—as well as leg pain and butt cramps. It was all worth it as there was nobody on the wall except the three of us. Up in the hills of Hebei, it wasn't lost on me that this is the most massive man-made structure in the world—13,170 miles long and constructed over 1,000 years. The workmanship is impressive: It has stood the test of time very well—a true testament to the skills of the ancient Chinese builders.
As for the rest of our road trip, we spent our time watching beautiful sunsets, star-filled nights and eating only the best seafood and vegetables from around our lodging. Would I revisit this place? Most definitely! And I might take you with me if you're up for a Chinese adventure.

Where the lost wall begins: Diving the Great "Submerged" Wall was one of the most unique experiences I've ever had

RELATED ARTICLES
Be the first to add a comment to this article.
Newsletter
Travel with us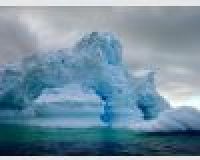 Antarctica
Plan Your Adventure >
Featured Photographer
Maurine Shimlock
Expert Photographer
Maurine has meshed her love for the ocean environment with her passions for photography and writing. Honored internationally, her work has appeared in numerous books, magazines, and films. Believing that words and images are...