Articles
In-Depth Look: i-Torch Video Pro4
By Steve De Neef, May 2, 2013 @ 06:00 AM (EST)
By Steve De Neef
The people over at i-DiveSite have been making some pretty cool products for a while now. Some of their most popular products are their affordable, yet quality lights. A new addition to their already impressive light line-up is the i-Torch Video Pro4, the bigger brother of the i-Torch Video Pro3.


The i-Torch Video Pro4 Introduction
The i-Torch Video Pro4 is as the name suggests is designed for shooting underwater video. It boasts a blinding 1400 lumens and a wide even beam of 110 degrees, the perfect tool for video enthusiasts.
The light has a different reflector compared to older models, which gives the beam a very soft edge instead of a hard fall off. It features three levels of white light brightness and thre red light levels as well making this light also suitable as a focus light for photographers who love a bright and versatile light. The different levels of brightness give videographers a lot of creativity in how they want to light up their subject.
The i-Torch Video Pro4 comes operates on a single lithium cell battery, which creates a very compact and lightweight system. The burning time is pretty good as well with 90 min at full power, 130 min at medium and 180 min at low power. A spare battery is included as is a charger so you don't need to worry about running out of power during a daytrip. A standard YS mount comes with the light making it easy to attach to your arm system.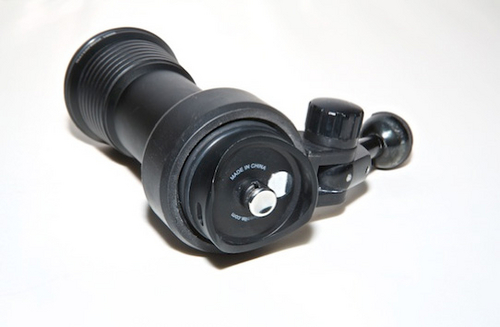 Specifications summary:
1400 lumens
Ultra wide beam of 110 degrees
3 levels of white light
3 levels of red light
User replaceable lithium battery, comes with a spare
Standard YS mount included
Weight with battery 511 grams, length 5.75 inches
Double o-ring design
Burning time: high power 90 min, medium 130 min, low 180 min
Two LEDs produce white light and another two produce red light
Preparing the i-Torch Video Pro4
Setting up the i-Torch Video Pro4 is easy—just unscrew the back, insert the rechargeable battery with the positive side first and screw the back on again. The light seals with double o-rings, which are easy to remove for greasing and cleaning.
The ball mount that comes with the light is easy to attach to any arm system using clamps. When shooting video I've used two of these lights on either one of my arms and when using it as a focus light I've attached it to my macro port.
Operating the light underwater is easy even when wearing thick gloves, a definite positive for cold-water divers. The light has only one push button located at the back. When you push it all the way, the light switches on, when you push it halfway it will scroll through all the different modes from full white power to low red power. Push it all the way again and it switches off completely.
Putting it to Practice
While the i-Torch Video Pro4 can be used as a dive light, focus and/or continuous light and video light, the main purpose of this powerful light would be video. While 1400 lumens definitely pack a punch I found the light best for macro video: Wide angle is possible but sometimes I found I wanted even more power when shooting very wide.

Underwater Macro
This is where the light works best—the 1400 lumens and three different power settings are great and give you lots of power and creative options for lighting you subject from tiny shrimps to bigger nudibranchs. Having that extra power over its processor (i-Torch Video Pro3), the Pro 4 allows you to shoot at smaller apertures and get more depth of field, something handy when shooting macro with DSLR's especially full frame cameras, which suffer from shallow depth of field.
The video bellow was shot with a Canon 5D markIII, 100mm lens, subsee +10 (at times), two i-Torch Video Pro'4s and a XIT404 tripod bracket and legs.
The effect of the light at full power
Wide Angle video
The i-Torch Video Pro4 can still be used for wide-angle when using it at the brightest settings. You will have to get very close to your subjects to see the effects. I didn't use it on a night dive or in very poor visibility but I imagine it would work quite well at full power.
This light is incredibly versatile; with 6 different settings you have lots of options. I love the very wide beam of this light as a focus light as it's very easy to light up what you are shooting. The three different red light options are handy as well for shooting very shy subjects.
I personally didn't see the red light come out on any shots I've taken while using my strobes, but when shooting at very open apertures you might have to use the lower red power setting.
Another option for using this light, especially if you plan to use two of them, is as a continuous light source for still images. While it's nowhere near as powerful as using strobes there are some advantages. With modern camera's abilities to shoot at high frame rates you can capture behavior more easy then when using strobes that don't recycle quick enough to shoot continuous.
Catching the feeding behavior of this flamboyant cuttlefish was easy when using continuous light from 2 i-Torch Video Pro4's
Canon 5D markIII, 100mm, 2 i-Torch Video Pro4

Conclusion
For a light that retails around $500 you sure do get a lot of value for your money. With it's 6 different power settings (three white and red), easy operation, spare battery and 1400 lumens it's one of the best lights in its price class. While it was perfect for macro, if you plan on using lights a lot for wide-angle footage then you might need even more power.

Editor's note: The latest version in this line, the Video Pro5, is now available. We will try to bring a comprehensive look at that very soon!
RELATED ARTICLES
Be the first to add a comment to this article.
Newsletter
Travel with us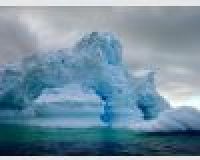 Antarctica
Plan Your Adventure >
Featured Photographer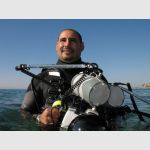 Noam Kortler
Expert Photographer
Noam Kortler is connected to the sea since he can remember him self. he was born on the coast of the Mediterranean sea of Israel and was diving and surfing when ever he could He moved to Eilat, the south popint of israel to...