Articles
Cuba's Pristine Waters: A Beacon of Conservation
Silky sharks joined us for many of our safety stops, often hanging around at 15 feet for 20 minutes or more

We have all learned a lot about Cuba's history and with America opening up relations, this small nation is in the spotlight regularly, but what does the future bring? Of course, no one can know for certain, but to me it looks very bright.
A place rich in resources is rich indeed, and Cuba has done a better job than most at protecting their natural resources. One beautiful example is Los Jardines de la Reina, or the Gardens of the Queen, a place so well protected it's almost like going back to a time before shark fin soup, before bottom trawling, before we had seven billion mouths to feed, and before humans had poisoned, clear-cut, dredged, warmed, acidified, polluted, drilled, burned, and slaughtered most of the life and places life flourishes on this planet.
How often have you fantasized, "I wish I could dive this place 200 years ago—it must have been so amazing?" If you're like me, a lot! For the Caribbean, this place is the Gardens of the Queen—a place where you are all but guaranteed to see a dozen reef sharks or silky sharks per dive (and sometimes both), where you glide through pristine mangrove creeks spotting crocodiles before splashing onto reefs densely covered in coral with tiny arrow blennies poking out. Large groupers and turtles are common and friendly. For an underwater photographer, it's as rich as it gets.

An American crocodile in Cuba: We had a glass calm day, so I was careful to not disturb the surface and try for reflections

Turtles make for strong subjects in silhouette shots. For this image, as I was shooting straight up and didn't want bubbles in the frame, I had to hold my breath—taking careful note of my buoyancy

The protections for the Gardens of the Queen come in both remoteness and forward thinking. At first, it was a place Fidel Castro wanted for himself, somewhere only he could go spearing. Today, it is an advertisement to the rest of the world that leaving a place alone can pay off some day. As savvy divers get bored with dead, algae-covered reefs, they will seek relatively healthy ecosystems and those nations that do not have them will lose out. They are an investment in the future.
Marine protected areas not only help that region. A healthy ocean can tolerate climate change and the effects of warming better than a weak one. While Cuba may benefit economically from their park, the world benefits ecologically. Yes, Cuba may not have gotten everything right in their past, but we can all look to this success story, and invest in our own future.

A well-positioned model can make a good composition even more interesting

When your dive buddy is the legendary scientist and explorer Dr. Sylvia Earle, you know it's going to be an exciting dive!

My time in Cuba was rich and rewarding. I stayed on the comfortable and well-staffed floating hotel called Tortuga, and the trip was led by the awesome Michael Aw and we were joined by the incomparable Dr. Sylvia Earle. Getting the chance to talk conservation and exploration with such a legend was surreal, intimidating, enlightening, and joyful. The ocean is an amazing place and the people working to save it are all our heros, whether we know it or not.
I used mostly wide-angle lenses—the Tokina 10–17mm and Nikon 17–35mm—but I made sure to bring along my Nikon 105mm macro and Reefnet SubSea +10 diopter as well, as details are important when telling a story. The abundance and proximity of the life means you can focus on crafting the light and then wait for interesting compositions.

Another background "model" adds to a wide-angle shot of some brightly colored sponges

An arrow blenny pokes out from fire coral for an appealing macro portrait

The abstract detail of an artichoke coral is brought out using a 105mm macro and SubSea +10 diopter

After seeing great photographers shoot the area over the last couple of years—David Doubilet, Stephen Frink, Michael Aw, Lia Barrett and others—I knew trying to find a unique image was going to be difficult, but in such a rich place, the possibilities seem endless, as long as you have some time to experiment. I tried really hard to see things differently and dived into my bag of tricks, trying slow shutter speeds, reflections, seascapes, super macro, silhouettes, abstracts, and even remote triggers.
I hope this inspires you to play around and see if you can come up with something different. I believe the better the imagery, the better the chance we have to convert people into caring about the other 72 percent of our shared planet.

Using a slow shutter speed and powerful strobes can give an energy and motion to images

For this shot, I set my camera on a piece of bare rock and used a remote trigger while the sharks bumped my camera around

---

To see more of Shane's work, check out his website, www.shanegross.com, or follow him on Facebook and Instagram.
RELATED ARTICLES
Be the first to add a comment to this article.
Newsletter
Travel with us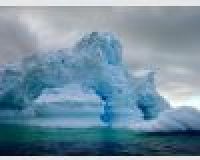 Antarctica
Plan Your Adventure >
Featured Photographer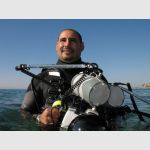 Noam Kortler
Expert Photographer
Noam Kortler is connected to the sea since he can remember him self. he was born on the coast of the Mediterranean sea of Israel and was diving and surfing when ever he could He moved to Eilat, the south popint of israel to...